J – These savory guys are so worth eating …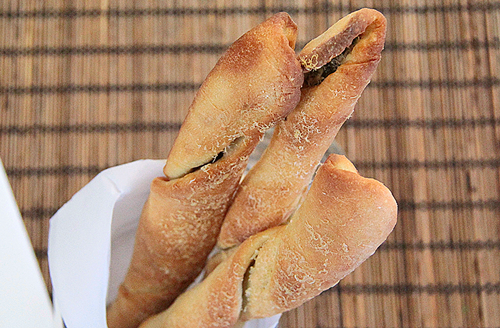 unlike most calorie-bomb breadsticks. Nice and pillow-like, with lots of flavor. You do have to pace yourself, though. They go down all too easily.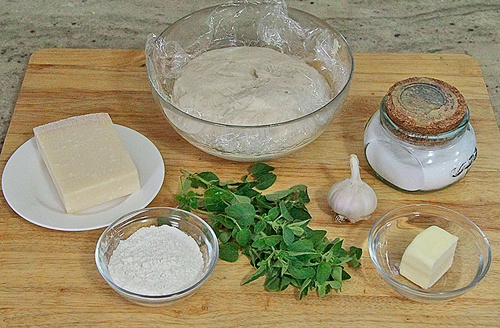 We use the same dough we use for our pizza crust.

Same as lots, but not all, of the good pizza parlors. Some don't because of the high labor cost.

Of course, we care much more about flavor than labor, so we made these. Besides, Christina needed us to use more oregano.

Luke was happy to help.

I must admit to being only semi-skilled in baking and making things with dough. But, I might be improving.

The next evening, I made a very successful pizza for a new friend using the other half of the dough recipe. She was impressed. Whew!

Luke made the bread twists look trivially easy. I should get over my concerns … really!
The only real advice is to work lightly and quickly, as with all pizza-dough dishes.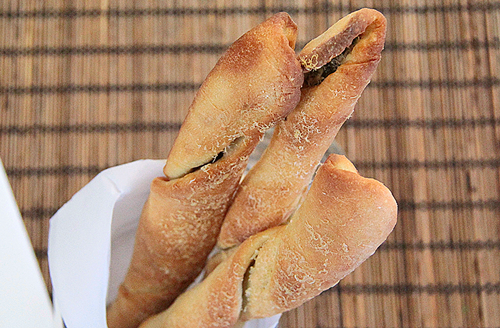 | | | |
| --- | --- | --- |
| Oregano Week: Oregano Bread Twists | | |
Prep time: 10 mins
Cook time: 25 mins
Total time: 35 mins
Ingredients
2 Tbsp oregano leaves, chiffonade
¼ cup grated Parmesan cheese + some for grating
2 garlic cloves, minced
all purpose flour, as needed
1 Tbsp butter, melted
salt
½ pizza dough recipe (link below)
Instructions
Preheat oven to 400 degrees.
Mix oregano, grated Parmesan cheese and a pinch of salt together in a bowl and set aside.
Remove dough from fridge an hour before using.
Divide into four equal pieces.
Roll out into long oval strips.
Place about 1 tablespoon of the oregano/Parmesan mixture onto each of the rolled out dough at one end. Spread out evenly.
Fold and twist the sides together forming a diagonal shape, continuing to twist the dough until closed.
Place on a floured baking sheet and bake for 15 minutes.
Remove from oven, brush melted butter over each bread twist. Grate some Parmesan evenly over top and sprinkle a little Kosher salt over each bread twist.
Bake for another 5 to 10 minutes or until golden brown.
Serve.
Enjoy!
Pizza Dough recipe
Taste test right out of the oven! Amazing.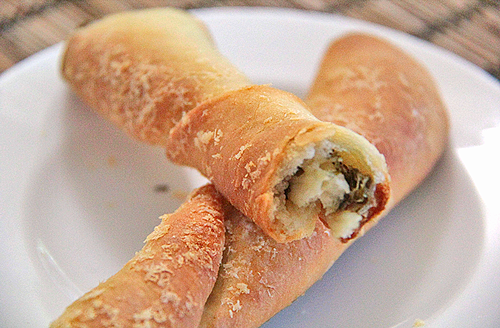 These twists are best eaten immediately. But, they do pretty well refrigerated in a sealed storage bag for a couple of days. Reheat in a warming oven … NOT a microwave.