C – If you asked me to describe what oregano tastes like. I couldn't tell you.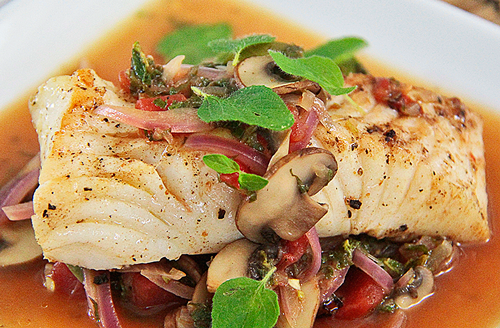 It's an herb that is subtle and enhances the flavor or, maybe, it brightens a dish. Some types of oregano, like Greek oregano, can be a bit bitter. Others. like Mexican oregano, are more subtle. I think we have a mixture of the two growing in our yard.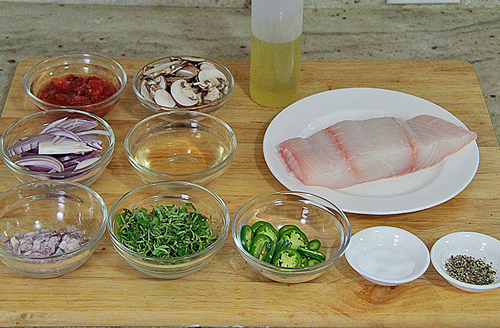 It's not too bitter, but not too subtle either. If you add too much to a recipe, it can taste a little soapy. Just be careful of using too much.
My suggestion is adding enough to have a good flavor in what you are making, but not too much that it taste soapy or bitter. I also suggest adding oregano at the very end to most things you cook so it doesn't make an entire dish bitter.

Using the perfect amount of oregano made this dish taste amazing. Oregano added freshness to this tomato, mushroom and onion dish.

I loved the fresh oregano that was added to the top. Adding fresh oregano is so wonderful in dishes like this. It feels like an even healthier dish when you add fresh herbs like oregano to a dish.

If anyone asks me what to grow in their garden, I would have to say fresh herbs. One great thing about certain herbs is once you grow them you may never have to plant them again. Oregano, mint, sage and thyme are great herbs to grow. They come back every year.
I love that once Spring and Summer, hits we have lots of herbs. It also means I don't have to go buy any herbs for a few months.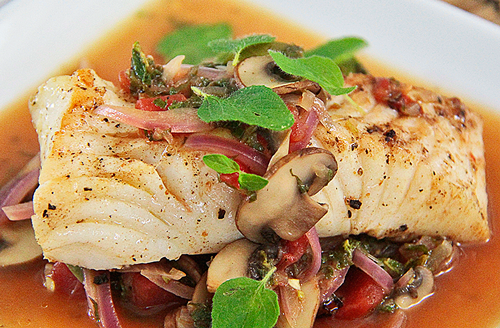 | | | |
| --- | --- | --- |
| Oregano Week: Halibut with Oregano and Roasted Tomato Sauce | | |
Prep time: 15 mins
Cook time: 30 mins
Total time: 45 mins
Ingredients
¾ pound halibut filet, skin removed, portioned for two.
2 Tbsp grapeseed oil, divided
1 shallot, minced
1 cup sliced crimini mushrooms
½ small red onion, slice thinly
½ jalapeno, sliced thinly
½ cup white wine
¼ cup canned, diced roasted tomatoes
2 Tbsp oregano, chiffonade
1 Tbsp unsalted butter
Salt and pepper to taste
1 chicken jus cube or ½ cup chicken both
A few whole oregano leaves for garnish
Instructions
Place a tablespoon of grapeseed oil on the bottom of a medium saute pan on high heat.
Add minced shallot and cook until translucent. Add salt and pepper to season. About 3 minutes.
Add crimini mushroom and cook until tender about 3 minutes. Add a pinch more of salt and pepper.
Add red onions and jalapeno and cook for about 3 minutes until slightly tender.
Deglaze pan with white wine and reduce liquid to ½. About 4 to 5 minutes.
Add diced roasted tomatoes and oregano. Mix well. Add a pinch of salt and pepper to taste.
Add a jus cube with ½ water and let it dissolve or chicken stock and let ingredients combine.
Simmer for a few minutes. Adjust seasonings, if needed. Reduce to a low heat to keep warm while cooking the fish.
Season fish with a generous amount of salt and pepper on both sides.
In another saute pan on medium, place remaining oil and butter and let butter melt. Be careful not to let the butter turn brown.
Add fish to the hot pan. Begin moving the fish immediately so the fish doesn't stick to the pan. Cook fish until golden brown on one side.
Flip over and cook until golden brown on the other side. Make sure to constantly move the fish to keep some oil/butter mix under the fish, so doesn't stick to the pan.
Place some of the sauce on a serving plate.
Place fish on plate.
Top with more of the sauce.
Garnish with some more oregano leaves and some pepper.
Serve.
Enjoy!
There is no waste either. Just pick what you need and leave the rest for another time. I always hate when herbs go out of season and we have to buy them at the grocery store.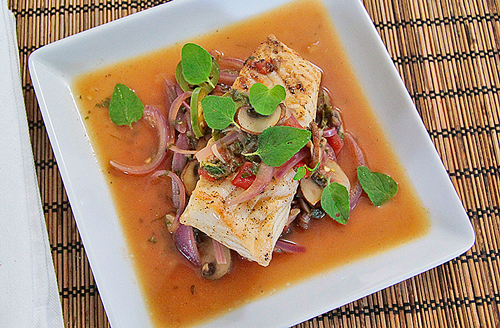 In season, if there are too many herbs in the garden, you can always dry them and store them in a dry container for a few months.