J – [Disclaimer] I am not Southern …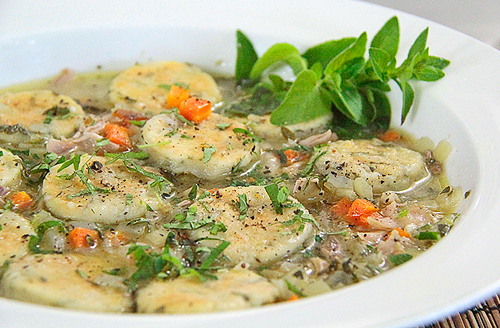 even though my Dad was from Louisiana. None of it stuck. I had to learn about this dish … and why you have a grammatically confusing title. A true Southerner would just know in their bones what's right. I didn't.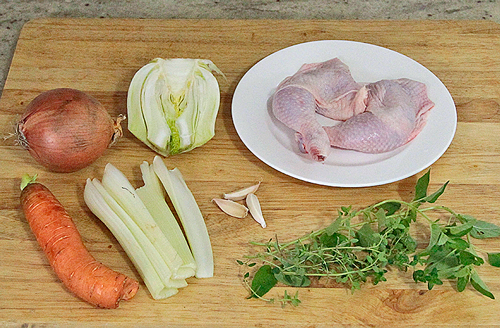 But, you don't need to be a Southerner to love this dish.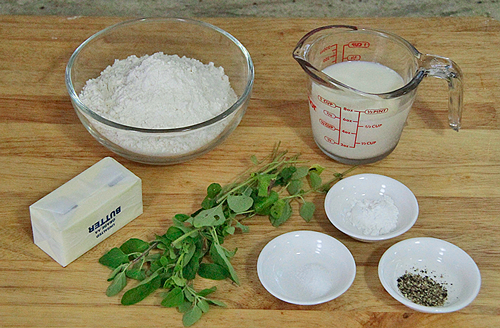 We try to explore as many dishes from as many food cultures as we have room to eat. We are on a quest for flavor, as you know.

When the idea of this dish came up for Oregano Week, we were thinking of it as "chicken and dumplings."

In the end, that wasn't going to work … we made biscuits, not dumplings.

Nothing wrong. They were great. Just not dumplings!

Now, my head was spinning. First, I'm a bit short on Southern food experience. Biscuits? Dumplings? Second, the copyeditor in me could not get past the grammar of the title.

Chicken and Oregano Biscuits. Was the chicken IN the biscuits? Or, did the oregano biscuits go WITH the chicken soup?

Luke suggested that I just relax. Have a beer! The title is perfect.

That's just the way it's expressed. Shrimp and Grits, Chicken and Dumplings, Chicken and Oregano Biscuits.

I got it. Maybe, I just need a little sweet tea to mellow me out.

This dish may look complex, with all the steps. It's not.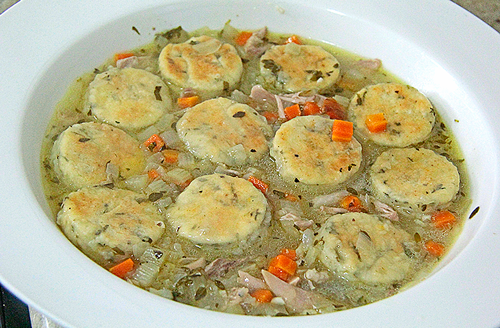 You can even make the oregamo biscuits the day before. Bring them to room temperature for at least an hour before adding them to the soup.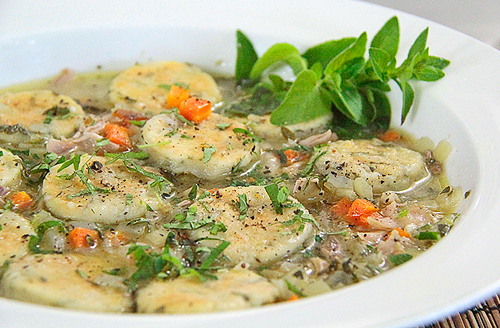 | | | |
| --- | --- | --- |
| Oregano Week: Chicken and Oregano Biscuits | | |
Prep time: 30 mins
Cook time: 1 hour 15 mins
Total time: 1 hour 45 mins
Ingredients
2 chicken leg quarters + trims for flavor
1 Tbsp grapeseed oil
1 onion, small dice
4 celery stalks, small dice
½ fennel bulb, small dice
3 sprigs oregano, chiffonade, plus more for serving
5 sprigs thyme, chiffonade
2 cloves garlic, minced
lemon juice
Hot sauce to taste for serving
½ pound bread flour, frozen (Keep in the freezer until ready to use. Cold ingredients make the best biscuits)
¾ tsp baking powder
¼ tsp salt
½ tsp black pepper
4 Tbsp butter, grated and kept frozen until ready to use
¾ cup whole milk or buttermilk
2 Tbsp oregano, packed, chiffonade
Instructions
Place chicken and enough water to cover. Bring to to a boil. Reduce temperature to a simmer until chicken is completely cooked.
Remove from pan and let cool. Shred and discard skin and bones.
Strain liquid and rinse pot.
Add oil to pot on medium heat. Add all the onion, fennel and celery. Let sweat. Add more oil if vegetables are sticking.
Add garlic and let cook for about 1 minute.
Add the broth back into the pot. Let reduce about ¼ of the way.
Add the shredded chicken, thyme and oregano and season to taste.
Add some lemon juice to enhance the flavor.
Reduce the temperature just to keep warm. Or, turn off heat if not ready to make the dumplings.
Preheat oven to 400 degrees.
Butter a sheet pan.
In a large mixing bowl, place flour, oregano, butter, salt and pepper. Mix well.
Add milk, mix until combined. Remove from bowl and place on to a well-floured counter-top.
Fold the dough into ⅓s to create layers. Do this about 3 times. Move quickly, so the butter doesn't melt.
Form dough into a single ¾-inch layer. Cut biscuits with a 1½ inch biscuit cutter. Gently reform to get more cuts.
Bake for 10 minutes at 400 degrees or until the bottom of the biscuits are golden brown. The biscuits will not be completely cooked. They will continue to cook when placed in the stew.
Place the biscuit in the warm chicken soup mixture bottom side up.
Let the biscuits simmer in the pot until cooked. About 15 to 20 minutes. The liquid will become creamy, The biscuits will become tender and not taste doughy.
Sprinkle some more lemon juice over the top.
Sprinkle more oregano.
Serve with hot sauce.
Enjoy!
Taste test. Rich, fresh chicken soup with perfectly light oregano biscuits.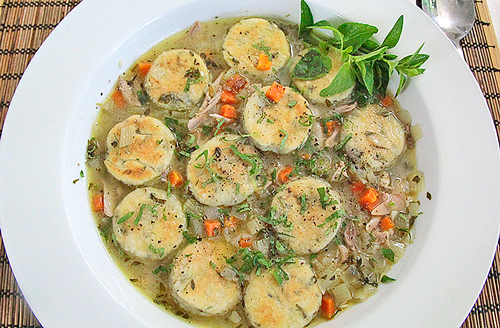 Simple flavors. Totally satisfying.