C – I know orange season is long gone …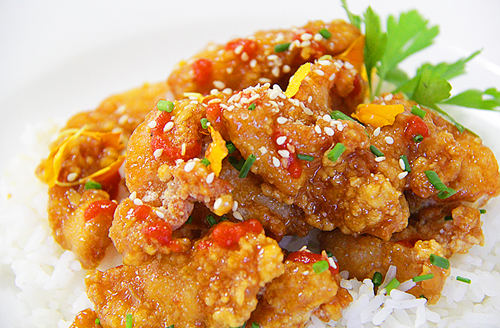 But, I had to share this with you. It's so good. I love ordering orange chicken when I go to a Chinese restaurant. It's one of my go to menu items when I want to test out a new Chinese restaurant. I am not sure what some restaurants put in it. But, it sure is good.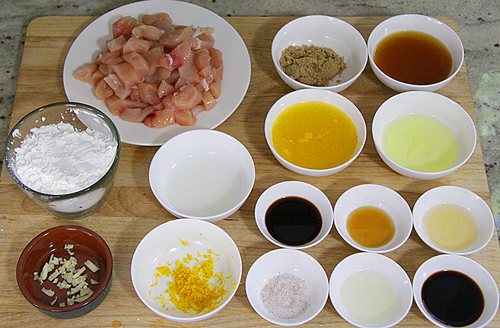 Of course, I know not all Chinese restaurants are the same. Some make their orange chicken from scratch and others buy an orange sauce mix. I had a disappointing experience eating orange chicken made with a mix. The chicken wasn't crispy anymore. It must have been sitting there for a while.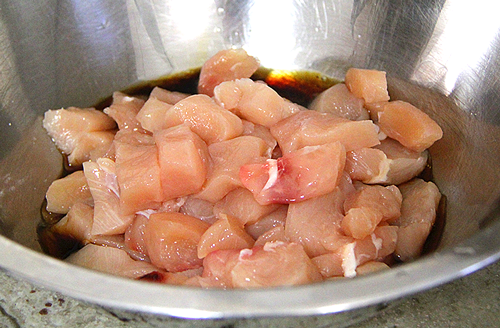 There was something unnatural about the taste of it. I just couldn't put my finger on it. Let's just say I told the chef about my disappointment and never went back. I guess not being orange season makes it hard for everyone. Especially, for a restaurant serving a dish like orange chicken.

So, I was on a quest. After that experience, I wanted to make good orange chicken. From scratch! Even if an orange was going to cost me an arm and a leg. Luckily, buying one orange didn't break the bank. Phew!

When I found this recipe, I fell in love with it. Easy. I only had to buy a few items. But the most important part is that it tasted like really good orange chicken from a restaurant. If Jim didn't stop me, I would have eaten the whole dish by myself. I am glad he liked it, too.

I loved the taste of the sauce. There wasn't enough, of course, for me. Next time, I think I will double the sauce to make sure I have sauce dripping over the meat. While that's my preference, most people would like it just the way it is. It's the perfect amount of sauce to cover every piece of chicken.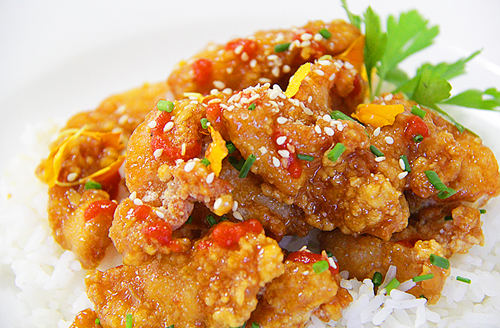 Prep time: 15 mins
Cook time: 20 mins
Total time: 35 mins
Ingredients
1 lb boneless, skinless chicken thighs, cut into bite sized pieces
1½ cup cornstarch
3 cups canola oil for frying + 1 tsp for saute
Salt to taste
1 Tbsp soy sauce
1 Tbsp Chinese rice wine or dry sherry
1 egg white
⅓ cup orange juice
¼ cup chicken stock
1 Tbsp cider vinegar
1½ Tbsp soy sauce
1 tsp sesame oil
2 Tbsp brown sugar
1 tsp grated fresh orange zest
1 garlic clove, minced
1 tsp cornstarch, dissolved in 1 Tbsp water
Instructions
In a large bowl, combine 1 tablespoon soy sauce, rice wine and egg white. Add the chicken pieces and stir to coat. Let stand for 10 minutes.
Prepare the sauce by combining the orange juice, stock, cider vinegar, soy sauce, sesame oil, brown sugar and orange zest. Set aside.
Heat 1 teaspoon olive oil in a saucepan over medium heat. Sauté the garlic for 1 minute.
Add the sauce and bring to a boil. Reduce the heat and let simmer for 5 minutes. Stir in the cornstarch and water mixture. Continue stirring until the sauce thickens. Season with salt. Remove from heat and set aside.
Spread the 1½ cups cornstarch in a large bowl. Toss the marinated chicken in the cornstarch and shake off any excess before frying.
Heat 3 cups oil in a wok or heavy-bottomed pot. Add 8-10 chicken pieces and fry until golden, around 4-5 minutes. Remove cooked chicken and drain on a plate lined with paper towels. Repeat with the rest of the chicken.
Reheat the orange sauce and stir in the fried chicken pieces. Mix until well coated. Transfer to a platter.
Serve.
Enjoy!
I really enjoyed the fresh taste of orange. The orange zest really brings out the orange taste. I love how the cornstarch made the chicken extra crispy, but tender at the same time. Paired with white rice, it was really enjoyable.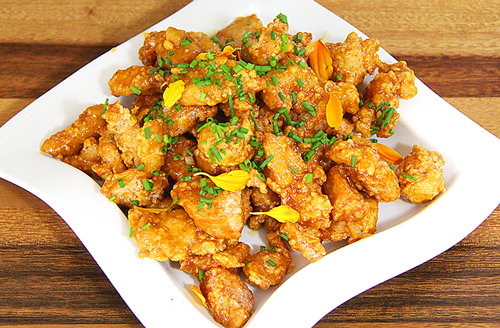 I am not sure if I will order orange chicken the next time I go to a Chinese restaurant. It's just too good making it at home.
Adapted from: http://salu-salo.com/orange-chicken/