C – This isn't anything I would make at home … normally.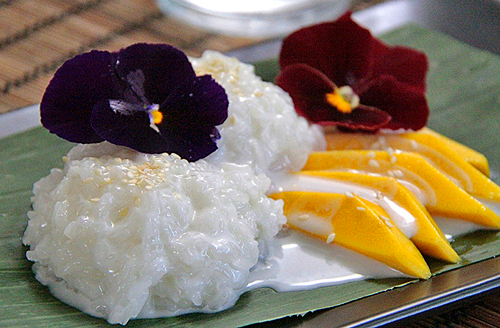 We used to eat mangoes and sticky rice separately growing up. This is more of what I do now. Well, when I go to a Thai restaurant, anyway. My parents made sticky rice and served it with jackfruit, coconut custards and durian.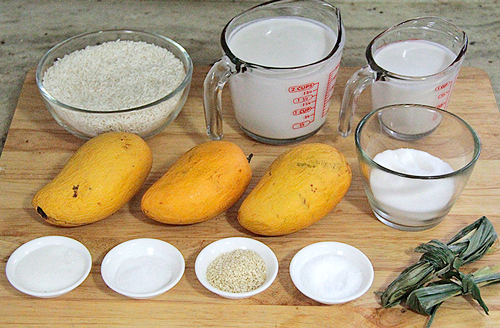 I really wanted to show Luke and Jim what a durian tasted like. I couldn't find a good ripe one, unfortunately. It's not worth the trouble to pay for something so expensive, yet isn't at it's peak ripeness. Especially, durian, since it has a bad reputation already. Another day for durian.
I still wanted to share a sticky rice recipe. Something fresh and delicious. Mangoes seemed like a good idea … until I had to buy 14 of them because the grocery store couldn't sell me just one.

Oh well. Lots of this dessert for all. It's a really simple dessert. It seems complicated, but it's not at all.

Cooked sticky rice, a cream sauce and ripe mangoes. I love the sweet coconut sticky rice. The sweet and salty cream sauce really is amazing. The fresh mango balances out the richness by being a surprising fresh element.

The mango is not the most important part of the dish. It's the sticky rice. The sticky rice is almost a rice pudding in the recipe I made. Soft, gooey and sticky.

Eat it when it's warm and freshly made. It's the most luxurious rice pudding you'll ever have.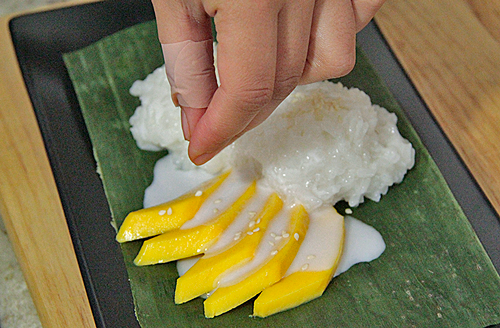 Add a few sesame seeds to top it all off. You will have a little nutty crunch that is a great addition to the complex texture and flavors.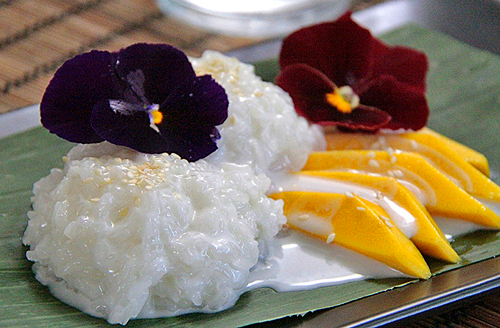 | | | |
| --- | --- | --- |
| My Home Cooking Week: Sticky Rice with Mango and Salty-Sweet Coconut Cream | | |
Prep time: 15 mins
Cook time: 60 mins
Total time: 1 hour 15 mins
Ingredients
2 cups unsweetened coconut cream
5 Tbsp granulated sugar
1½ tsp kosher salt
1 fresh or frozen pandan leaf, tied in a knot
2½ cups uncooked sticky rice
5 cups water
1 cup unsweetened coconut cream
1 fresh or frozen pandan leaf, tied in a knot
½ cup granulated sugar
1 Tbsp kosher salt
3 large ripe Ataulfo mangoes, peeled and cut into slices
1 Tbsp toasted sesame seeds
Instructions
Combine coconut milk, sugar, salt and one pandan leaf in a small pot.
Bring the mixture to a simmer and decrease the heat to low.
Cover and cook until cream has thickened slightly. About 10 minutes.
Remove and discard pandan leaf.
Cover cream and set aside.
Place water into a pot and bring to a boil. Once water is boiling, quickly rinse and drain rice and add to the pot. Stir rice to make sure it doesn't stick to the bottom of the pot.
Reduce heat to low and let cook until rice is cooked through. About 30 minutes.
Meanwhile, in a small sauce pot, add coconut cream, sugar, salt and the second pandan leaf.
Let simmer for about 5 minutes until sugar has dissolved. Cover and let sit for 10 minutes.
Remove and discard pandan leaf.
Let cream mixture cool just until it's warm and no longer hot.
Once rice is nice and soft and all the liquid has dissolved and cooked through, add cream mixture and fold gently.
Cover the pot and let rice absorb liquid for 10 minutes.
Place sticky rice on the bottom of the dish.
Top with mango slices.
Top with the salty-sweet coconut cream.
Sprinkle with sesame seeds.
Serve.
Enjoy!
It's not quite like the stuff I can get when I visit my parents. It also not like the restaurants, either.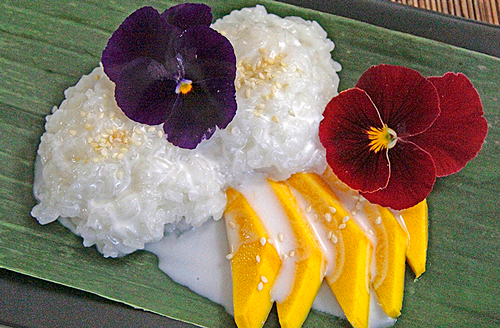 This recipes is a bit sweeter than the restaurant version. This is just the way I like to eat my sticky rice with mangoes.