C – Luke wanted me to cook my home-style cooking this week.
It might be messy, disorganized and just throwing things into a pot. Ok, let it cook for a while. But, it's going to be good … guaranteed. I haven't cooked things like this recently. I have been working to explore other cultures' cuisines more.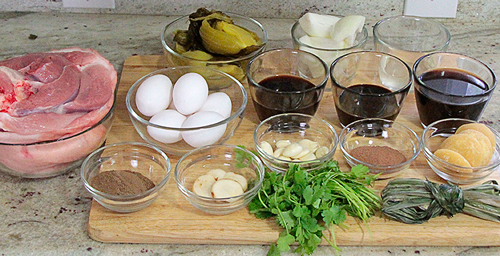 Also, I am dating a guy from the South. I needed to really learn what he likes to eat. Of course, I needed to make sure I could cook some of his home-style meals. So, cooking like I used to has gotten less and less attention these days.

It's been nice to have a refresher course in a few things. Luke brought over a Thai cuisine book by Andy Ricker called Pok Pok. I wanted to test out some recipes to see it they were similar to the things I used to make at home with my parents.

It turns out they had similar tastes, but used different techniques. I wasn't too surprised. One of the biggest things about learning from a home cook is while each person makes it a different way, the outcome is similar. No one is right or wrong, as long as it tastes good. It's all that matters.

This stew is definitely not how my parents would make it. I was surprised at the outcome. Similar taste with a few different ingredients. It wasn't faster. But, it might be easier than I am used to.

Throw everything into a pot and cook. After four hours of cooking, the result was a tender, flavorful pork dish with eggs and pickled mustard. I loved it.

It's similar tasting to this chicken dish I made awhile back.

I loved that this dish didn't make the pork dry out. Four hours was the perfect cooking time. Note that you make a lot. It serves about eight people. We had leftovers for a week.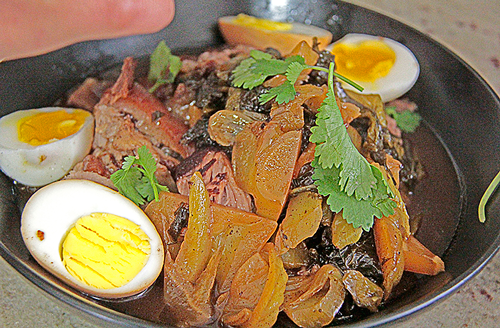 I am so glad to be able to share with Luke some of the flavors and techniques of my roots. It's fun to see where I came from.
| | | |
| --- | --- | --- |
| My Home Cooking Week: Braised Pork Shank with Five Spice | | |
Prep time: 20 mins
Cook time: 4 hours 30 mins
Total time: 4 hours 50 mins
Ingredients
1 ounce cilantro stems
1 piece of fresh or frozen galangal, cut into thin pieces against the grain
1 piece of fresh galangal, sliced against the grain
1 Tbsp white peppercorn
1¼ ounce peeled garlic cloves, halved lengthwise
¼ cup Thai five-spice powder
¼ cup canola oil
5 pounds pork shank (about 2 pork shanks)
1¼ cups Thai thin soy sauce
½ cup Thai black soy sauce
¾ cup oyster sauce
⅓ cup Sake
4½ ounces palm sugar
2 Tbsp Milo powder
6 cilantro stems
6 pandan leaves, tied into a small bundle
1 medium yellow onion, quartered
1 whole unpeeled garlic head
5 quarts water
6 hard boiled eggs
3 cups drained, coarsely chopped, pickled mustard green leaves and thinly sliced stems
½ cup cilantro stems and leaves
Steamed rice
Instructions
In a mortar and pestle, pound the cilantro stems until it is a fibrous paste, about 1 minute.
Add first galangal and pound into a fairly smooth paste, about 1 minute.
Add the peppercorn and pound into the paste, about 1 minute, until completely crushed.
Add garlic and pound until completely incorporated, about 1 minute.
Add the five-spice and pound until completely incorporated, about 1 minute.
Remove paste and set aside.
In a large dutch oven or a heavy pot, add oil to cover the bottom. Heat on medium high heat until the oil is hot.
Place pork shanks into pan and cook until light golden brown. You don't need to make it too dark. Cook all sides. About 5 minutes.
Remove pork from pan and reserve 2 tablespoons of oil.
In the same pan, heat on medium low. Add the paste and stir constantly for 10 minutes to toast. The paste should have a nice smell when done.
Add the pork shanks, soy sauces, oyster sauce, wine, palm sugar, Milo powder, second galangal, cilantro stems, pandan leaves, onion, garlic and water.
Bring the liquid to a simmer over high heat, cover pot and decrease heat to maintain the simmer. Cook until the pork is so tender that it falls apart. About 4 hours.
When the pork is done, put the mustard greens in a medium pot and ladle in enough of the stewing liquid to cover. Bring the liquid to a simmer and cook until greens are tender and have taken some flavor of the liquid. About 30 minutes.
Halve the eggs lengthwise. Divide the rice, eggs and pickled mustard green on plates. Pull out the pork shanks and cut ½ inch thick pieces. Remember to leave the fat on, since it's the best part.
Put the pork on top of the rice, ladle ¼ cup or so of the stewing liquid over the pork and sprinkle on the cilantro.
Serve.
Enjoy!
I am so thrilled that I am able to grow as a cook. Going back to my roots just reminds me why I love cooking so much.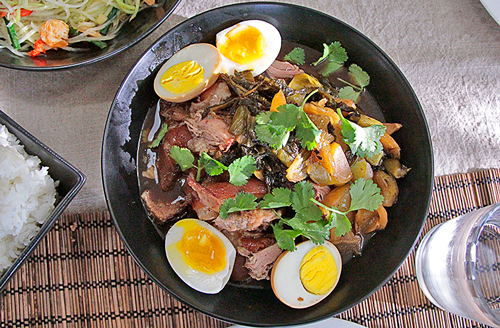 It's the experiences of cooking and eating with others … not always just about the food.