C — It's finally here! It's the big day. It's my first day on the job.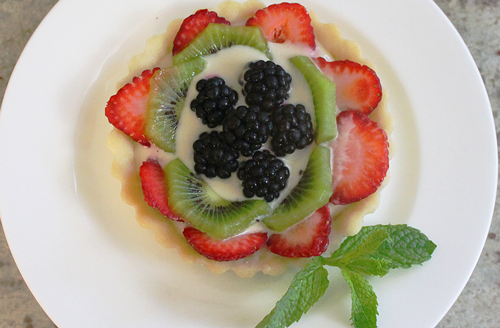 It's my first day as a blogger. I hope I don't mess up too much. I will probably make lots of mistakes. My apologies in advance. This is my third draft of this post and I have already made 158 typos. I think I'll have to use the "it's my first day" excuse wisely.
I am so happy and grateful that this blog is finally getting started. It's been a long journey. I have been talking about starting a blog for a really long time. I mean really long. About three years, at least. I have just been procrastinating. Maybe it's fear no one will read this blog, or no one will like the recipes I find. But, I can't just be dreaming things and not do them. I guess I don't want to waste my life away with the what ifs anymore. Now Jim, my business partner, has forced me to start one. Well, maybe not forced, but he did build this site and is really encouraging the foodie inside of both of us, since he cooks too. Of course, I am encouraging myself to be more mindful and just give myself a break… once in awhile… if I'm not.
So, to celebrate my first post, I am making tarts!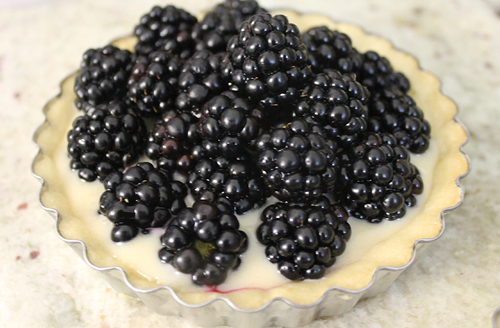 I really didn't think this tart thing through though. Tarts and I have a love/hate relationship. I love eating them and I love how they look. They are one of the most beautiful and colorful desserts you can find. But, I hate making them. I have never made a good tart. I once had to throw away a whole batch because I undercooked the flour in the custard and couldn't redo it. And, my pastry is always rock solid. I always seem to make the most inedible pastries when I make tarts. I really don't know what I do wrong. But, it's my first day on the job, and I guess this is as good a time as any to make this tart. Plus, I get to use the "First day" excuse if I mess up. It's my get out of jail free card.
Oh, BTW, I told Jim earlier that I wanted to make his favorite dessert. I asked him what his favorite dessert was and he answered TARTS!
Oh, BTW, BTW, Jim went out and bought the tart tins for me, so I had to make the tarts.
Oh, BTW, BTW, BTW, Jim always seems to find the hardest and most time-consuming things for to me to make. He must have a natural ability for this. I don't know why.
So, I searched for tart recipes for 5 days and finally found one that might be pretty fool proof for me. It uses a sugar cookie recipe for the tart pastry, but I am still nervous about the custard part. I almost want to use pudding from the box ,but that's just taking the chicken's way out. You wouldn't respect me on my first day. I am going to be courageous and really make this from scratch!
I did it! Oh my goodness! They are good! They came out of tart tins successfully! And, I only made one that looked horribly bad. The crust is really flaky and the custard didn't taste like flour. It's really tasty. I only had to throw in the "First day" card twice. I designed one that really looked awful. (See, in my mind I thought it would look good, but it ended up going south when the strawberries didn't fit together right.) I also made the custard a little runnier than I wanted.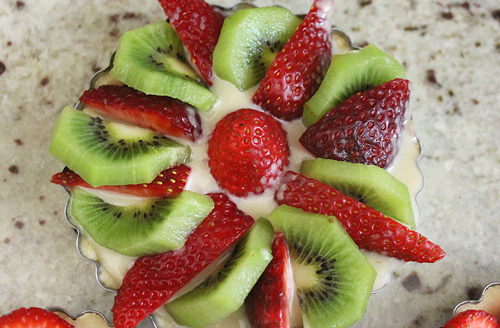 Jim and I ate the messed up one first. Hey, it was a taste test. Don't judge me… yet.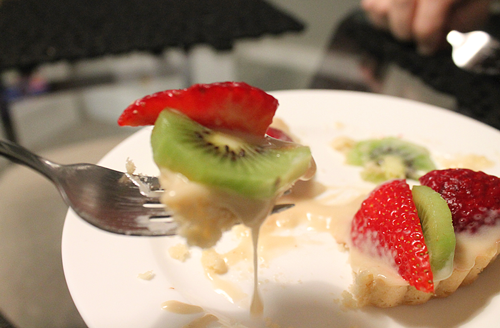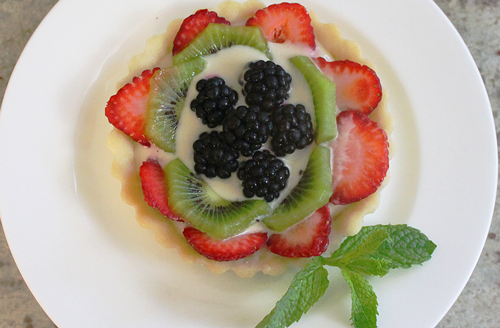 Prep time: 2 hours
Cook time: 30 mins
Total time: 2 hours 30 mins
Ingredients
Nonstick cooking spray
⅓ cup sugar
½ cup (1 stick) butter, room temperature
1¼ cups all purpose flour
¼ teaspoon salt
2 tablespoons milk
1 teaspoon vanilla
1¼ cups milk
3 egg yolks
⅓ cup sugar
⅓ cup all-purpose flour
A tiny dash of salt
1 tablespoon butter
1½ teaspoons vanilla
1 pint of strawberries, sliced
1 pint of blackberries
3 kiwis, sliced
2 teaspoons apricot jam (optional)
6 sprigs of mint for garnish (optional)
Instructions
Preheat oven to 350 degrees F and spray 6 mini tart pans with nonstick cooking spray.
In a large bowl, cream together sugar and butter until light. Beat in flour, salt, milk and vanilla, until mixture is moist and crumbly.
Roll the dough into balls that are 1 heaping tablespoon each. Press the balls into the prepared mini tart pan or mini muffin pan and work the dough until it is pressed thin and up the sides of the pan about ¾ inch. You can use a spoon handle or a small pestle to press the indentation into the dough if you wish. Prick the bottom of each tart.
Bake for 10 to 12 minutes until just barely golden on top.
In a heavy saucepan, heat the milk over a medium-high flame until bubbles appear around edge.
Beat egg yolks and sugar in a large bowl with wire whisk or mixer until pale yellow and thick.
Beat in flour and dash of salt until well mixed.
Gradually beat in hot milk; pour all back into saucepan. Cook, whisking constantly, over moderately high heat until mixture thickens and comes to boiling, lower heat. Continue cooking 2 to 3 minutes, over low heat, whisking constantly. Mixture will be quite thick.
Remove from heat. Stir in butter and vanilla.
Place a piece of wax paper directly on surface of filling to prevent skin from forming. Chill at least 2 hours.
To assemble the tarts, spoon about 1½ tablespoons custard filling into each mini tart shell.
Add sliced fruit on top and arrange anyway you want. (optional: brush on apricot jam to glaze)
Chill for a couple of hours or overnight, remove from tart tins.
Serve with a mint garnish
Enjoy!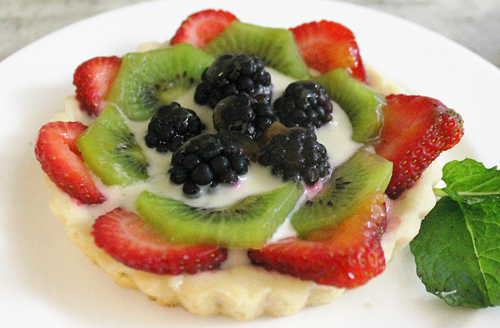 Well, my first day was a success. I hope the next ones will be too. Thanks for visiting. I hope you enjoyed spending time with me and will join me for the rest of my adventures here on Be Mindful. Be human. Eat!
Adapted from
http://www.happysimpleliving.com/2012/04/16/mini-raspberry-custard-tart-recipe/