J – I'm a little spatchcock crazy …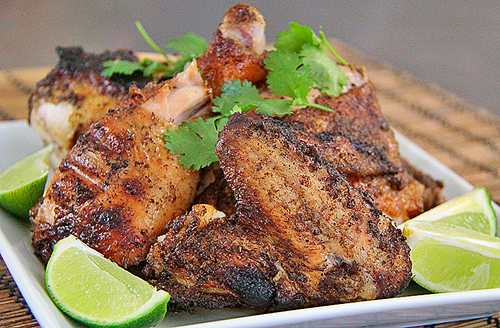 according to Christina. I'm sure I got the Spanish wrong, too. But, we didn't get the flavors wrong. Using this grilling method with the Mexican-spiced chicken is perfect. The grill is already a bit smoky, both naturally and because of all the meat smokin' I've been doing.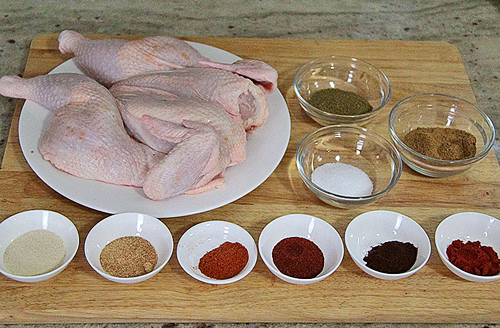 So, grilling with smoky chili pepper spices just takes it up another level.

Grilling under a brick is a bit of magic. The weight of the brick presses and heats everything up a bit more … without burning.

This is why indirect heat is better. Flare-ups can happen easily.

The Mexican dry spice rub is another bit of magic.

We started with our Cajun dry spice mix … good on just about anything … and took it South of the border.

Took out a few ingredients. Added in three different dried, ground chili peppers: California, Pasilla (Ancho) and Chipotle. We also increased the amount of cayenne.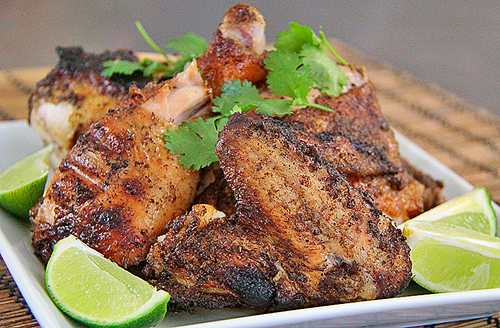 | | | |
| --- | --- | --- |
| Mexican Week 2015: Mexican Spiced Chicken Under A Brick (Pollo bajo un ladrillo) | | |
Prep time: 15 mins
Cook time: 45 mins
Total time: 1 hour
Ingredients
3 Tbsp ground cumin
3 Tbsp ground dried oregano
1 Tbsp granulated garlic
1 Tbsp granulated onion
2 tsp kosher salt
1 tsp cayenne pepper
1 tsp ground California chili pepper
1 tsp ground Pasilla (Ancho) chili pepper
1 tsp ground Chipotle chili pepper
1 – 4 pound chicken, spatchcocked (directions below)
1 red brick, wrapped well in heavy duty foil
3 Tbsp grape seed oil
Instructions
Mix cumin, oregano, garlic powder, onion powder, salt, and chili peppers together in a small mixing bowl.
How To Spatchcock A Chicken
Using a very sharp boning knife, cut close along the backbone, right where the ribs connect, from neck to tail on both sides. Discard backbone.
With breast side up, flatten the bird by pushing hard on the breast bone. It will crack. Make sure the bird is evenly flat. The wings should rest on the breasts and the leg quarters should be flat and point away from center.
Generously sprinkle seasoning mix over chicken (there will be some seasoning remaining, save and use for other recipes). Rub-in the seasoning well all over the chicken.
Let sit overnight in the fridge, if possible. If not, for at least 1 hour at room temperature.
Prepare grill for hot, indirect cooking to avoid flare-ups. 425 degrees when covered.
If previously refrigerated, bring bird to room temperature. Coat lightly with oil.
When grill is hot, place bird skin-side-up with breast pointing to coals. Place brick on top.
Cover grill. Check and rotate or flip every 15 mins. Replace brick each time. Chicken is ready to come off at 155 degrees. Temperature will rise 10 more degrees while resting.
Remove from grill and let rest for 15 minutes.
Serve with limes and cilantro.
Enjoy!
Smoky and savory! Nice heat.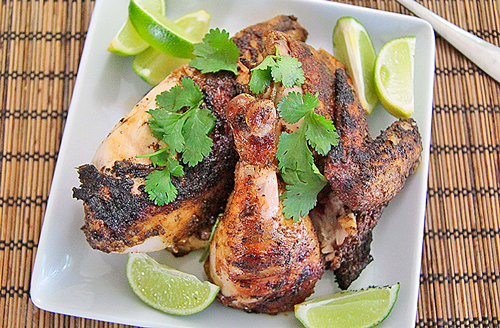 Taste test … delicious! Definitely South-of-the-border savory.