C – My husband is tired of lentils.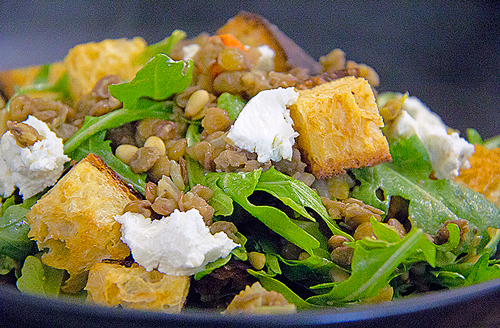 We loved lentils for a while. Those lentil patties were a staple and the go-to meal every week for months. Then the dreaded day came when I clicked the button to order more lentils. Amazon had a really good price on them. It figured if we kept on going the way we were going with lentils, we needed to order another batch.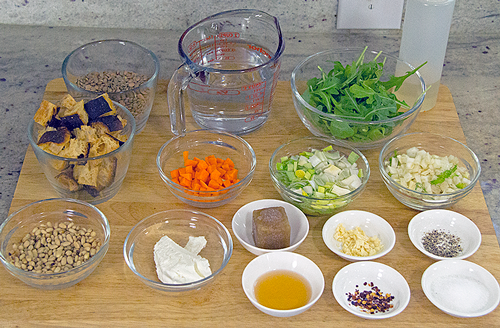 A three pack. It was a sad day. I told my husband about the order, and he said he was getting tired of lentils. All I could think was NOOOOOOOOO!

Shoot! I couldn't cancel the order. The doorbell rang just as I mentioned it. Darn same day delivery (I hope to never say that again). Oh, well. Into my stock pile it goes.
I was tired of them, too. I figured maybe I was just tired of using them in the lentil patties and needed to change it up a little.

I had three pounds of dried lentils and needed to figure out what to do. I started to make soups, put them in chili (we didn't quite like them in chili), and continued making those lentil patties occasionally. I managed to use two pounds somehow. That last pound was crying out to be used.

Lentils can be bland and really one dimensional after a while. I needed to have more than lentils in my lentil dishes. I needed different textures and as well as lots of different flavors to make lentils not have such a bean flavor and texture. Adding more ingredients to the one dimensional lentils can help make eating lentils satisfying. This salad is a good saving grace for how to add more lentils into meals.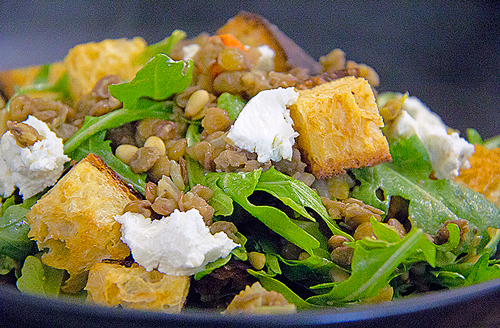 | | | |
| --- | --- | --- |
| Lentil Week 2016: Arugula Lentil Salad with Pine Nuts | | |
Prep time: 15 mins
Cook time: 30 mins
Total time: 45 mins
Ingredients
1 cup lentils
2 cups water
½ cup leeks, white and light green part only, chopped
1 garlic clove, chopped finely, divided
1 carrot, chopped
½ cup fennel, chopped
1 jus cube, (recipe link below)
A pinch of red chili flakes
Salt and pepper to taste
3 tablespoon canola or grapeseed oil
½ teaspoon Dijon mustard
1 tablespoon white balsamic vinegar
1 cup baby arugula
1 cup croutons
¼ cup pine nuts
1 cup croutons
2 tablespoons goat cheese
Instructions
Bring water to a boil in a small sauce pan.
Add a generous about of salt to the water as well as the lentil. Reduce the lentils to a simmer and let cook for 20 minutes or until the lentils are soft.
Drain the lentils.
In a saute pan add a tablespoon of oil and heat on medium high heat. Add leeks, along with a pinch of salt and pepper. Saute until softened.
Add ½ of the garlic and saute for a minute.
Add carrots, fennel, the jus cube, a pinch of red chili flakes, salt and pepper. Cook until the vegetables are slightly tender. About 2 minutes.
Add the lentils. Mix well. Taste and adjust for seasoning if needed.
Remove from pan and let cool for a few minutes.
Meanwhile, in a small mixing bowl, mix together the remaining garlic, Dijon mustard, balsamic vinegar, salt and pepper and whisk in the remaining oil together.
Add half of the dressing into the lentils and mix well.
Once the lentil mixture has slightly cooled add the arugula, ¾ of the pine nuts, and the croutons. Mix well.
Place on a serving plate. Top with goat cheese and drizzle on more salad dressing.
Serve.
Enjoy!
Homemade Jus recipe
The salad has crisp, fresh baby arugula, crunchy toasted pine nuts and croutons, creamy goat cheese, lots of crispy, sauteed vegetables and a tangy salad dressing. When you combine all these ingredients, it makes a great salad.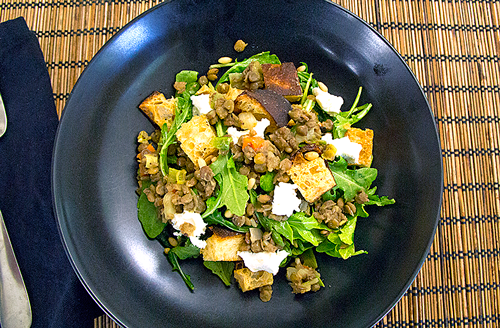 I loved the salad and the beany lentils are actually being used up faster than expected. Before I know it a will be wanting to press that buy button on Amazon again … just not so fast this time and in a smaller quantity.