C – What am I going to do with all of this lemon curd I made?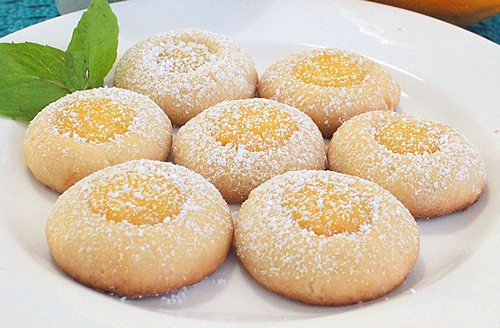 Jim wanted to devour the entire jar. He couldn't wait for me to finish making it. It was so good. I could see someone mistaking it for lemon custard and serving it as a dessert. But, I really didn't want him to eat the entire jar all by himself. I really could see him doing it. This is the guy who eats three pints of homemade ice cream in a week.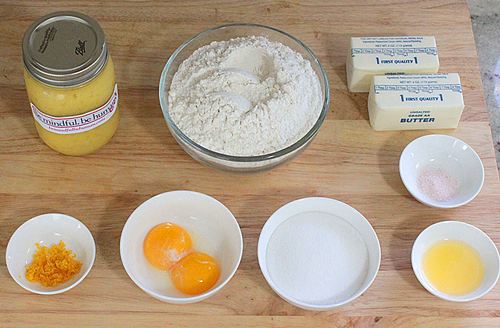 Something easy that will highlight the lemon curd. It all came back to me. At the bake party, Ewa and Ana made these great thumbprint cookies with raspberry jam. I had to try making something similar. They were incredible little cookies. I wish I could have gotten the recipe from them.

After some research. I found one that I liked. It didn't look anything like Ewa's and Ana's. But, it looked OK. A simple recipe with a few ingredients. I was ready to make them.

I couldn't wait to try these. Twenty minutes seems so long when it comes to cookie baking. They were worth it. Tender cookies with warm lemon curd. Oh! Yes!

I loved that the cookies were more than just a holder of the sweet filling. They weren't hard as a rock or dry. They were nice, tender and a little flaky.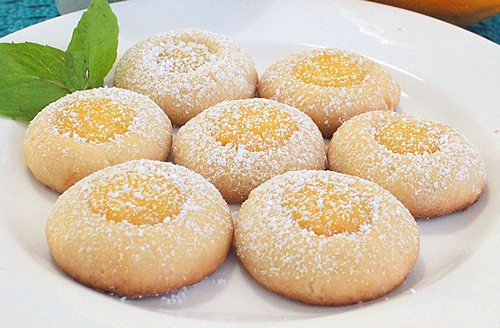 | | | |
| --- | --- | --- |
| Lemon Thumbprint Cookies with Lemon Curd Filling | | |
Prep time: 20 mins
Cook time: 22 mins
Total time: 42 mins
Ingredients
1 cup unsalted butter, softened
½ cup granulated sugar
2 large egg yolks
1 Tbsp grated lemon zest
1 Tbsp fresh lemon juice
½ tsp kosher salt
2½ cup all-purpose flour
1 cup Lemon Curd, or store-bought
Instructions
Heat oven to 350 degrees.
Line two half-sheet-pan baking sheets with parchment or nonstick liners.
Beat butter and sugar in a large bowl with mixer until well blended.
Beat in yolks, lemon zest, lemon juice, and salt.
Beat in flour just until moist clumps form. Gather dough together in bowl to bind.
Shape scant tablespoons of dough into 1-inch balls.
Place balls on prepared sheets, spacing them 1 inch apart.
Using a floured finger or something that will give a good round shape (I used the back of a small pestle), make a deep indentation in center of each ball.
Bake cookies until firm and lightly golden on bottom, about 18 to 20 minutes.
Remove cookies from oven and immediately fill indentations with curd.
Return to oven and bake 2 minutes longer to set curd.
Bake remaining cookies. Lightly dust edges with confectioners' sugar before serving.
Serve.
Enjoy!
Lemon Curd recipe
They would have been good on their own, just coated with confectioners sugar and no lemon curd. Especially because they have lemon zest and a bit of lemon in them. They would still be great.
The lemon curd really made it over the top. I loved them.
Adapted from: http://www.redbookmag.com/recipefinder/lemon-thumbprint-cookies-recipe-rbk1210