C – I love lemon season.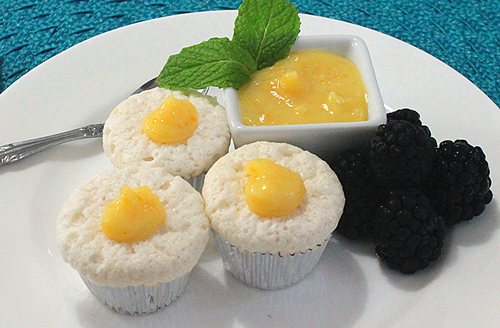 Sacramento is the best place for lemons. There are lemon trees in almost every backyard in Sacramento. Or, if you're like me, you have a nice neighbor you can "borrow" a few from.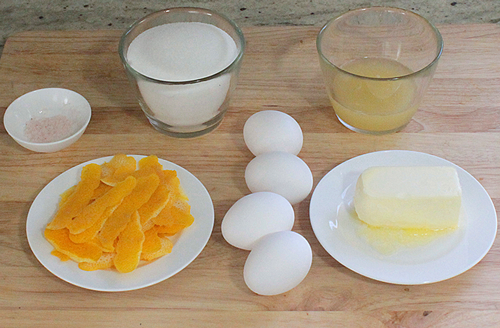 Well, what to do with all of these lemons? Lemon curd!
The first time I made lemon curd it wasn't successful. I wasn't sure what it was supposed to taste like, but it shouldn't have tasted like that. Raw egg and bitter lemons. Yuk! I threw away the entire batch and never wanted to try it ever again. You see, I have never had lemon curd and wanted to see what the hype was all about. I was really disappointed. I think I had a bad recipe.

This time was different. Ina Garten had to have a good recipe. It looked easy and good. I had to try it. With my fear of making something taste like raw egg and bitter lemons put to a side, and a few lemons borrowed from the neighbor, I was ready.

I was already working with better ingredients, which is a good start. Fresh from the Farmer's Market eggs and extremely ripe lemons from the neighbor's tree. Ripe lemons are very important in a recipe like this. When lemons aren't ripe they can be really hard to squeeze. Also, the lemon peel can be a bit bitter. I think that's what went wrong with the first recipe I tried. I didn't have ripe lemons right off a lemon tree. Back then, it was really hard to get any juice out and the peel was tough to use too. I also had really old eggs. I think they were at least three weeks old in my refrigerator, maybe more.
This time the lemon curd went well. Ina Garten is a genius. I cooked it a little over her recipe just to make sure that the eggs were fully cooked and the custard was thick for me. I tasted it before I cooked it. It was already good. I knew my ingredients were in my first batch years ago were bad. I am so glad these ingredients were extremely fresh.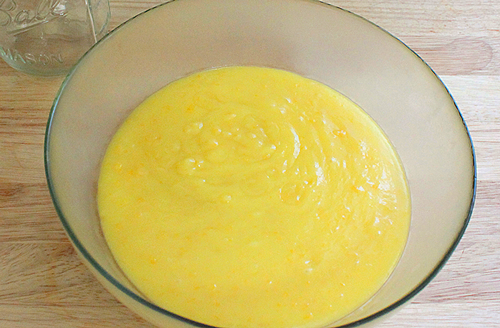 I could taste every ingredient in the recipe. Once I put it in my mouth, I could taste the lemon and the chucks of lemon zest. Then came the sweetness to balance out the tartness. Lastly, the egg custard feel and taste came to me. Jim said, "Yup. This is what lemon curd should taste like. Yum."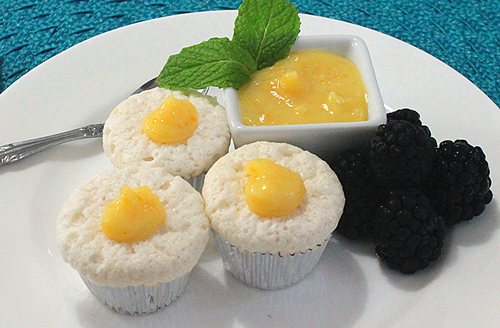 Prep time: 15 mins
Cook time: 12 mins
Total time: 27 mins
Ingredients
3 lemons
1½ cups sugar
¼ pound unsalted butter, room temperature
4 large eggs
½ cup fresh lemon juice
⅛ teaspoon kosher salt
Instructions
Using a carrot peeler, remove the zest of 3 lemons, being careful to avoid the white pith.
Put the zest in a food processor fitted with the steel blade. Add the sugar and pulse until the zest is very finely minced into the sugar.
Cream the butter. Then, beat in the sugar and lemon mixture.
Add the eggs, 1-at-a-time, combining well.
Add the lemon juice and salt. Mix until combined.
Pour the mixture into a 2 quart saucepan and cook over low heat until thickened (about 10 minutes), stirring constantly. The lemon curd will thicken at about 170 degrees F, or just below simmer.
Remove from the heat and cool or refrigerate.
Serve with cookies, scones, on top of cake or on ice cream. You can do so many things with this recipe.
Enjoy!
I was happy. It had been years since I tried making my first lemon curd. I never wanted to make it ever again. I am glad I tried it. Now, I have this great understanding of why fresh ingredients need to be in a recipe.
I really like it. It tasted so fresh.
Adapted from: http://www.foodnetwork.com/recipes/ina-garten/lemon-curd-recipe/index.html