J – I love anything carbonara …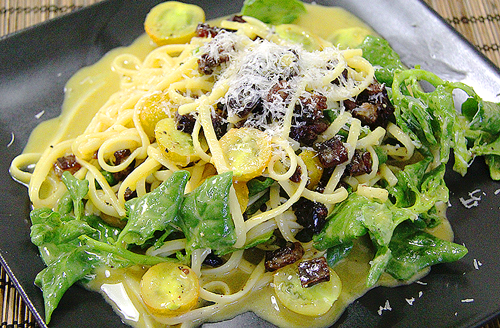 My abs do not, unfortunately. I could easily eat way more carbonara than I should. What to do? Fortunately, there is an easy and very tasty solution. Mix the carbonara, sauce and all, with a sturdy green like Lambs Quarter spinach or New Zealand spinach.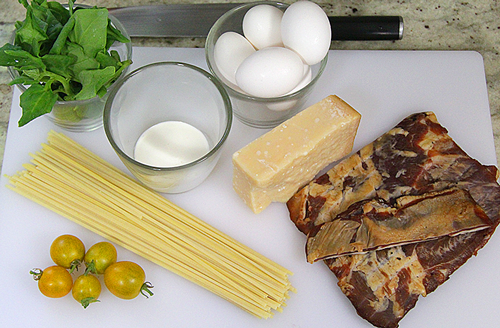 Mixed in at the last minute, the residual heat softens the greens a bit and brings the dish together nicely.

Luke was all over this one. What a great way to use our Farmer's Market discoveries and some of our just-ripening, green cherry tomatoes. Plus, we can use some more of the incredible lamb bacon we made.

Making carbonara is also a great way to demonstrate technique … preparation and precise timing make the difference. Ingredients need to be prepared in order and stay warm, or the sauce will not bind. The whole dish assembles at the last minute and goes right on the plate for serving. Mis en place!
The dish was a success. What a delightful flavor … both the carbonara and the greens.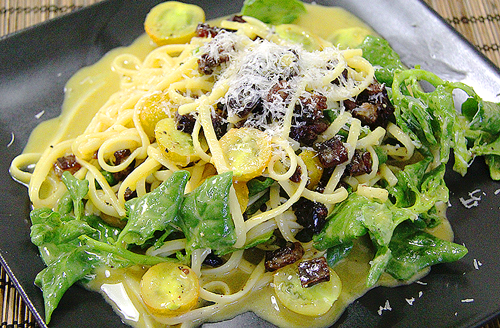 | | | |
| --- | --- | --- |
| Lamb Bacon Carbonara with New Zealand Spinach | | |
Prep time: 20 mins
Cook time: 10 mins
Total time: 30 mins
Ingredients
1½ cup lamb bacon, large dice
2 cups New Zealand spinach
Quarter-sized round of linguine pasta, cooked according to pasta box instructions
¼ cup cream
6 eggs yolks
¾ cup grated Parmesan
4 cherry tomatoes, halved
1 Tbsp canola oil
Salt and pepper
Instructions
Place canola oil in pan on high heat. Add lamb bacon and cook until crispy.
Cook pasta and keep warm.
In a small bowl, whisk yolks until they start to thicken. Add cream slowly while whisking.
Add ¾ of the Parmesan. Mix well.
Add salt and pepper.
Place cooked pasta into a large bowl.
Add enough sauce to just cover the pasta. Mix well. Don't make it too saucy.
Add bacon along with half the fat rendered from the bacon. Mix well.
Add more Parmesan, if needed, so everything comes together.
Add spinach and tomatoes. Mix well.
Add black pepper.
Place on individual plates, or on a platter.
Sprinkle with Parmesan.
Serve immediately.
Enjoy!
You get all the richness of lamb bacon in a creamy sauce, mixed with a very delicious spinach that holds its shape and stands up to the sauce.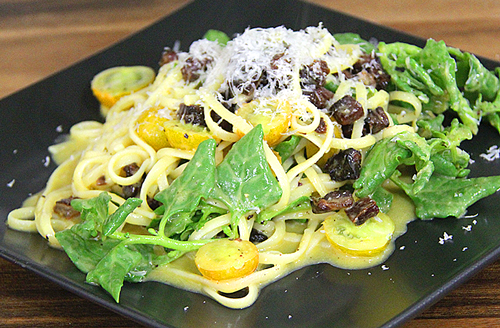 What a winner. My belly likes it, too.