C — Lately, I have been craving Korean food.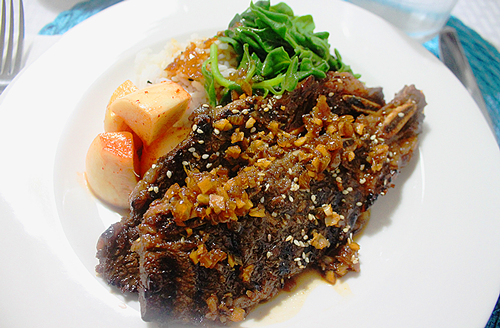 I'm not sure why. I just am. Love the stuff. But, for some strange reason I just haven't been in the mood to go out to a restaurant. Of course, I just love to cook. It's funny that most of the Korean restaurants I go to will allow me to cook my own meat. Seems fitting, but I still don't want to go.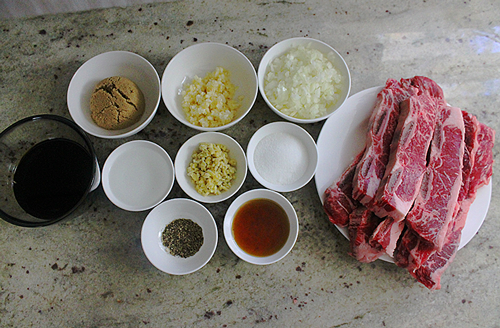 Today my Korean food craving really hit me. It hit me hard. I really needed to have some short ribs. In the grocery store looking to make something for dinner, the short ribs section was glowing. IT was calling out my name. I had to buy short ribs and make some.
When I got home my excitement grew. My mouth was watering wanting these ribs. I couldn't wait. But there was something that got me disappointed. Did you know that it takes 24 hours for Korean style short ribs to marinate? I didn't. Dinner was getting close. I only had two hours to prepare and I wasn't going to wait another day for ribs. HECK NO!

Well, I guess I was going to try a short cut. I am one for doing short cuts. Lots of them. Marinating meat in really concentrated flavors is the right way to go. My dad cautions me in doing this, because it can be over salted if you're not careful. OK, mindfulness … come to me. The usual recipe calls for warm water to dilute the marinade to allow the sugar to melt, and then a 24 hour marinade to not overpower the meat. I add all the ingredients except for the water. Marinate if for two hours basting it every half hour to make sure every single piece a sauce on it.

When it came time to cook the ribs, they looked ready. A dark glaze of sauce covered every piece of meat. I was excited, but still concerned the flavor wasn't intense enough. So I decided to use the marinade for a sauce. I grilled the meat and heated the sauce. It turned out great.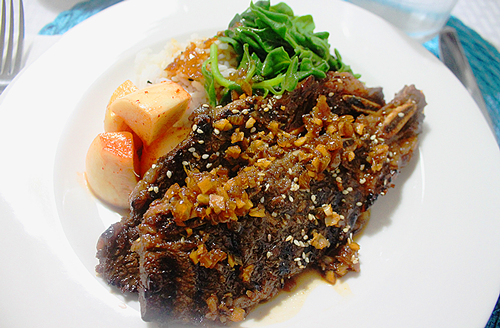 Prep time: 2 hours 15 mins
Cook time: 10 mins
Total time: 2 hours 25 mins
Ingredients
3 pounds flanken beef short ribs
¾ cup soy sauce
3 Tbsp white vinegar
¼ cup dark brown sugar
2 Tbsp white sugar
1 Tbsp black pepper
2 Tbsp sesame oil
¼ cup garlic, minced
½ onion, minced
2 Tbsp ginger, minced
White sesame seeds for garnish (optional)
Grapeseed oil for grill
Instructions
Combine soy sauce, vinegar, brown sugar, white sugar, pepper, sesame oil, garlic, and ginger.
Place beef into marinade.
Marinate for 2 hours.
Heat the grill to a high heat until smoking. Oil grill pan. Reduce temperature to moderately high heat.
Place meat on grill and grill for 4 minutes on each side.
After all the meat is on the grill, heat the remaining sauce in a sauce pan and until it boils and is slightly reduced.
Serve sauce on top of beef or on the side.
Enjoy!
The recipe wasn't too salty and had a great balance of sweet and sour to it. The rice, ginger, garlic and sesame oil combination made it taste like the restaurants.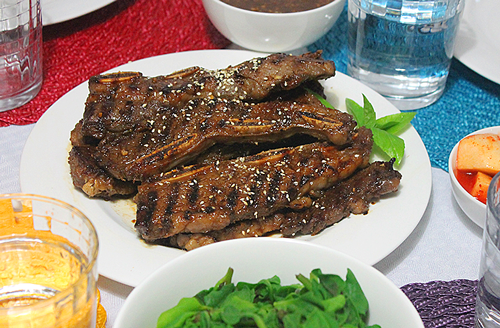 I loved it. I could have eaten the whole plate by myself in one sitting. I controlled myself … this time. Besides, Jim needed some.