C — One of my favorite cooking memories is from this soup.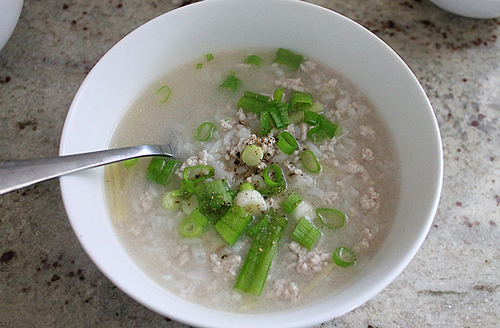 Khmer pork ginger rice soup. I am Cambodian and Khmer is the spoken language and culture. You might be seeing a lot of Khmer things in this blog. My memory goes back to cooking for my grandmother.
It was the first thing I ever made that she actually liked. This lady was picky. I mean, who could blame her, cooking for 80 years and being the most amazing cook of Khmer food. Of course, you're going to be picky! I remember seeing her eyes light up with her first taste of this soup. She was in the hospital sick and she hadn't had any home cooking for a few days. Both Hospital and American food never agreed with her, so having me make this was a great treat. I loved her smile, especially through all of her pain.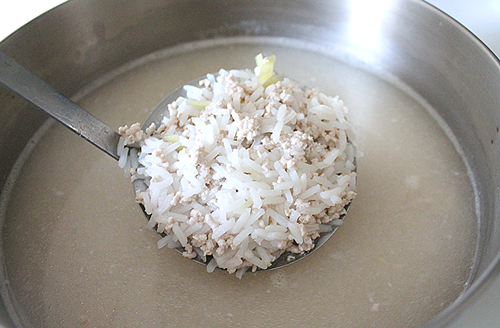 This soup is really simple to make. It's great when you're sick. The ginger helps with digestion. The broth is nice, warm and rich. It has a nice balance of spicy and salty to it. And, it is also really filling.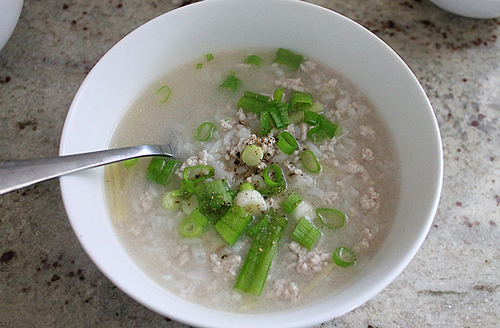 | | | |
| --- | --- | --- |
| Khmer Pork Ginger Rice Soup | | |
Prep time: 10 mins
Cook time: 40 mins
Total time: 50 mins
Ingredients
4 cups chicken broth
6 cups water
1 clove garlic, partially mashed, skin removed
1 Tbsp. ginger, julienne
1 cup white jasmine rice
1 pound ground pork
Salt and pepper to taste
A squeeze of lime juice (optional)
Instructions
In a large pot, combine broth, water, ginger and garlic and bring to a boil.
Add white jasmine rice and boil for 10 minutes.
Add ground pork, stir in and make sure they are in small pieces. Bring to a boil and cook fully.
Add salt and pepper.
Serve with additional black pepper and a squeeze of lime for each serving.
Enjoy!
Grandma this soup's for you. I miss you.