C — I guess I have to go on a diet.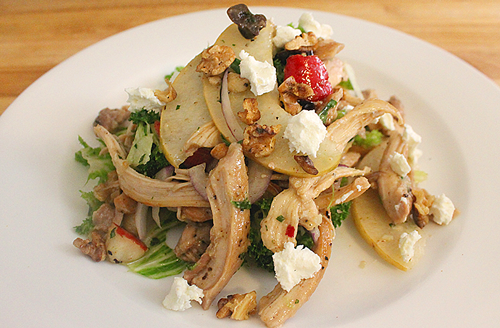 Fall is in full swing and the holidays are coming. Since I started on Be Mindful. Be Human., the human side has kicked in more than not. Finding the balance of flavor also seems to mean adding some extra fat … for me.
I have a wedding to go to during the Thanksgiving weekend. BTW: Who puts on a wedding Thanksgiving weekend, anyway? It's a time to be thankful for what you have, pig out on some good food and watch a few parades in your sweat pants. Not a time to have to watch what you eat and try to fit into an uncomfortable dress. I think I am little mad!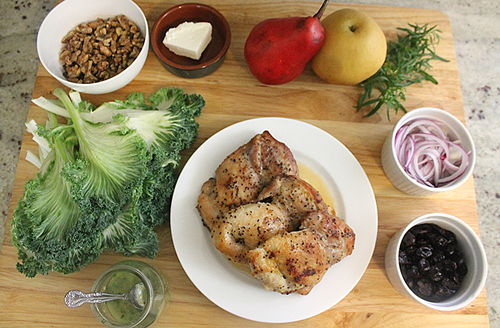 So the dieting begins. Only a few more weeks and a couple of dress sizes to lose before the wedding. I hope I can do it.

This kale, chicken, pear, tarragon and walnut salad will be the start. A fall salad that is very filling, but doesn't have too many calories. It tastes great. Crunchy walnuts, mustard tarragon vinaigrette, nice moist grilled shredded chicken with sweet pears and some kale. Oh yeah!
The dressing is really nice and light, with just a hint of tarragon and some mustard to it. It made the salad really balanced. Sweet from the pears and cherries and tangy from the mustard. I loved the crunchiness. The walnuts, pears and kale make this salad so addicting. If I weren't on a diet, I would have eaten the entire bowl.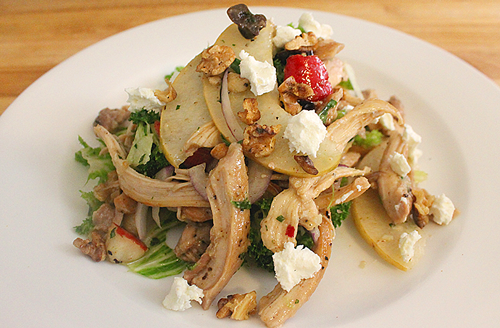 | | | |
| --- | --- | --- |
| Kale Walnut Tarragon Chicken Salad | | |
Prep time: 15 mins
Total time: 15 mins
Ingredients
½ bunch of flowering kale, pulled into small pieces
1 red pear, cubed
1 apple pear, sliced thinly
¼ red onion, sliced thinly
½ cup tart dried cherries
1 cup walnuts, chopped and toasted
2 Tbsp fresh tarragon
3 cooked boneless skinless chicken thigh, shredded
1 ounce goat cheese, crumbled
2 Tbsp brown mustard
2 cloves of garlic, minced
2 Tbsp fresh tarragon, chopped
4 Tbsp olive oil
Salt and pepper to taste
Instructions
Combine all ingredients for salad in a large bowl, except goat cheese
Mix first three dressing ingredients in a separate bowl
Whisk-in oil to emulsify
Correct with salt and pepper
Toss with salad
Serve in individual bowls
Top with goat cheese
Enjoy!
I wish I could eat this everyday. I would definitely lose weight. But, I have a feeling that in the next few weeks Jim and Luke would think I was crazy because of all of the good food that's being made in the Be Mindful. Be Human. kitchen.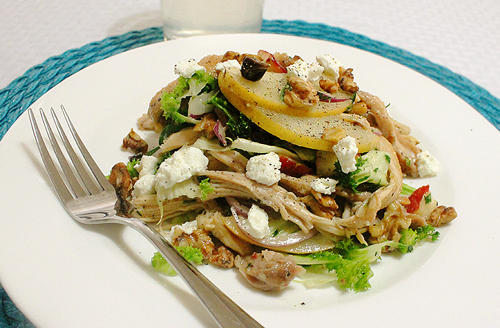 Oh well. This salad in between those great dishes will have to do.