C — I love kale. Kale and I should get married.
I could spend my life with kale. I haven't had a complaint from him since we met. We do everything together. We cook, wash, bake and eat together. What more can I ask for. My entire family is annoyed about my relationship with kale. When I go visit them, kale is always there at every meal.
If only kale were a person I would make a happy wife.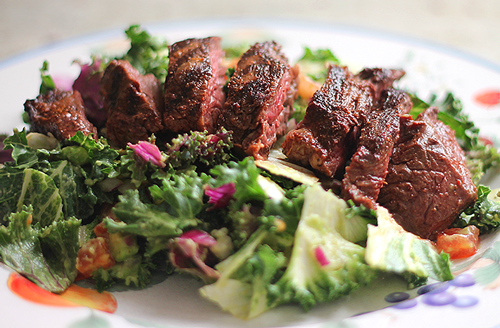 Oh well, kale, kale, kale! My family is really ready for me to move on to another vegetable. But I can do so much with kale, including this great kale salad. It's one of my favorite salads. I once ate it everyday for weeks. The creamy avocado, tomatoes, tiny pieces of red onions, lime, salt and pepper…oh, and KALE, makes it so simple, quick, easy and tasty. Kale salad goes great with any protein, but Jim's steak really makes it great.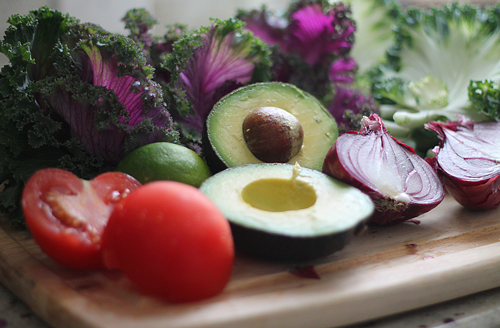 BTW: Jim is now deemed the steak king in this house. He is always ready to a grill steak. I think he has steak once a week just to be deemed the Steak King. No grilling…No Steak King. OK Jim?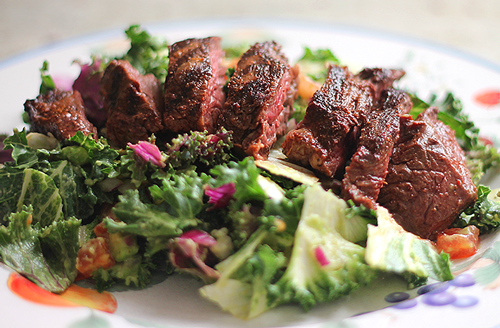 Prep time: 10 mins
Total time: 10 mins
Ingredients
20 Flowering kale leaves of both yellow and purple, torn into small pieces
¼ red onion, chopped
½ avocado, cut into ¼ inch pieces
½ tomato, seeds removed and chopped
Juice of half a lime
Salt and pepper to taste
Instructions
Combine all ingredients and mix well.
Let salad sit for 30 minutes and top with grilled steak.
Enjoy!
Grilled Hanger Steak recipe