J – Corned beef hash and I go back a long way.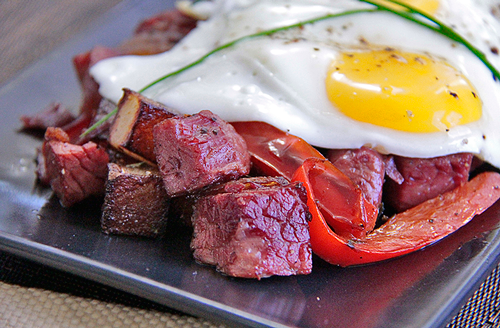 I'm pretty sure it's not my heritage. I like all things Irish, but I have to wear green on St. Paddy's Day. I remember corned beef hash from childhood … not fondly. I loved the idea, just not the execution. I kept trying. No deal.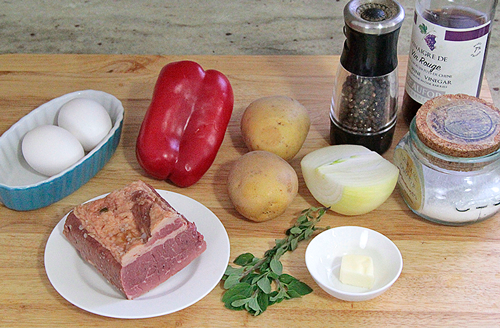 Then, I had Luke's corned beef hash a few years ago. OMG! This guy had it down.

This is also when I started learning more about brining and braising.

How you season and prepare the beef brisket makes all the difference. Basically, the good stuff takes time. We pay for that … hopefully … at good restaurants. It's no different at home.

The great news is that you prepare larger-than-normal amounts and freeze a bunch. You're good for at least 6 months to a year. Not bad, in my book. Note to BMBH management, we need a larger freezer!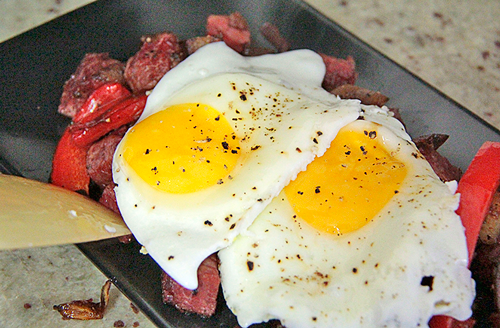 This dish comes together pretty quickly. Everything is prepared. Just heat-n-eat in order … so to speak.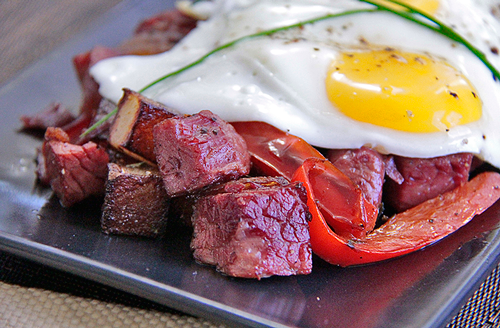 | | | |
| --- | --- | --- |
| Irish Week: Corned Beef Hash | | |
Prep time: 5 mins
Cook time: 10 mins
Total time: 15 mins
Ingredients
4 Tbsp canola oil
1 pound cooked corned beef (see recipe link below), cut into ¾ inch cubes
2 Yukon gold potatoes, cut into ¾ inch cubes
¼ red bell pepper, cut into strips
½ yellow onion, julienned
1 Tbsp red wine vinegar
½ tsp butter
1 tsp fresh oregano, chopped
4 eggs
Instructions
Place 1 tablespoon of oil into a saute pan and heat on medium high. Add potatoes and sear all sides. Salt and pepper to taste. Cook for about 5 minutes. Remove from pan and set aside.
In another saute pan, add oil and cook onions until caramelized. About 5 minutes.
Add red peppers to the pan and butter. Add salt and pepper.
Add red wine vinegar and herbs and cook for 1 minute. Remove from pan.
In a separate pan, with another tablespoon of oil, cook eggs sunny side up.
While the eggs are cooking, add corned beef to a pan to warm up. Add potatoes and onion mixture to the pan and reheat.
Once warm and eggs are cooked. Place corned beef mixture onto the plate.
Top with the eggs.
Serve.
Enjoy!
Homemade Corned Beef recipe
There's a little technique in sunny-side eggs. Well-oiled pan and start on low heat.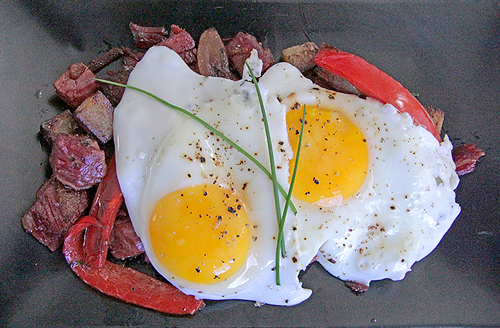 Every time I have this dish, I pretty much suck it down. Yum!! You can't miss.