Redux and Update: This ice cream needs a warning on it. Don't consume in the evening. You might not be able to sleep at night. I love this ice cream. It's really delicious and addicting. I ate it one night and didn't expect to be wide awake at 1am. It's loaded with caffeine from all the tea that's added. I think the best suggestion for this ice cream is to eat it in the afternoon or after lunch. It's a perfect pick me up for an afternoon slump.
C – That artisanal ice cream shop in San Francisco has nothing on me.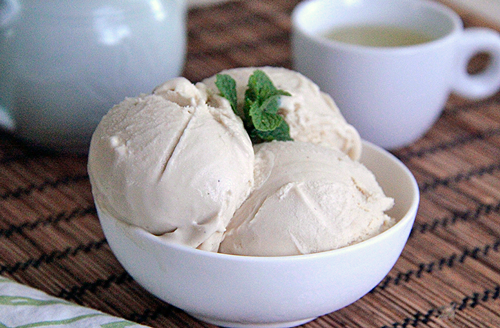 My boyfriend and I love ice cream. But, sometimes I get too lazy to make it. Sometimes, small, expensive cups of ice cream … that we have to drive 45 minutes across town for … are worth it. Usually, they aren't, though.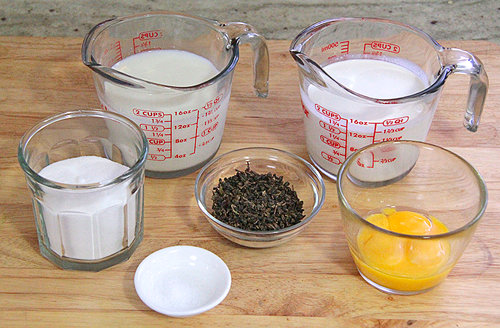 When I do go to that great ice cream shop, I end up going for something new. Something I have never tried before. I am always disappointed. I knew I should have gotten to oolong tea ice cream.

Why did I want to try something with bourbon and captain crunch, anyway? I don't even drink. That was a waste of five dollars. I'm still not satisfied.

Returning home, that oolong tea ice cream was still on my mind. That ice cream didn't even taste like oolong. It tasted like green tea ice cream, but better. Now, I have to make this ice cream. I guess there is another tea variety added to my collection.

I wanted to use this great oolong tea that cost $100 an ounce. I decided to try it with a cheaper oolong tea first. Just to be safe. Plus, something that expensive is more for savoring in small amounts anyway.

This ice cream taste similar to the one from the ice cream shop. Smooth and creamy. Full of oolong tea flavor. It's similar to green tea ice cream, without the green color. It's also a lot cheaper than buying matcha powder to make ice cream.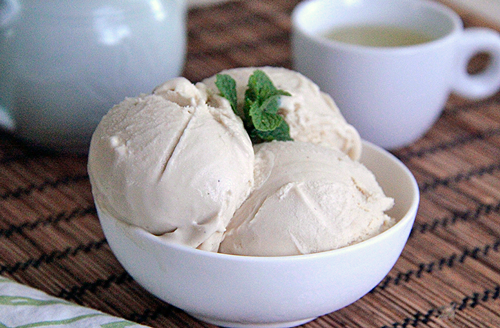 | | | |
| --- | --- | --- |
| Tea Week: Oolong Tea Ice Cream | | |
Prep time: 15 mins
Cook time: 30 mins
Total time: 45 mins
Ingredients
¼ cup oolong tea leaves
1½ cup cream
1½ cup milk
1 cup sugar
4 egg yolks
Pinch of salt
Instructions
Place milk, cream and sugar into a sauce pot. Warm up the milk mixture until bubbles form on the edge of the pot. Turn off heat.
Add tea and let steep for 20 minutes.
After 20 minutes, bring mixture back to a warm simmer. Do not boil. Once the bubbles start forming on the sides it's done. Turn off the heat.
In a large mixing bowl, add the 4 yolks and beat until light yellow.
Place a fine mesh strainer over the top of the bowl and slowly ladle the milk mixture into the yolks, while continuing to beat the eggs.
Once all the milk mixture is added into the eggs, press and squeeze out the remaining liquid from the tea leaves to get all the flavor out. You can stain the liquid a few times from the tea leaves to get the flavor out. This will help make the most flavorful ice cream.
Add back into a clean pot and reheat the mixture to 185 degrees or until the back of the spoon is coated. Do not boil.
Strain the mixture once again.
Let sit to room temperature before placing in the refrigerator. Chill overnight before churning.
Churn ice cream according to ice cream maker's instructions.
Place in the freezer for at least four hours or overnight.
Serve.
Enjoy!
I really liked the flavors in this ice cream.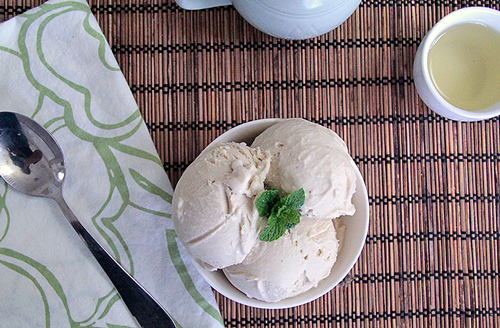 Now, I am glad I didn't buy that cup of expensive ice cream at that ice cream shop. I was able to make it myself and appreciate it even more.