C – Making a good fruit salad can be challenging …
if you don't have really good fruit that is ripe and ready to eat. Putting lots of fruit into one bowl and serving it can be a disaster, if the fruit is too sour and not flavored well.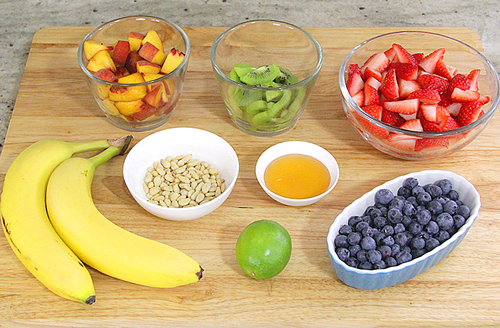 I made a fruit salad once during winter and everything in it was a bit under ripe. I had a whole lot of left over fruit salad on my hands. Luckily, I turned it into smoothies. But, I needed to figure out how to change this fruit salad disaster into something everyone fights over and devours.

I think I figured it out. One day, I asked Jim to get some fruit for a salad at the Sunday Farmer's Market. He ended up buying some fruit that wasn't quite ripe yet. I decided to sweeten up the entire salad with some honey. Then, balance out the sweetness with a bit of lime juice. The salad turned out great.

To our surprise, the longer it sat and marinated, the better it became. The fruit pieces broke down a little and the flavors blended in well with each other. We really enjoyed it.
Prep time: 45 mins
Total time: 45 mins
Ingredients
2 bananas, sliced
1 pint strawberries, stems removed, quartered
½ pint blueberries
1 peach, pit removed, cubed
2 kiwi, peeled, cut in half then sliced thinly
2 Tbsp honey
1 lime, juiced
⅓ cup pine nuts, toasted
Mint for garnish (optional)
Instructions
Mix honey and lime juice until well combined in a small bowl.
Place fruit and nuts in a large bowl. Mix well.
Add honey/lime mixture. Mix well.
Chill the salad, sitting in its juices for at least 30 minutes, to let the fruit flavors mix with honey and lime.
Serve in small bowls and garnish with a sprig of mint.
Enjoy!
I hope I remember this the next time I have to serve fruit salad with some slightly under ripe fruit. Make it at least an hour ahead of time. Let it chill, sitting in its juices. It's amazing what happens.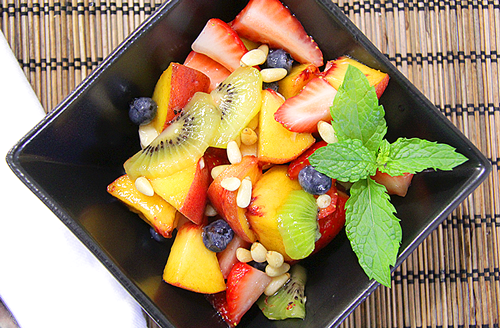 The fruit is enhanced with a little bit of sweetness. Hope you enjoy!