J – Happy St. Patrick's Day … almost.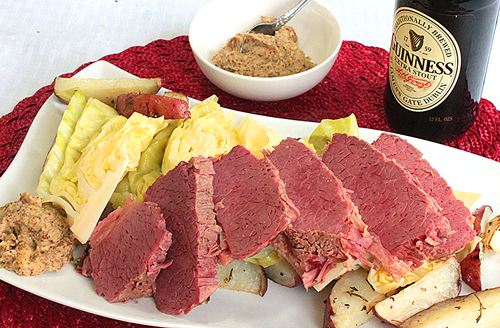 We are awash in corned beef, Guinness, Irish cheddar, cabbage, potatoes, etc. This is going to be delicious! Over the next few days, we'll be sharing posts for Irish-themed recipes and other Northern European dishes. Some are presented as appetizers, since that's our motivation right now.
You can easily expand anything to a main course, if you feel so inclined.

Luke has been doing the corned beef hash at Taylor's Kitchen since he took over. No one else does it better. If I can't decide at brunch, it's my go-to dish. Luke's last day was Sunday, March 10. Brunch will never be the same. But, the really good news is that we know who to ask for a great recipe. Oh boy!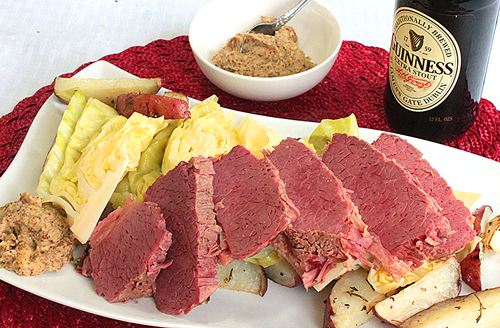 | | | |
| --- | --- | --- |
| Homemade Corned Beef and Cabbage with Roasted New Potatoes | | |
Prep time: 40 mins
Total time: 40 mins
Ingredients
NOTE: This recipe scales well. If you did all 12 pounds, have at it. Just multiply by 4.
½ cup apple cider vinegar
3 pounds corned beef
½ cup kosher salt
1 bottle of stout beer, 12 oz (We used Guinness)
Enough water to cover the corned beef
1 head of cabbage, cut into 16 wedges, leaving the core
5 red potatoes, cut into wedges
2 rosemary sprigs
2 Tbsp grapeseed oil
4 garlic cloves, skin on
½ cup mustard
Salt and pepper to taste
Instructions
Add the first five ingredients to a large pot. Cook corned beef uncovered on high heat. Be careful that it doesn't boil over. Reduce heat if it starts to boil over.
Continue adding water to cover the meat as the liquid reduces.
Boil for 3 hours, or more, until tender.
Remove corned beef from pot and set aside.
Preheat oven to 300 degrees.
Add the first five ingredients to a large pot. Cover with heavy foil and pot top.
Cook for 6 hours, or more, until tender.
After Cooking Corned Beef
While corned beef is cooking, preheat oven to 350 degrees. Toss potatoes in oil, rosemary, garlic, salt and pepper. Place potatoes skin side down and roast until golden brown and tender, about 30 minutes.
When corned beef is done, strain liquid from the corned beef and place back into pot. Set beef aside.
Bring pot to a boil.
Add cabbage wedges, cook for 2-3 minutes until soft and tender.
On a serving platter, place potato wedges on the bottom.
Top with cabbage wedges, then add corned beef in ½ inch slices.
Place mustard on the side.
Serve.
Enjoy!
This dish is straight-forward and very tasty.
Don't rush cooking the corned beef. It isn't worth it.