Update and Redux: C – Still trying to figure out what to make for today's breakfast or brunch? Make these incredibly fluffy and delicious banana buttermilk pancakes. They are really easy and you probably have all the ingredients in your kitchen … no extra shopping. Hope everyone has a great day with family and friends.
C – These are the fluffiest pancakes I have ever made.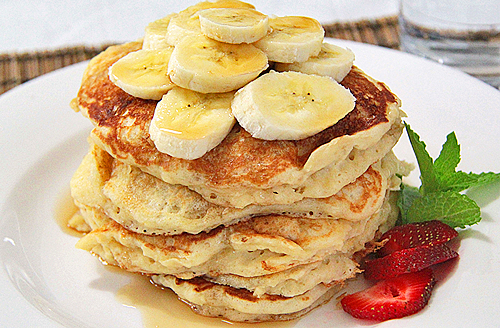 I love fluffy pancakes! I had forgotten just how much. Unfortunately, my boyfriend loves the thin ones. So, I have been making thin ones for a while. Actually, a lot of people love thin pancakes. I have been making thin pancakes for them, too. I forgot what I was missing.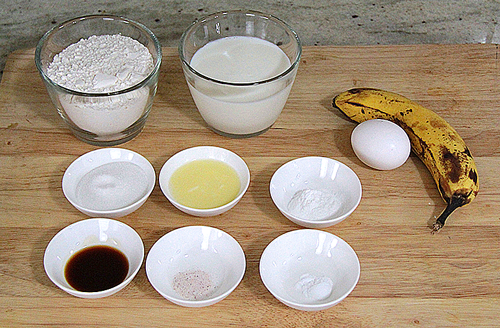 These pancakes were more like little cakes. Just the way I like them. I was in pancake heaven with every bite. Moist and a bit sweet from the bananas. They are a great treat to start a day or a weekend.

I love that I didn't have to beat any egg whites and gently fold them in to get fluffy pancakes. I just added a bit more baking powder than usual to get them fluffy. What a cool trick.

Let the batter sit for a few minutes to activate the baking powder. Then, start making the pancakes!

So simple. I wish I knew this technique a few weeks ago when I was making pancakes for a crowd of 15. It would have been a lot faster and more filling than those thin ones I had to make. I made about 60 thin ones, instead of 30 thick and fluffy ones.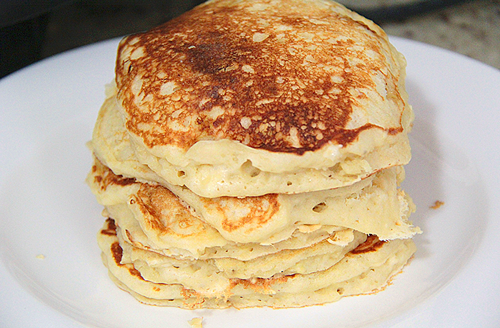 This will be my new go-to pancake recipe for a crowd.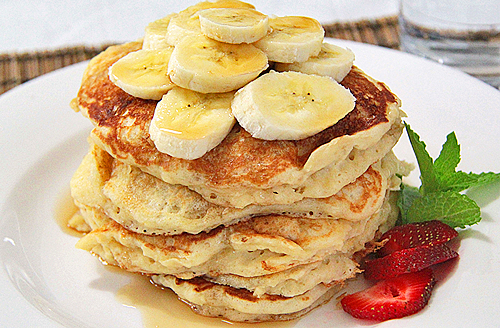 | | | |
| --- | --- | --- |
| Banana Buttermilk Pancakes | | |
Prep time: 15 mins
Cook time: 3 mins
Total time: 18 mins
Ingredients
2 cups buttermilk (or 2 Tbsp vinegar + enough whole milk to equal 2 cups)
2 small or 1 large ripe banana, or about 1 cup mashed, plus extra for slicing on top of the pancakes
2 eggs
3 Tbsp unsalted butter, melted and cooled slightly
2 tsp pure vanilla extract
2½ cups all-purpose flour
¼ cup sugar
3 tsp baking powder
½ tsp baking soda
½ tsp salt
Instructions
In a large bowl, add the buttermilk. If using the vinegar plus milk option, let the mixture sit for about 10 minutes to allow the milk to turn to buttermilk.
Whisk the mashed banana, eggs, butter and vanilla into the buttermilk.
In a medium bowl, whisk together the flour, sugar, baking powder, baking soda and salt.
Pour the dry ingredients over the wet. Mix just until incorporated. Do not overmix.
Let batter rest for about 5 minutes.
Heat a non-stick griddle to 325 degrees, or large frying pan over medium heat.
Melt a little butter on the cooking surface, spreading it evenly, if desired. Or, do this if the griddle/pan is not non-stick.
Using a ⅓ cup measure (or an ice cream scoop), pour measured batter onto the griddle or into the frying pan.
Pancakes are ready to flip when they look a little dry around the edges and start to form little bubbles (about a minute).
Flip and cook on the other side until golden brown and the cooked through.
Serve topped with sliced bananas, butter, and maple syrup.
Enjoy!
From now on, when I'm in the mood for really soft and fluffy pancakes, I will be making this wonderfully delicious recipe.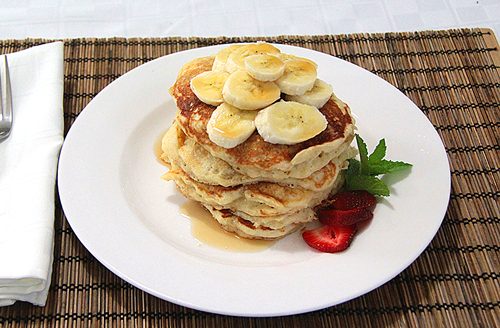 My boyfriend will just have to endure them … once in a while.
Adapted from: http://www.kitchentreaty.com/fluffy-banana-pancakes/