Update and Redux: C – Food gifts are the easiest things to give. We usually make ours, and add a few other goodies just in case the gift receivers don't like the gifts we made. This vanilla bean chai syrup mason jar gift set has teas, a wooden spoon and a mason jar that people can keep after they finish using the chai mix.
C – There are is one rule that I keep breaking when guests come to my house.
It's not a requirement. But, it's really cool if I stick by the rule. What's the rule? Never let a guest leave empty handed. I always wondered why my mother was frustrated when guests were coming to visit us, even if it was just for a few minutes.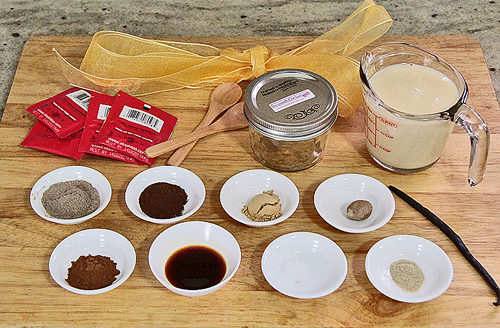 She always wants them to take something home that is good. She would offered some of the best fruit or a sweet treat that she prepared that day. I was always frustrated at her secret rush to give them something … because I didn't understand the rule. Now I get it.

Giving something special … even if it's something really small … makes guests know that I thought about them, I like sharing and there is plenty to go around. It's always easy for me to pack up lots of leftovers after a dinner party. Or give someone leftover wine or drinks I know we aren't going to drink. But, giving more should also be considered when guests come over.

I thought these Mason jars of Vanilla Bean Chai Syrup, along with tea bags would be really cute for holiday guests coming over. Even if they don't use the syrup, they have a few things that come along with it that they can use. It's a really quick and easy recipe. Some of the things may already be in the pantry. The syrup is also shelf stable, so you can leave gifts near the entry doorway. That way, when guests begin to leave, you can give them a gift on the way out.
| | | |
| --- | --- | --- |
| Holiday Meal Ideas 2015: Vanilla Bean Chai Syrup Mason Jar Gifts | | |
Prep time: 7 mins
Total time: 7 mins
Ingredients
14 oz sweetened condensed milk
2 tsp ground cardamon
1 tsp cinnamon
1 tsp ground cloves
1 tsp nutmeg
1 tsp ground ginger
¼ tsp ground white pepper
Pinch of salt
1 vanilla bean seeds scraped
2 tsp vanilla extract
Instructions
Place all ingredients in a mixing bowl. Mix well.
Place in a clean Mason jar to store. Can be stored in the refrigerator for up to 6 months. (Add instructions on a label if giving them as gifts.)
Add a couple of tablespoons to a cup of hot black tea.
Serve.
Enjoy!
I love the taste. It's a simple way to make Chai latte. There is no need to boil the ingredients or mess up any pots. All you need to do is add a few tablespoons of the syrup. Then add hot water and a tea bag and enjoy.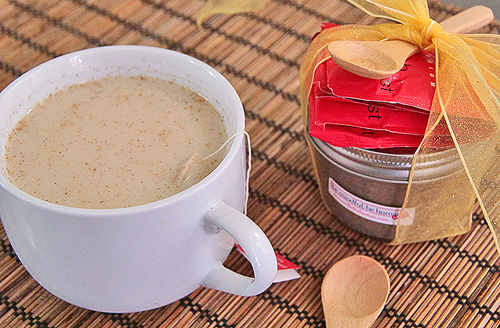 Now that the holidays are almost done, I have to figure out what guest gifts I can give throughout the year.