C – There's nothing better than getting a wrapped gift.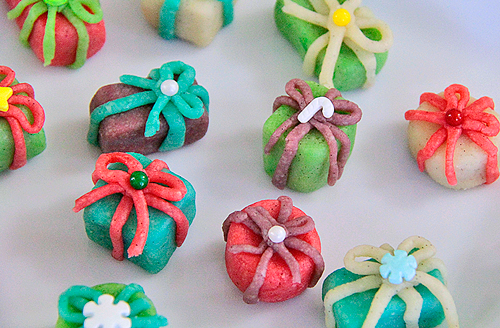 Well, maybe a gift that looks wrapped and can be eaten will top it. One thing I love about the holidays is baking and gift giving. I also love forming and shaping things.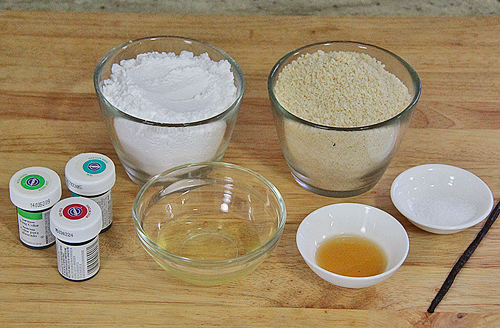 These marzipan candies are definitely up my alley. I am not that great with frosting or piping cookies. But, shaping things like these presents were really easy.

It's also fun for kids to help make for parties.
I love the taste of these marzipan gift boxes. Vanilla and almonds make a good combination.

You could use some vanilla rum to add a little more flavor for an adult version of these delightful candies.

It's a simple recipe that you can make a few days in advance. Bring them to a party or wrap them in a box to give away.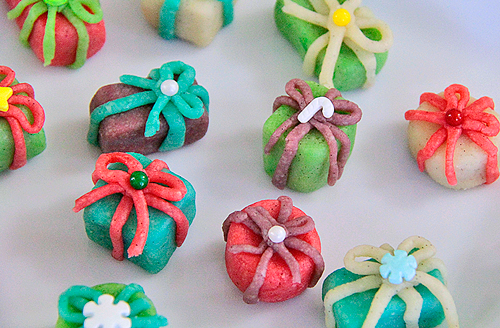 | | | |
| --- | --- | --- |
| Holiday Food Gift Ideas Week 2015: Marzipan Gift Box Candies | | |
Prep time: 30 mins
Total time: 30 mins
Ingredients
1½ cups almond flour
1½ cups powdered sugar
Pinch of salt
1 Tbsp vanilla rum or 1 tablespoon vanilla extract (More, if you like. Just remember it can get sticky if you add too much.)
1 vanilla bean pod
1 egg white
Different food color gels for decorating
Candy sprinkles for decorating
Instructions
Place almond flour, powdered sugar and salt into a food processor. Blend for 10 seconds.
Scrape the seeds of the vanilla bean. Add the food processor with vanilla rum. Blend for 10 seconds.
Add egg white. Blend until the mixture forms into a dough.
Remove the dough from the food processor and wrap into a plastic wrap. Refrigerate for at least 30 minutes before using.
Divide into equal pieces. (We had about 4 colors, so we divided them into 4)
Place a drop or two of food color gel onto each of the dough pieces. Mix well. If you hands get sticky wash them and keep hands slightly damp. It makes it easier to mix.
Cut dough into 1 inch pieces. Shape them into boxes. i.e. square, rectangle, circles, etc.
Roll another piece of dough into very small, thin snakes. Place the snakes into a cross shape over the box shape. Two small loops of snake to form a bow.
Top the center of the bow with a candy sprinkle.
Place on serving platter. Repeat until you have used all the dough.
Serve.
Enjoy!
If this doesn't get you into the holiday spirit for gift giving, I don't know what will.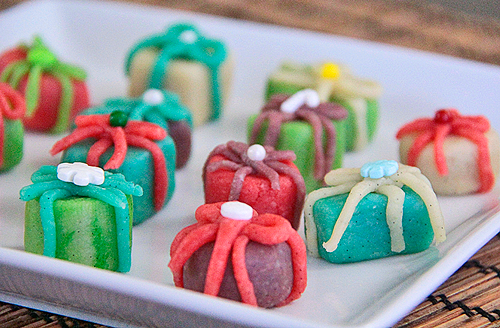 It's a must try this holiday.