C – I love biscotti!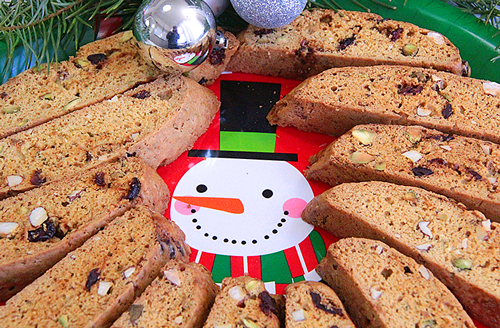 I can't resist them. For some strange reason, I always feel they are so expensive when I go to a coffee shop. I always end up splurging and going for one. I hate doing that, since I know how much better and cheaper it is to make them.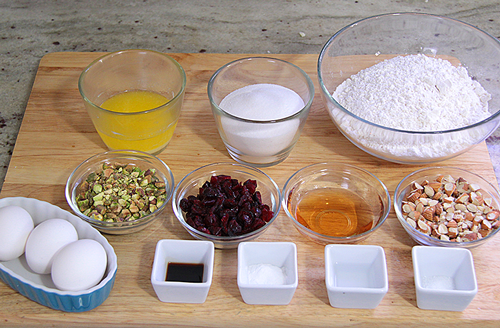 Biscotti are so easy to make. I still can't believe I'm so lazy on making these things.

It's simple. A loaf that's baked, cut and baked again until the biscotti are crispy. I love that you don't eat them fresh. They actually taste much better a few days after the cookies are made.

I think I will make a few batches of these. Then, I can keep them around so I won't have to buy the store-bought kind.

I really enjoyed eating these biscotti. I love that they weren't really sweet.

It was in between a crunchy piece of toast and a short bread cookie. It was great with my coffee for breakfast.

I didn't have a sugar overload with this cookie.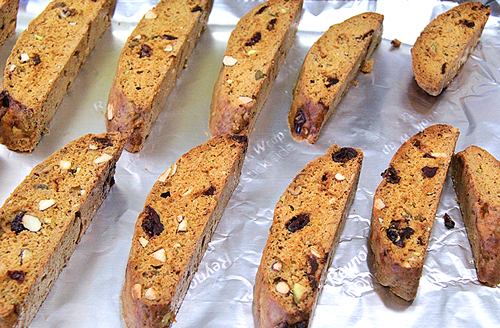 I loved the nuts and cranberries. They really added a great texture and enhanced the flavor.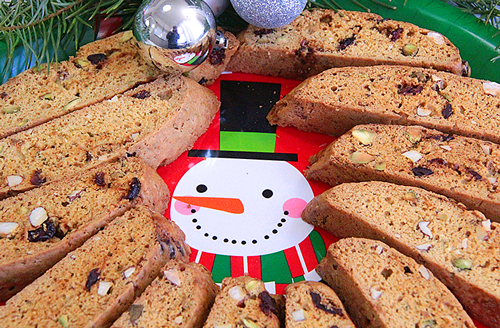 | | | |
| --- | --- | --- |
| Holiday Cookie Week: Almond Pistachio Cranberry Biscotti | | |
Prep time: 10 mins
Cook time: 50 mins
Total time: 1 hour
Serves:
20 cookies, approximately
Ingredients
1 cup sugar
1 stick unsalted butter, melted
3 Tbsp brandy
2 tsp pure almond extract
1 tsp pure vanilla extract
1 cup whole almonds with skin, lightly toasted , cooled and coarsely chopped
3 large eggs
2¾ cups all-purpose flour
1½ tsp baking powder
¼ tsp salt
Instructions
Stir together sugar, butter, brandy and extracts in a large bowl. Then, stir in almonds and eggs.
Stir in flour, baking powder and salt until just combined.
Chill dough, covered, 30 minutes or overnight.
Preheat oven to 350 with rack in middle.
Using moistened hands, halve dough and form two 16-inch x 2-inch loaves. Place the loaves on a large, ungreased baking sheet.
Bake until pale golden, about 30 minutes. Carefully transfer loaves to a rack and cool 15 minutes.
Cut loaves into ¾ inch slices with a serrated knife.
Arrange biscotti, with a cut side down, on a clean baking sheet. Bake until golden, 20 to 25 minutes. Transfer to rack to cool completely.
Store in an air-tight container.
Enjoy!
I know if I go to a coffee shop now, I might not have the will power to resist. I might still get a biscotti.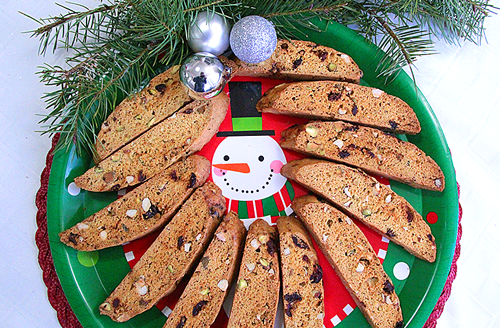 I will just feel extra guilty getting one, since I know how to make them so well.
Adapted from: http://www.epicurious.com/recipes/food/views/Nonnas-Biscotti-351136