C – Jim has been drinking bagged mint tea for years.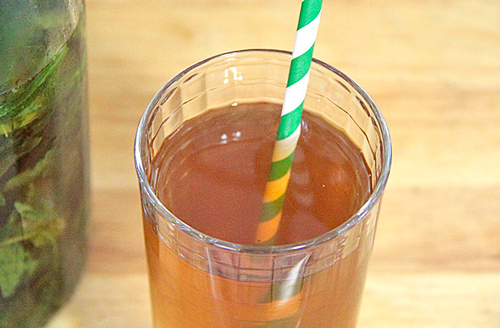 He loves one in particular. I am just not a big fan of that particular tea. It's dried mint with dried tarragon. There's something off about it. I don't think mint should taste like that. Jim disagrees and loves it. So, we buy it when ever he needs it.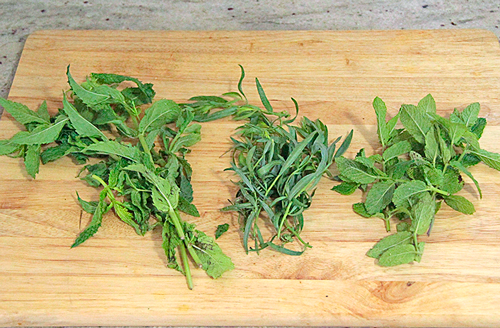 Of course, there was this great sale. I think Jim got a year's supply. That cabinet was loaded with the stuff. What can I say. It was a $2 off coupon for a $3 box of tea. Sadly, after I bought the tea, we went to a really expensive tea shop that was promoting loose-leaf mint tea (my favorite kind). Jim was all over that. He stopped drinking the bagged mint tea and started going for the loose-leaf teas.

I am not sure what happened. Recently Jim's gone back to the mint tea in bags. Maybe, he just wanted something different. Whatever, I was happy he was drinking them.
Surprisingly, he was using more than I expected. All the tea bags were gone. Now, we needed to get more. Was there an alternative form to his favorite tea, he asked. I said of course there was.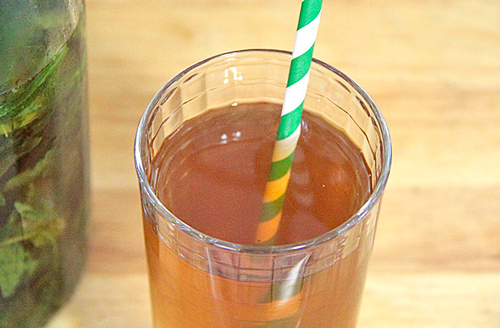 | | | |
| --- | --- | --- |
| Herb Week: Mint Tarragon Cold Brew Tea | | |
Prep time: 3 hours
Total time: 3 hours
Ingredients
20 peppermint leaves
20 spearmint leaves
40 tarragon leaves
8 cups water
Instructions
Place leaves into a drinking glass or cocktail mixer. Using a muddler, muddle the leaves to release the oils. Add some water, cover and shake well.
Pour all into a larger container and add the rest of the water.
Let steep for at least 3 hours or overnight. The longer you steep, the stronger the taste.
Strain.
Serve with ice.
Enjoy!
We can try fresh herbs brewed to make mint tarragon tea instead. It might not be as strong, but it will be refreshing and tasty.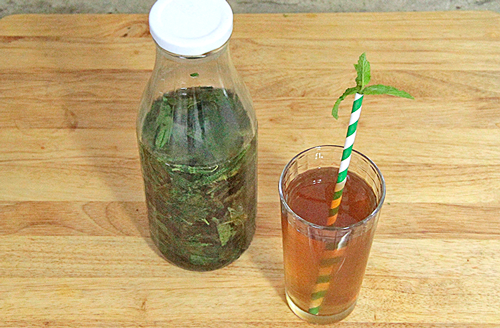 This is one of my favorite ways to brew tea. Light tasting and refreshing tea, brewed without hot water. I liked it. Jim will like it eventually. The blend isn't quite strong enough … I think he will get used to it.