C – I can't believe how well the oregano is growing.
We didn't even plant it this year. This was from last year. The oregano has set up camp and is staying. I am fine with it. It has a nice space to grow and it's growing well. It is the perfect place for water, good soil, sun and the cats aren't going over there anymore.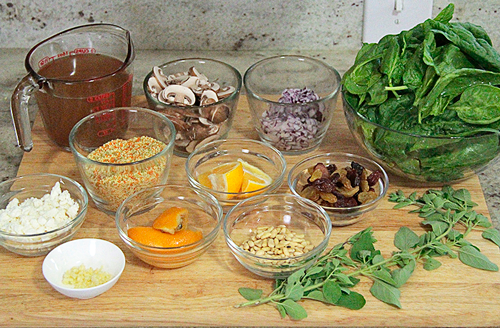 It's amazing how well the oregano has taken to that spot. Who wouldn't want to stay there?

It's probably the best $2 I've ever spent. I am pretty happy and amazed about how well it's been growing.

Now the challenge, what to do with all this oregano? We definitely don't have enough freezer space to make tomato sauce. Let me know if you have any other ideas.

Oregano is also strong in flavor. So, too much can be overpowering in a meal. I really have to use it wisely in dishes because it can take over.

This couscous only requires about a tablespoon, I added a little more than I suggested in the recipe.

I really liked it. The oregano shines in this couscous. I was surprised that just a small amount of oregano really went a long way.

It combined so well with all the other flavors. Sweet raisins, salty feta cheese, tart lemon and oregano's great savory flavor. It was delicious. I really enjoyed it.
| | | |
| --- | --- | --- |
| Herb Week: Chicken and Spinach Couscous with Oregano | | |
Prep time: 15 mins
Cook time: 25 mins
Total time: 40 mins
Ingredients
1 cup couscous
2 cups chicken stock
2 preserved lemons, just the peels, chopped
1 cup crimini mushrooms, sliced
½ onion, chopped
1 garlic, minced
1 Tbsp fresh oregano, chopped
½ bunch spinach, chopped
Salt and pepper to taste
1 cup roasted chicken, shredded
½ lemon, juice
¼ cup multi-color raisins
¼ cup feta cheese
¼ cups pine nuts, toasted
Instructions
Bring chicken stock to a boil and turn off heat. Add couscous, cover and let sit for 20 minutes.
In a saute pan on high heat, add a tablespoon of grapeseed oil. Add mushrooms and cook for 2 to 3 minutes until golden brown. Add salt and pepper to taste.
Add onions and garlic and cook for a minute. Add a pinch more of salt and pepper.
Add oregano, preserved lemon, chicken, raisins and spinach. Cook until spinach is wilted.
Add the couscous. Mix well.
Squeeze lemon juice all over the couscous and mix well.
Place on a serving platter.
Top with feta and pine nuts.
Serve.
Enjoy!
Now, on to more recipes with oregano. I am still stuck though. Does anyone have any great recipes that use lots of oregano?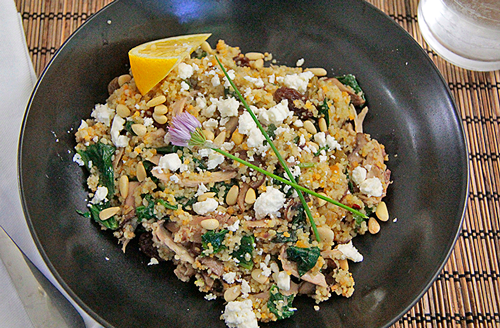 I will need some help hacking away at this one. Comment below if you have any suggestions.