Update and Redux: J – I first made this over two years ago. It was an evolution from a non-chicken herb-rice dish. Christina was quite skeptical. How could these flavors possibly create an edible dish? I knew it tastes great … so, I made it anyway. Success. Now, when we have leftover roasted chicken, Christina asks: "Want to make tarragon chicken salad?"
J – My all-time favorite chicken salad.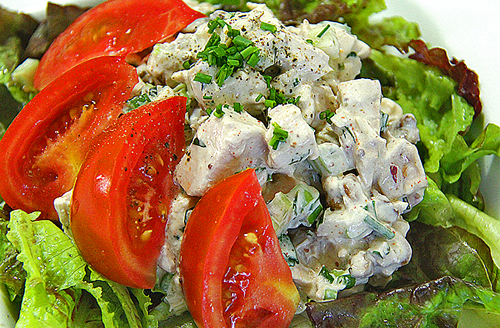 It's the best answer to "what do I do with the left-over roast chicken when we only ate half?" I've made this recipe for years and it never fails to be appreciated. You can use breast and dark meat, if that is what you have.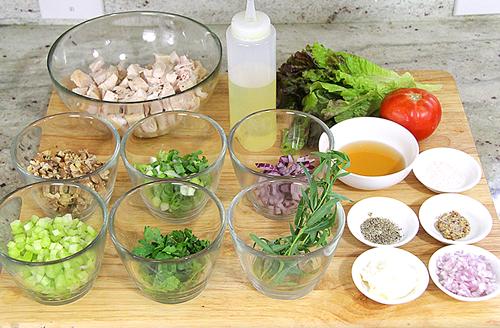 Of course, in the Be Mindful. Be Human. kitchen, we never seem to have any dark meat left … even if we roast two chickens!

Since Christina was off cooking something exotic for her boyfriend, I was pretty sure to have enough chicken left for the salad.

Our Simple Roasted Chicken recipe is perfect for this. This time, I changed up the recipe and added a tarragon-shallot-herb butter under the skin. The tarragon came through in the salad nicely.

This recipe evolved from a completely different idea. Of course, I have no memory of the evolution. Years ago, I started making a salad that used black rice and white rice instead of chicken breast. The original recipe. While it's a really tasty recipe, it requires a bit of cooking. Left-over rice is not good for much besides fried riced. I guess one day I just substituted chicken when I had some left over. I've always made this one since.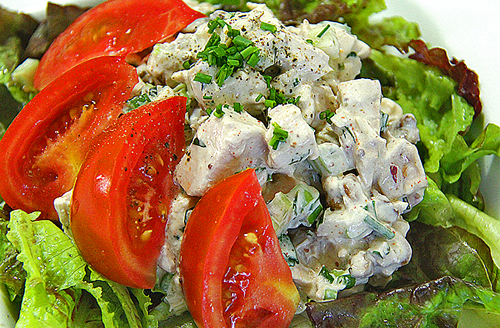 Prep time: 20 mins
Total time: 20 mins
Ingredients
½ shallot, minced
2 Tbsp fresh tarragon, chiffonade, divided
1 Tbsp course-grained, Dijon-style mustard
2½ Tbsp white balsamic vinegar
3½ Tbsp canola oil
3 Tbsp mayonnaise
½ tsp cayenne pepper, or more to taste
Salt and pepper to taste
2 roasted chicken breasts, remove bone and skin and cut into ⅓ inch cubes
2 celery stalks, diced
2 scallions, chopped
½ red onion, diced
1 Tbsp fresh parsley, chiffonade
1 cup roasted walnuts, chopped
2 large red-leaf lettuce leaves, torn into bite size pieces
1 large tomato, sliced into 8 wedges
Instructions
In a small mixing bowl, place shallots, remaining tarragon, mustard, white balsamic, salt and pepper. Mix well. Drizzle in canola oil while whisking until emulsified.
Reserve about 1 tablespoon of the dressing.
Add mayonnaise into small bowl. Mix well. Add cayenne pepper.
Taste and adjust. The cayenne should enhance the dressing, but be obviously hot. You can add more to the salad when all mixed together.
Place chicken, celery, scallions, red onions, parsley and 1 tablespoon of fresh tarragon into a large mixing bowl. Mix well.
Add dressing into large bowl of ingredients. Mix well.
Add walnuts. Mix well.
Let sit in refrigerator for at least 30 minutes.
Adjust mayonnaise and cayenne, if needed, before serving
Place balsamic salad dressing in a medium mixing bowl. Add lettuce. Toss until well combined.
Place lettuce on serving plate. Add tomato slices.
Top with chicken salad mixture. Garnish with chopped scallion greens.
Serve.
Enjoy!
When she returned, Christina was a bit skeptical about trying it, since she mostly doesn't like chicken breast.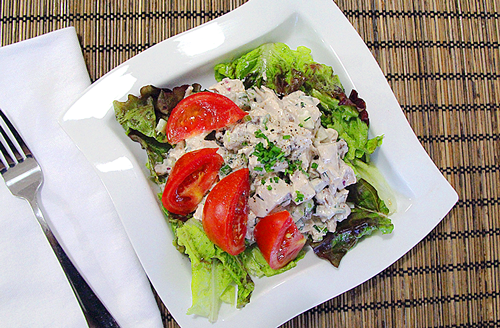 Luckily, one taste was all it took. She liked it.