Update and Redux: J – I've always thought of making duck as a celebration. It still is. It's also pretty healthy … when you roast it, which renders out lots of the extra fat. Serving with lentils and a delicious pear chutney makes a tasty holiday dish that is really good for you. Enjoy!
J – We are crazy about duck …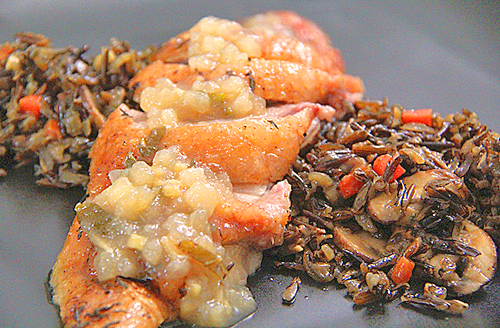 in just about any form. Mention duck-anything in the Be Mindful. Be Human. kitchen, and you get everyone's attention. What are we making this time?! Sign me up. Admittedly, in previous posts, we have been a bit "technical" as Luke calls it. That's fine, but not this week!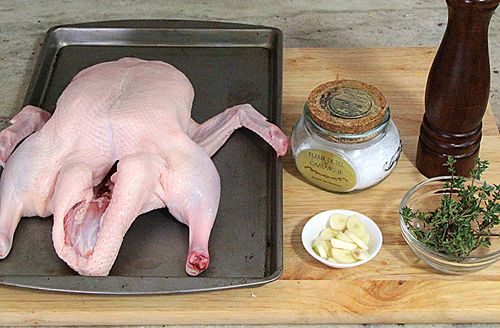 This week's going to be way easier. Delicious recipes requiring less effort, but with no skimping on flavor. It's the holidays, anyway. Why add stress?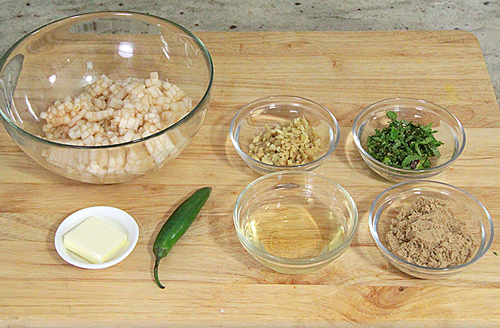 Roasted Whole Duck
First off, a simple roasted duck with pear chutney. We served it over wild rice with mushrooms, tomorrow's post.

But, where do I find fresh duck? There are lots of places … other than your random chain grocery store. Although, they might have frozen duck. But, here's a chance to support local food suppliers.

Specialty butchers, Asian markets, co-ops and organic-focused stores are all likely to sell fresh duck. Of course, our new friend, Grimaud Farms has great ducks..

Cultural note: In Asian markets, ducks come with the head and feet attached. It's an Asian tradition about freshness. If that bothers you, just ask the butcher to remove them.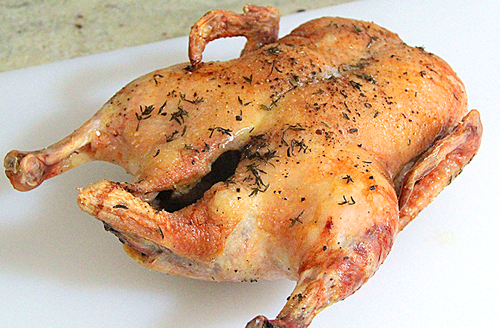 If you still can't find fresh, get a good quality frozen duck and thaw it carefully.
Pear Chutney
Good timing is a wonderful benefit about cooking these dishes. With very little planning, they can be done at the same time. About two hours, start to plate. Including the wild rice.

The kitchen was full of great smells. Then, we plated and tasted.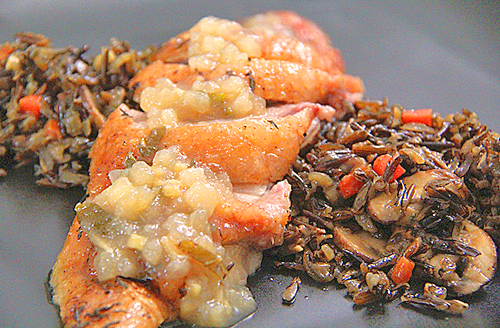 | | | |
| --- | --- | --- |
| Holiday Duck Week: Roasted Whole Duck With Pear Chutney | | |
Recipe type:
Mains, Sauces
Prep time: 30 mins
Cook time: 1 hour 30 mins
Total time: 2 hours
Ingredients
1 tsp unsalted butter
2 Tbsp peeled and chopped ginger
2 cups peeled and diced pears
¼ cup firmly packed brown sugar
¼ cup rice wine vinegar
1 serrano chile, whole
1 Tbsp finely chopped mint
1 fresh duck, about 4 pounds
3 cloves garlic, peeled and cut into ⅛ inch slices
12 fresh thyme sprigs, plus 1½ tsp chopped fresh thyme leaves
Salt and pepper to taste
Instructions
Melt the butter in a non-reactive saucepan.
Sauté the ginger until soft, about 1 minute.
Add the remaining ingredients and cook, stirring occasionally, until the pears are tender. About 20 minutes.
Let the chutney cool to room temperature and remove the chile.
The chutney can be kept refrigerated in a sealed container for three days.
Preheat the oven to 500 degrees.
Stuff the cavity of duck with half the garlic and the sprigs of thyme.
Sprinkle the top of the duck with chopped thyme, salt and pepper.
Place ½ inch of hot water in a roasting pan with a roasting rack.
Place the duck on the rack, breast side up, and place in the oven. Turn the temperature down to 400 degrees.
Flip the duck to breast-side-down after 30 minutes. Flip again after another 30 minutes.
Remove the water from the roasting pan and continue roasting, flipping every 20 minutes, until leg temperature is about 170 degrees. The bird should appear golden brown and the skin should be crispy. The legs should move easily.
Remove the duck from the roasting pan and place on a cutting board.
Allow the bird to rest for 10 minutes.
Serve with Pear Chutney.
Enjoy!
Luke's Lentils recipe
Wow!! This was really a case of 1 + 1 = 11! Each item was great alone. When eaten together, the flavors created a magical combination.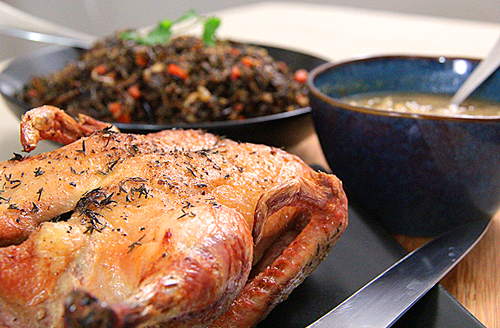 Luke got us into duck. Thanks! Now, there's no turning back.