C – Happy New Year!!!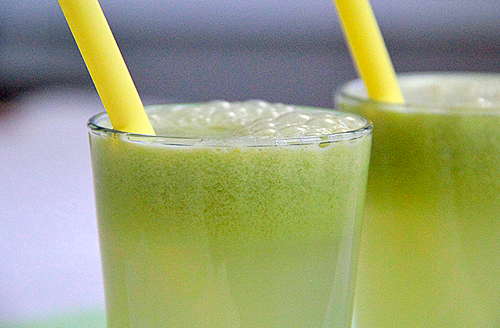 I can't believe it's a new year already. It just seems like yesterday when I was making a resolution about eating healthy. Yeah, I broke it. It's OK, though. I just needed to do it again.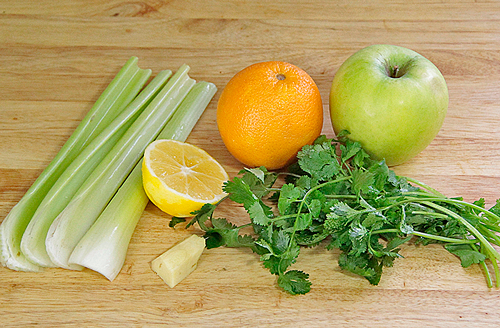 Hopefully, with more motivation this year.

This year we want to be more mindful … of course. We want to learn new techniques for cooking and find really good flavors. We also want to make things that make us feel good.

This citrus, cilantro, celery, ginger juice is a good, healthy start to the year. For some reason, when I drink this juice my energy goes up immediately. I think my body just cries out for juices like this.

It's a simple little booster than is easy. I don't have to eat a huge salad to get my nutrients.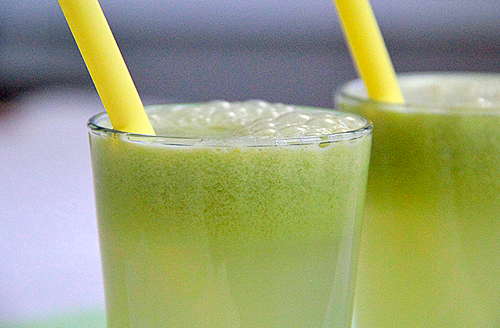 | | | |
| --- | --- | --- |
| Happy New Year 2015: Citrus, Cilantro, Celery and Ginger Juice | | |
Prep time: 5 mins
Total time: 5 mins
Ingredients
1 orange, peeled and segmented
1 Granny Smith apple, cored and sliced
4 celery stalks
½ lemon, peeled
½ inch piece of ginger, peeled
10 sprigs of cilantro
Instructions
Run all ingredients through a juicer.
Place in a serving glass.
Drink up.
Enjoy!
Of course, since juices don't have much fiber, eat lots of greens throughout the day and drink lots of water to feel really good.
Balance is key for my new year's resolution: Eat healthy, good stuff. Treat yourself once in a while, too.