C – Halloween parties are my least favorite kind of parties.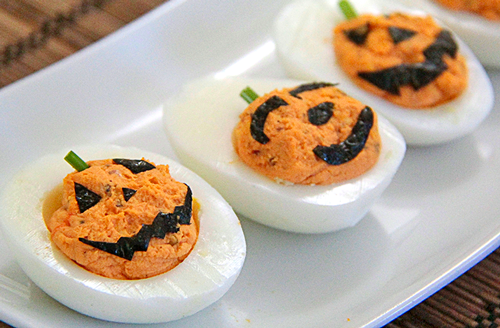 Especially, when it is a potluck. What should we bring? Candy? Alcohol? I am sure candy is a given for everyone. I hate bringing either one. Not a big fan of bringing things like that unless it's required.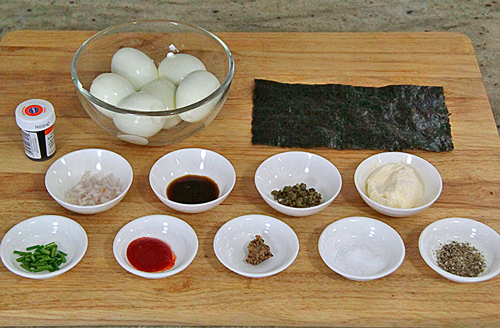 Monday and Tuesday's posts are good ones to bring to parties. Just make sure you place a warning label on them, if you make it spicy. Today's post is more fun and creative.

They are so cute and simple to make. I think people will really like the effort and creativity. Oh and it tastes good too. Of course, you eat with your eyes before you eat with your mouth … so, it better taste as good as it looks.

This one is both. Creamy egg yolk with a perfectly cooked egg white and bits of caper and shallot mixed in as well.

My favorite is the flavor from the nori that is on top. No, it isn't just for decoration. It's adds complexity to the deviled eggs.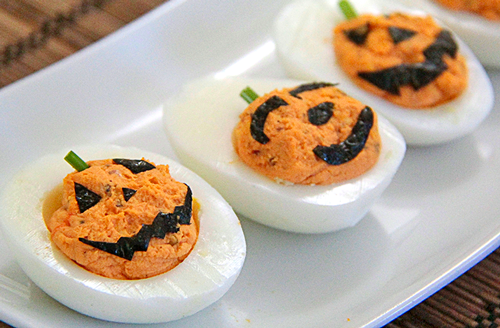 | | | |
| --- | --- | --- |
| Halloween Week: Jack-O-Lantern Deviled Eggs | | |
Prep time: 15 mins
Total time: 15 mins
Ingredients
6 hard boiled eggs, peeled
½ shallot, minced
1 tsp Worcestershire sauce
1 tsp capers, minced
1 Tbsp mayonnaise
½ tsp Dijon mustard
1 tsp Sriracha Sauce
1 tsp finely chopped chives
Salt and pepper to taste
Orange food color or gel
½ sheet of Nori
Instructions
Slice the eggs into halves lengthwise.
Remove the egg yolks and place into a mixing bowl. Set egg whites aside.
Into the same mixing bowl add shallots, Worcestershire sauce, capers, mayonnaise, mustard, Sriracha, chives, salt and pepper to taste. Mix well.
Add a few drops of orange food color or gel and mix well. Add color until you feel it's a good pumpkin color.
Place in a piping bag. Pipe mixture into egg white halves.
Cut Nori sheet into desired shapes to make faces.
Place shapes on top of the yolk mixture on the eggs.
Serve.
Enjoy.
So delicious and really fun to make.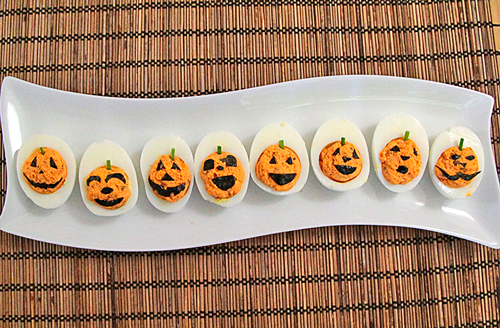 I think party people will be so excited to try these.