C – I don't drink alcohol.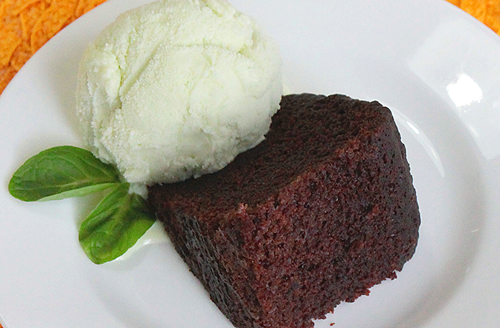 If you don't know me by now, that is one thing that I will not do. Yes, I know, I did drink the sake in the oyster-sake shooter on New Year's Eve. I didn't want to, but I took one for the team. I just had to. My boyfriend asked me after that day if I was going to start drinking. I said no.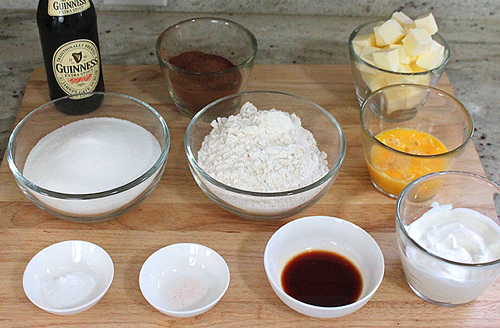 The only time I will have alcohol is when it's in food. I usually only have it when it's completely cooked out. But, there have been many exceptions. Luckily, this cake had the alcohol cooked out.

Beer tastes the worst to me if it is uncooked and in its normal state. Beer in a chocolate cake on the other hand … AMAZING!

This cake was great. Rich, moist, not too sweet, with a great chocolate flavor. No taste of beer whatsoever.

I think I ate half the thing all by myself. Luke even liked it. He doesn't even like desserts. Jim, of course, was waiting with a fork in his hand while I was cutting the first piece.

I also made a fresh mint ice cream without the chocolate chips. It was also great. The smooth and creamy ice cream with a hint of mint paired well with this rich chocolate stout cake.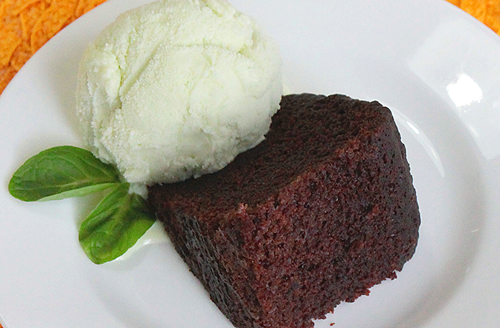 Prep time: 20 mins
Cook time: 50 mins
Total time: 1 hour 10 mins
Ingredients
1 cup Guinness (dark beer)
½ cup butter, cubed
2 cups sugar
¾ cup baking cocoa
2 eggs, beaten
⅔ cup sour cream
3 tsp vanilla extract
2 cups all-purpose flour
1½ tsp baking soda
Instructions
Preheat oven to 350 degrees.
Grease a 9-inch springform pan and line the bottom with parchment paper. Set aside.
In a small saucepan, heat beer and butter until butter is melted.
Remove from the heat; whisk in sugar and cocoa until blended.
Combine the eggs, sour cream and vanilla. Whisk into beer mixture.
Combine flour and baking soda. Whisk into beer mixture until smooth.
Pour batter into prepared pan.
Bake at 350 degrees for 45-50 minutes, or until a toothpick inserted near the center comes out clean.
Cool completely in pan on a wire rack.
Remove sides of pan.
Serve with fresh mint ice cream
Enjoy!
It was heaven in a bowl.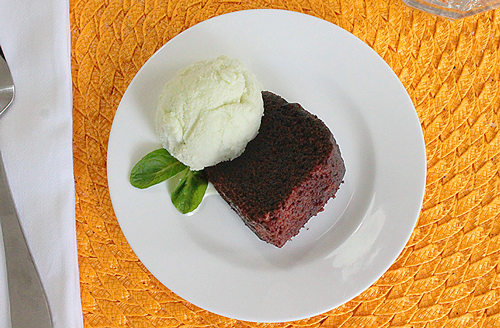 Hope you make this. It's so good.
Adapted from: http://www.tasteofhome.com/recipes/chocolate-guinness-cake