C – Direct fire versus indirect fire.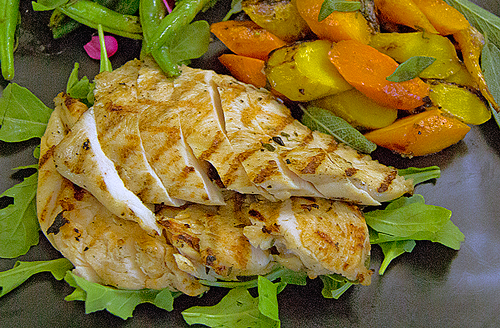 When do you use which? A few weeks ago I was invited to a grill out party. Lots of meat was involved. A new grill was being christened. And, a soon-to-be Grill Master was waiting in the wings. The challenge was not to get in the way, yet share a few techniques that he might not know.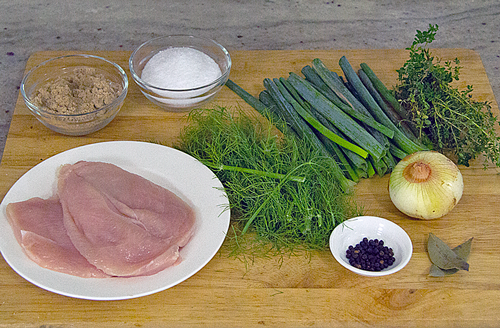 I've learned that lots of people are scared of fire. They are scared that they will under cook their meat … especially chicken. One thing you need to figure out is what kind of texture you want for your chicken? Second is what kind of chicken are you cooking?

My goal for cooking chicken is to always have it moist and juicy. For the grill, my goal is to have a nice smoky char on the outside, while still having the inside of the meat moist and juicy. Even when it's cooled down and refrigerated overnight, it is still moist and juicy. If you like it dry or a jerky texture, this article isn't for you.

There are two different ways of grilling meat. The first is over direct heat with a hot fire. The second is indirect heat lower temperature. Direct heat is fast cooking, use thin pieces of meat for chicken, flat pieces without bones. Thick steaks cooked this way will be rare in the center.

Indirect heat is for lower temperature cooking for cuts like chicken breast with the bones in or drumstick and thighs. Jim suggest putting any meat that you are cooking on direct heat first then moving it to indirect to finish the cooking, if you aren't quite sure it's cooked through. Also, a good instant read thermometer is great for meats that are thick and you don't know if it's cooked all the way through.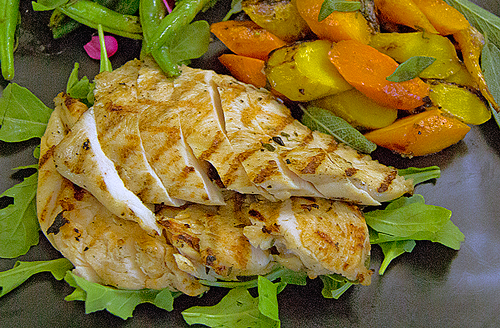 | | | |
| --- | --- | --- |
| Grilling 101 for Newbies 2016: Butterflied Grilled Chicken Breast | | |
Prep time: 25 hours
Cook time: 6 mins
Total time: 25 hours 6 mins
Ingredients
2 boneless skinless chicken breast, butterflied
¼ cup salt
¼ cup light brown sugar
1 fennel frons, just the green tops
1 top greens of leeks or spring onions
½ bunch fresh thyme
½ yellow onion, quartered
1 teaspoon black peppercorns
2 bay leaves
4 to 4½ cups cold water
Canola oil for coating chicken
Instructions
Place salt, sugar, fennel frons, leek tops, thyme, onion, peppercorns, bay leaves and water into a sauce pan. Bring to a boil and turn off once the sugar and salt has dissolved. Remove from heat and cool completely.
Place the brine into a reclosable plastic bag. Add the chicken breast and brine. Chill at least overnight in the refrigerator. This could be made ahead up to four days.
Remove chicken from brine and dry off with a paper towel. Bring chicken up to room temperature.
Coat liberally with oil. No salt and pepper seasoning is needed, since the brine is already seasoned.
Heat grill on high heat. Place chicken on grill and cook for 2 to 3 minutes on each side or until both sides have char grill marks and it's just cooked through.
Remove from grill and let rest for at least 10 minutes.
Serve.
Enjoy
Our challenge was cooking thin chicken breast. It's probably one of the most challenging. If you cook it too long it can get really dry. We placed our chicken in a brine overnight to ensure that the chicken was going to be moist. Just a few minutes on each side was all we needed on direct heat. We let it rest for a few minutes. It was the perfect grilled chicken breast. Super moist, full of wonderful flavor and still juicy cold the next day.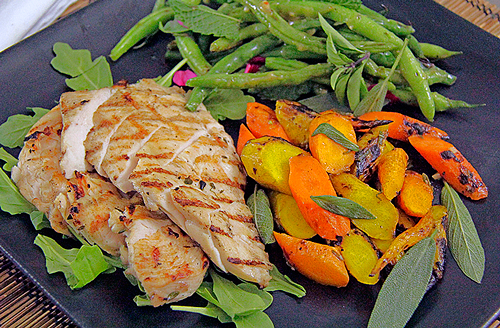 Grilling chicken is a lot easier than I thought. Fast grilling when it's thin pieces of chicken. High heat then place it low and slow for thick, bone-in chicken.