C – I used to call pico de gallo a form of salsa.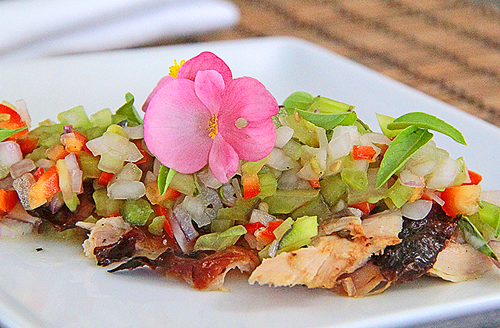 I didn't know they were two different things. They typically have similar ingredients, but are made in different ways. Basicsally, salsa is a cooked sauce and pico de gallo is a fresh salad chopped into small pieces.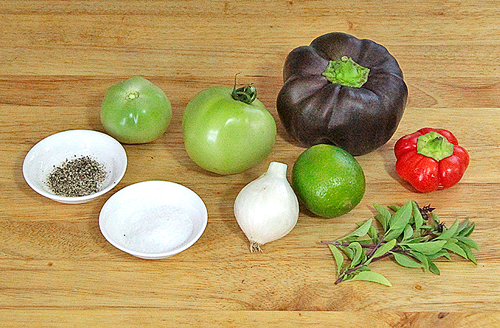 I am so glad a friend clarified that for me. I would have been going around making pico de gallo and calling it salsa all my life. I am sure someone would have called me out on it eventually. I would have been so embarrassed. I love that I know the difference now. I feel like I'm getting to know the culture a little better.

I could have made a green tomato salsa for this post. But, I wanted to keep the green tomato texture a little more. I love the crisp texture of a green tomato. If I cooked the green tomatoes, they would become mushy.

I would rather make a tomatillo salsa than a green tomato salsa. Tomatillos are a little more tart and have a unique flavor. They work well in salsas. Green tomatoes are mostly flavorless. The most important part about them is their texture.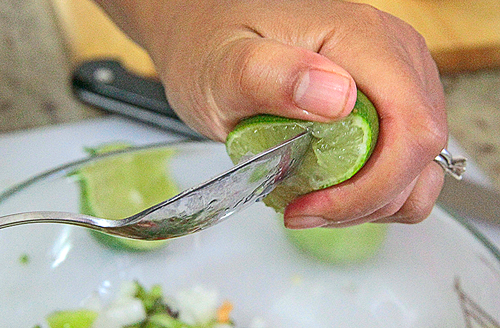 Of course, you have to ignore the whole texture thing tomorrow when we post our Green Tomato Gazpacho. It's all about blending everything.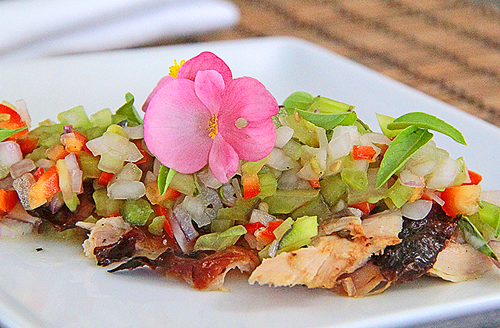 | | | |
| --- | --- | --- |
| Green Tomato Week: Green Tomato Pico de Gallo | | |
Prep time: 45 mins
Total time: 45 mins
Ingredients
1 large green tomato, chopped finely
1 sweet red, purple, yellow or orange pepper, top and seeds removed (we used both purple and orange), chopped
1 small white onion, chopped
½ small red onion, chopped
salt and pepper to taste
1 tsp Thai basil, chiffonade
1 lime, juiced
Instructions
Place all ingredients into a mixing bowl. Mix well.
Let sit for 30 minutes. Adjust to taste.
Serve with protein.
Enjoy!
If you have a lot of green tomatoes on the bush and can't wait until the tomatoes ripen … or, if it's the end of tomato season … make this pico de gallo. Add onions, basil or cilantro, lime. Chili and mix well. It goes well with grilled meat or veggies.
It's nice and fresh. A simple recipe for all the green tomatoes on the bush … except for those you want to use to make fried green tomatoes.