Update and Redux: J – I love poached salmon … especially this one. Christina was on a tea-in-cooking kick last year. This dish was one of the crazy-good results. Super easy. Super healthy. Yum!
C – I have been going crazy with this tea-in-cooking idea.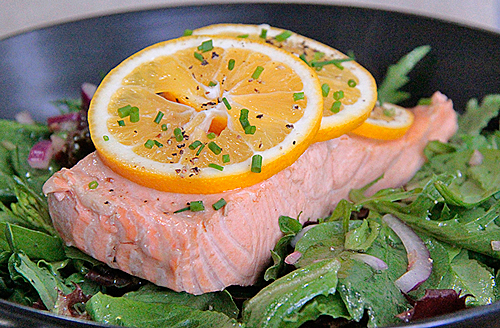 The matcha green tea salad dressing I made yesterday has led me to poaching things with tea. I wonder how it's going to taste. Will I be able to tell the difference? Can I impress Jim? I will just have to find out.
Jim couldn't imagine sesame seed oil and green tea going together. I was getting frustrated. I just wanted to try it out.

It was one of those experiments that I was just going to have to figure out … and adjust if it didn't work.

It was a really easy recipe. Steep the tea. Remove the tea bags and add all the seasonings. Add the salmon and poach until done.

It turned out great. Jim was quite surprised how well it turned out. I was really surprised, too. The smokey green tea and the rich smell of sesame oil really combined well.

I loved the combination of the Asian spices and the green tea with sesame oil.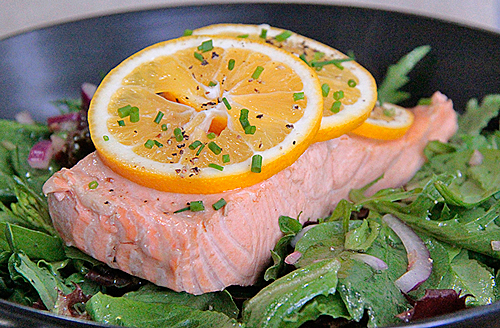 | | | |
| --- | --- | --- |
| Tea Week: Green Tea Poached Salmon | | |
Prep time: 10 mins
Cook time: 20 mins
Total time: 30 mins
Ingredients
4 bags green tea
2 half-pound salmon filets, skin removed
6 cups boiling water
5 cloves minced garlic
1 thumb-sized piece of fresh ginger, peeled and julienne
1 tsp sesame oil
1 Tbsp kosher salt
10 black peppercorns
½ lemon, sliced
Pepper to taste
Minced chives for garnish
Instructions
In a poaching pan, boil water then place tea bags. Turn off heat. Steep for 4 minutes.
Remove tea bags from water. Add garlic, ginger, salt, sesame oil and peppercorns Heat the mixture to a light simmer for 10 minutes.
Turn down heat to low. Add salmon into poaching liquid. Cook for 10 minutes or until salmon is almost cooked through. Flip over half way through if salmon isn't completely submerged.
Remove fish from pan and place on a paper towel to dry.
Serve on a platter or plate with a simple salad.
Squeeze lemon over the salmon and sprinkle with pepper to taste.
Garnish with lemon slices and chives.
Serve immediately.
Enjoy!
Paired with a salad it was delicious.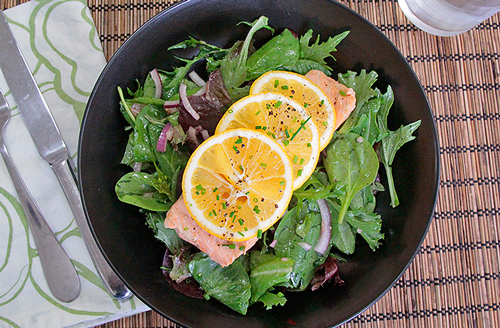 This recipe is nice, delicious and very easy. Hope you try it.