C – The combination of grapefruit, avocado and coriander is amazing.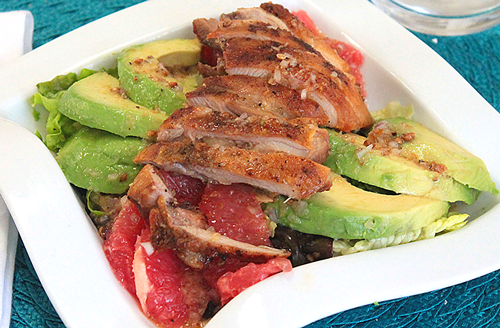 I was so surprised that this flavor profile went so well in this salad. I was so glad, too. Grapefruit and avocados were on sale! This dish only cost me about three bucks for two people. YES! I really loved the dressing. An Asian inspired dressing with ginger, sesame seed oil, soy sauce and honey.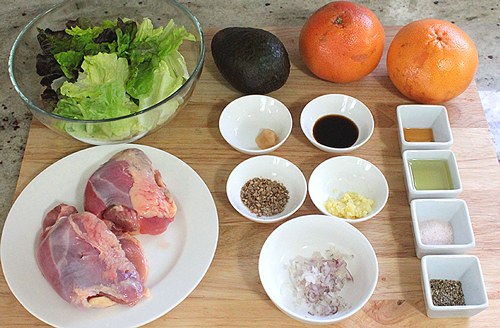 But, the real highlight for me was the cracked coriander seeds. They really gave it a crisp taste.

I am starting to learn that anything with avocado is going to be good. My last experience with mango and avocado led me to my current favorite sandwich.

I assumed that grapefruit and avocado would be a great hit. I was right. I loved that the coriander dressing really complemented the avocado and grapefruit. Each combination had a different texture and taste experience to it.

The avocado and coriander combination was creamy and crispy, while the grapefruit and coriander had a sweet, tart flavor with a juicy, crispy texture. I loved mixing and matching each bite.

I loved how light and refreshing this salad was. It really made me feel good eating it. I think serving two with this salad is just a bit too small for me. I could eat the entire salad all by myself!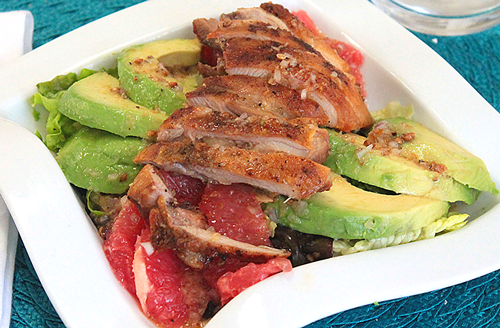 | | | |
| --- | --- | --- |
| Grapefruit, Avocado and Chicken Salad with Coriander Dressing | | |
Prep time: 15 mins
Cook time: 10 mins
Total time: 25 mins
Ingredients
2 boneless, skinless chicken thighs
2 pink grapefruit
2 Tbsp grapeseed oil
1 Tbsp minced shallot
1 tsp soy sauce
½ tsp honey
¼ tsp Asian sesame seed oil
1 tsp grated, peeled fresh ginger
1 tsp coriander seeds, cracked
2 cups red leaf lettuce, torn into small pieces
1 small avocado, halved, pitted, sliced and peeled
Salt and pepper to taste
Instructions
Salt and pepper chicken.
In a large saute pan on medium high, heat oil. Then add chicken and cook, about 5 to 6 minutes per side. Let rest and cut on a bias.
Using small sharp knife, cut off peel and white pith from grapefruit. Slice the grapefruit membrane to release citrus sections.
Squeeze juice out of the remainder of the grapefruit. There should be about 3 tablespoons.
In small bowl, whisk three tablespoons of grapefruit juice, olive oil, shallot, soy sauce, honey, sesame seed oil, ginger and cracked coriander seeds.
Season dressing to taste with salt and pepper.
Toss greens with 2 tablespoons dressing in medium bowl and divide between two plates.
Arrange salad, chicken, grapefruit slices and avocado slices alongside
Spoon remaining dressing over.
Serve.
Enjoy!
Just be warned. You might need to make double the amount for two people.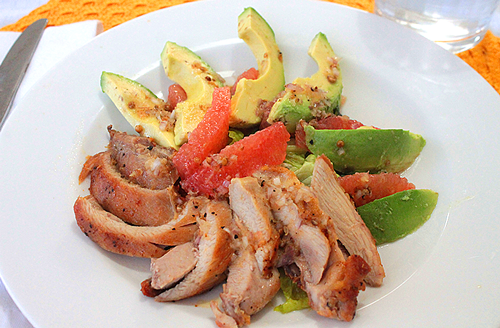 It was so good.
Adapted from: http://www.bonappetit.com/recipes/quick-recipes/2008/11/avocado_and_pink_grapefruit_salad_with_coriander