Update and Redux: C – Jim loves telling me what he eats … almost daily. It got so out of control that I had to ask him to Instagram his pictures. I wonder if he will Instagram this meal when he's in Paris. It just seems like something he would do. Steak frites is just one of those classic bistro dishes that Jim loves. Hope he's enjoying one for me right now.
C – There is no better meal than steak and fries for Jim.
Steak frites, to be exact. Jim loves it. He searches for it. At fancy French restaurants, he will order it. I am glad Jim can love something so simple. You can't win me over that easily. I won't order the steak frites at a French restaurant. I always want to explore other things. Of course, there are times I wish I had ordered it. Sometimes, simple is better.

What makes a great steak frites? A good, thin cut of steak cooked on high heat with simple seasoning of salt, pepper and oil. The meat should be rare to medium rare for the best, juiciest flavor. Of course, Jim loves his aioli with crispy frites as well.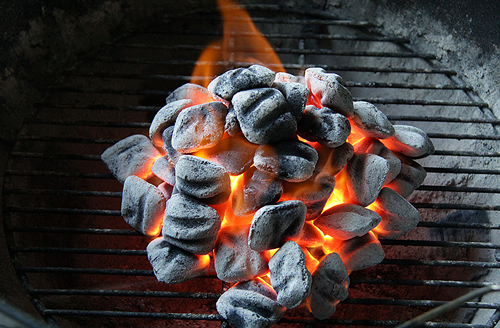 When it came to Tour de Provence week, Jim really wanted to share this recipe. He couldn't wait. Although, our first attempt didn't go as well as he planned. The frites and aioli were great. We used the perfect fries recipe I made before and a simple, poor man's aioli. The only problem was we didn't end up with an onglet steak cut like the French restaurants serve it. Onglet is actually hanger steak. We were at a new store. I think Jim got distracted.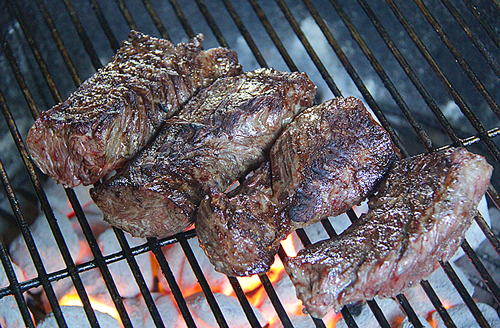 We didn't see any hanger steak, so we asked for bavette, a good alternative. But, we were in a meat department that didn't have a clue what a bavette steak was. I knew we should have left. Jim asked if they had any hanger steak in the back. They did. With reluctance. I knew we had some issues going into this. The cut just didn't look right. It wasn't thin. Turns out they didn't take out the very tough white membrane that runs between the muscles. That ruins the cut for grilling.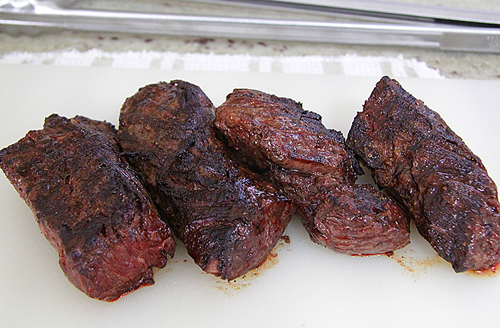 Rule #286 is get to know a good butcher. If they don't know what a bavette steak is, or even what a hanger steak is … leave. We should have left. Jim was a bit off his game that day and he had to be human. He had a cold and wasn't thinking clearly. He just wanted a good steak and be done with it.
Prep time: 15 mins
Cook time: 6 mins
Total time: 21 mins
Ingredients
3 Tbsp mayonnaise
½ lemon juiced
1 clove garlic minced
1 pound hanger steak, trimmed of white membrane. It should be in two long pieces.
Salt and pepper to taste
Canola oil
Instructions
Combine all ingredients
Set aside for service
Start your grill and set it (if it is gas) for a higher temperature.
Bring steak to room temperature.
Cut the long pieces of steak in half for cooking ease.
Add salt and pepper just before you are ready to cook.
Add oil over top, right before you add it to the hot grill.
Cook for about 2 to 3 minutes on each side. Turn once. Use the press-test or an instant read to gauge cooking.
Remove from grill and let rest for about 5 minutes.
Do not cut steak before serving.
Serve topped with fries and drizzled aioli.
Garnish with chives, chiffonade
Enjoy!
Frites recipe
Fortunately, we had another try at steak frites. This time it was much better. Nice tender, juicy steak cooked in really high heat. The outside was crispy. The inside was nice and juicy. We really had a perfect steak. Paired with great fries and a poor man's aioli, it was fast and simple. Just like a French bistro restaurant would serve.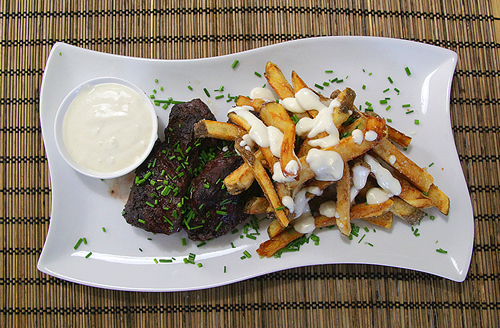 Delicious. Simple is sometimes better … as long as you know a good butcher.