Update and Redux: C — There is nothing like a good bowl of mussels and fries to pretend that I am at a Paris bistro. I know Jim will be having some at a real Paris bistro. We love this recipe. It's addicting and delicious. Can't wait to make this again.
J – At least one of us loves dishes from Provence …
and is an avid cyclist and a great fan of Le Tour de France. That would be me! So, what better way to honor this tradition than a week of recipes you would likely find in Provence, France. Mind you, there are thousands of possible dishes … we only present five. Domage !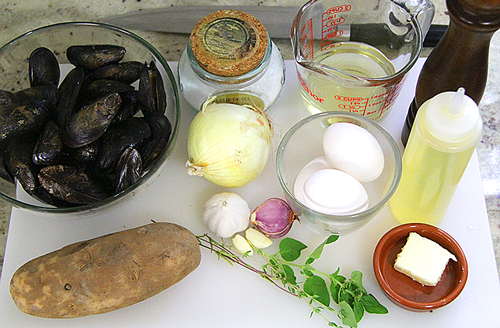 As a starter: Moules Frites. Appropriately, this is often served as a appetizer. But, why be shy? Let's have mussels as a main course. Two pounds of moules in an awesome sauce, with a bunch of delicious frites and a totally simple aioli. I'm there!

This dish is really amazing. So, why haven't you done this before? I'll suggest a couple of ideas. First, how do I know the mussels are good? Simple answer. Find a good fish monger and ask them to sort out the dead ones. You don't pay for the dead ones. They also make the sauce taste really bad. Mussels must be live until just before you cook them. That's why you keep them really cold. This includes not leaving them out on the counter as you prep.

Second, this is not hard to do. It just looks exotic.

Mis en place [get your stuff together] is pretty important here. The dish goes down very fast, so missing an ingredient would not be good. The natural order for this dish is to make the aioli and set aside. Then, prep the fries and blanch them [first frying], then hold them 'til the sauce is ready for the moules. Drop the moules and do the second frying of the frites at the same time.
| | | |
| --- | --- | --- |
| Le Tour de Provence: Moules Frites | | |
Prep time: 10 mins
Cook time: 20 mins
Total time: 30 mins
Ingredients
4 Tbsp mayonnaise
Juice of one lemon
Salt and pepper to taste
2 pounds mussels, live and rinsed well. Check carefully for dead ones.
One head garlic, cut in half + 2 cloves minced
½ yellow onion, small dice
1 shallot, small dice
¼ bunch parsley, chiffonade
3 sprigs marjoram, chiffonade
12 sprigs chive, chiffonade
1 Tbsp canola oil
1 Tbsp unsalted butter
1½ cups white wine
Salt and pepper to taste
Freshly made frites
1 tsp sage, chiffonade
1 tsp parsley, chiffonade
Freshly made aioli (without garlic)
Instructions
Combine all ingredients and mix well.
Set aside for service
In a large sauce pan on high, add oil, butter and onion. Reduce to medium. Saute until translucent.
Add shallots and garlic and saute until translucent.
Add white wine. Heat and stir.
Salt and pepper to taste.
Add mussels. Add parsley, marjoram and chive herbs and stir. Lower to medium and cover.
When mussels are open, they are done. Discard unopened mussels.
Serve in large bowls, including sauce, topped with frites.
Add sage, parsley and drizzled with aioli.
Enjoy!
Frites recipe
Everything comes together in an aromatic rush. It's so good.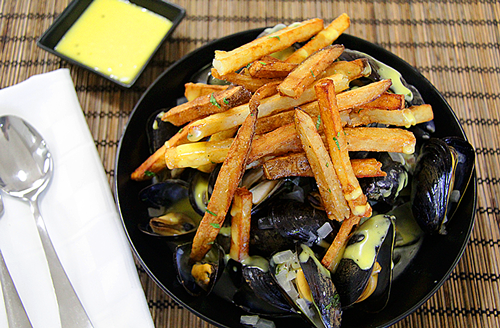 Hope you enjoy!