C – I have never been a big fan of grits until they were made with quinoa.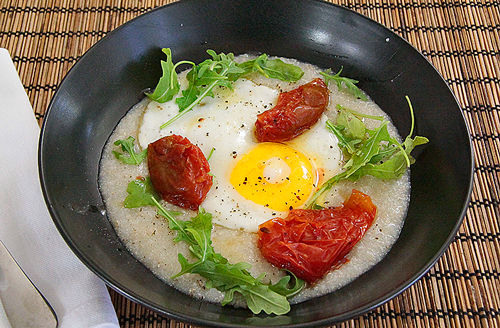 I guess I have never been a huge fan corn porridge. It seems so dense and I seem to need to add a lot of butter to make it flavorful. So when I tried quinoa porridge I was amazed at the texture and and the taste.
I made this dish for breakfast with some of our favorite oven-roasted tomatoes and a fried egg. It was delicious. Creamy, yolky and full of garlic tomato flavor in every bite.

I couldn't believe how good it tasted.

I could imagine these quinoa grits with all sorts of toppings, including shrimp. If only I weren't a vegetarian, I would try that. They are delicious and a lot healthier than the other way of making grits.

Of course, I am sure I could add milk and butter to this mixture and make it taste even more heavenly. But, just adding water was really delicious.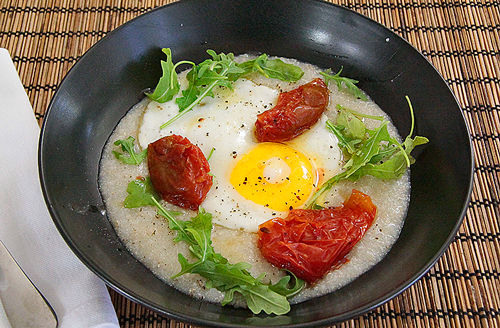 | | | |
| --- | --- | --- |
| Gluten-Free Week: Quinoa Grits with Eggs and Oven Roasted Tomatoes | | |
Prep time: 2 mins
Cook time: 5 mins
Total time: 7 mins
Ingredients
¼ cup quick-cooking quinoa (we used Arrowhead Mills Quinoa Rise and Shine)
1 cup water
salt and pepper to taste
1 Tbsp grapeseed oil
1 egg
3 pieces oven roasted tomatoes (recipe link below)
¼ cup arugula
Instructions
Bring water to a boil. Add quinoa grits and salt to taste. Reduce to a simmer and let thicken for a few minutes.
Meanwhile, heat a frying pan with oil. Cool egg sunny side up.
Once grits are cooked, placed into a serving bowl.
Top with sunny side up egg. Season with salt and pepper.
Add a few pieces of arugula.
Top with some oven roasted tomatoes.
Serve.
Enjoy!
Oven-Roasted Tomatoes recipe
This is a must try in my book.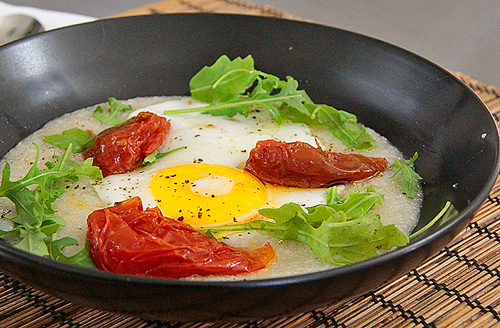 I will need to try grinding quinoa one day and see if I can make my own grits. For now, though, the store-bought-package stuff will have to do.