C – Going gluten-free can be a challenge to the pocket book.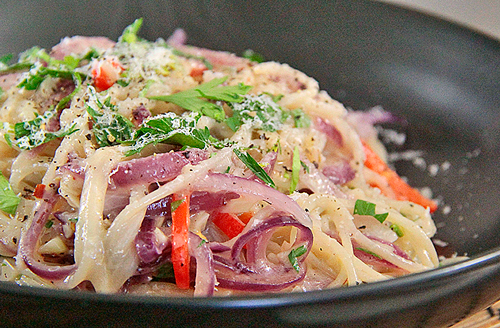 I've been shopping at organic grocery stores for a while. Dealing with trying to save money is a challenge. Gluten-free stuff can be really expensive. I couldn't believe some of the prices of things. One was brown rice noodles. I am used to buying white rice noodles at the Asian store for a dollar or two.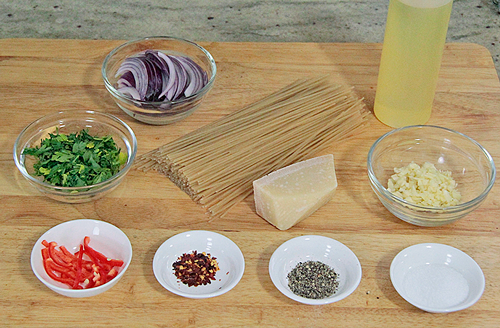 Brown rice noodles for $5 in a small box seemed a bit outrageous in my book.

My husband would probably eat the box in one sitting. I had to be creative and explore my town to see if I could find alternative noodles that wouldn't leave me broke. I am so lucky to live in San Francisco close to lots of Asian grocery stores that are trying to cater to a more diverse group of eaters.

I noticed in one the Asian grocery stores they were targeting more local and alternate grain foods. I couldn't believe I found black rice noodles and loads of brown rice noodles. They even had sweet potato noodles.

I was so excited that I loaded my grocery cart with all kinds of noodles. I ended up putting a few back … it was way too many for me to buy at one time.

I was amazed that some were organic and really affordable. There were 12 ounce bags for under $3. I was delighted. The brown rice noodles in this recipe were under $2.

I have been a bit reluctant to try gluten-free noodles, because a lot of them have a grainy texture and don't taste like pasta. One thing I like about rice noodles … especially these brown rice noodles … is that they hold their structure and taste like pasta.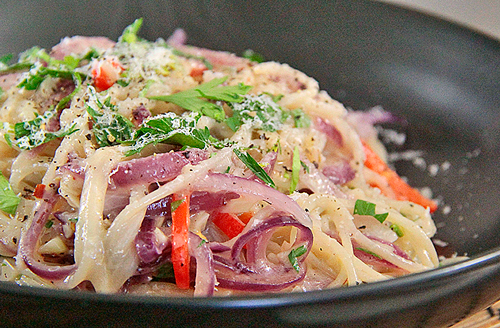 | | | |
| --- | --- | --- |
| Gluten-Free Week: Brown Rice Noodles with Garlic, Red Onion and Chilies | | |
Prep time: 10 mins
Cook time: 14 mins
Total time: 24 mins
Ingredients
6 oz brown rice noodles
¼ cup canola oil or grapeseed oil
6 cloves garlic, minced
Salt and pepper to taste
½ Fresno chili, sliced thinly and seeds removed, unless you want it really spicy.
½ tsp chili flakes
Grated Parmesan to taste (we used about ½ cup)
1 Tbsp parsley, chopped
Instructions
Bring a 3 quarts of water to a boil and add brown rice noodles. Cook according to package directions or until al dente about 6-8 minutes.
Meanwhile, place oil into a saute pan and heat on medium. Add garlic and saute until fragrant.
Add some salt, pepper, chili flakes, Fresno chilies and red onions. Saute until red onions have softened. About 3 minutes.
Transfer noodles from pot using tongs into the saute pan. Mix well. Reserve cooking water.
Grate Parmesan cheese into the saute pan. Mix well. Add about ½ a ladle full of pasta water into pan if the mixture is too sticky.
Toss in parsley. Mix well.
Place in serving bowl.
Top with more Parmesan, parsley and freshly ground black pepper.
Serve.
Enjoy!
This dish is my take on an old Italian classic. It's delicious and creamy. Total comfort food. I am so glad I was able to find alternatives to regular pasta at my local Asian grocery store.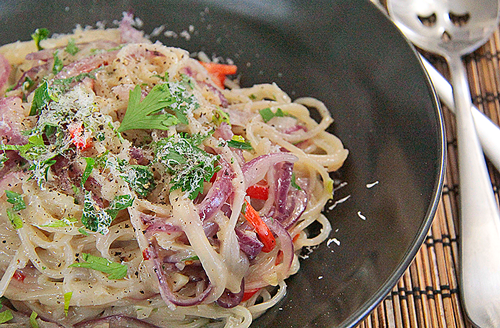 Now, I can make all our favorite dishes without going broke.