C – We made a few hundred gingerbread cookies.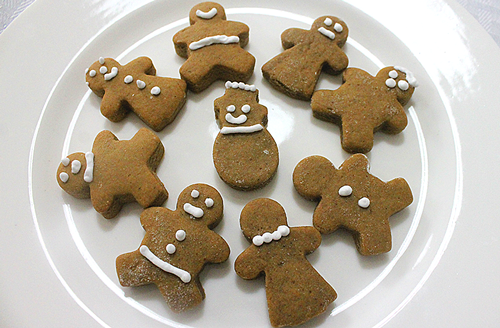 We will be frosting these for a few days, too. Jessica and I fell in love with these small cookie cutters and thought it would be a great idea to make all of our gingerbread cookies small.
Well, I guess we didn't expect that we would be baking almost 400 of them. It's a great gift idea and very simple to make. I just didn't expect so many.

I loved how quickly they baked and how wonderful they tasted. It's another recipe from Jessica's mother. Gosh, that lady knows how to find the good recipes.

Most, if not all, of the recipes for Bake Week are from her. They make gingerbread houses every year with this recipe. I can see why. The recipe makes a lot and it is very dense. That means it will hold up all those goodies you put on a gingerbread house.

It was fun cutting out all these cookies. It took me about an hour to do most of them. Icing them might be a different undertaking. But, it sure was fun using the royal icing. It was so easy to work with, compared to other icings. Other icings are too runny and go out of control the moment you put them on a cookie. Royal icing dries quickly, too.

The most important part of all … taste. They didn't have a strong molasses taste like some gingerbread cookies. There isn't a huge spice-hit either. Just a nice taste of ginger, cloves, allspice and cinnamon. The amount of icing you use to decorate the cookie determines the sweetness you will get.
The cookie is also sweet enough to be eaten alone or with just a little decoration. Jessica baked them to be a little crispy on the outside and soft on the inside. They soften a bit when left for a few days.

I am so glad I have a good gingerbread recipe now.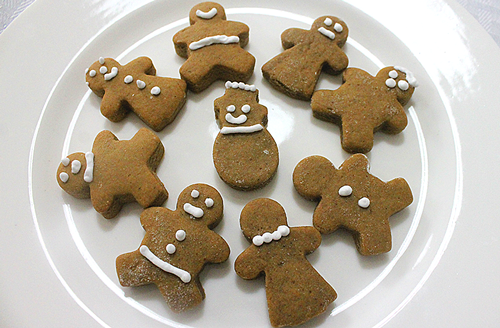 Prep time: 2 hours 30 mins
Cook time: 1 hour
Total time: 3 hours 30 mins
Ingredients
3 egg whites, room temperature
4 cups powdered sugar
½ tsp cream of tartar
Food coloring
½ cup butter
3 Tbsp shortening
1 cup brown sugar
1 tsp cinnamon
1 tsp ginger
1 tsp clove
1 tsp allspice
2 tsp baking soda
1 tsp salt
1 cup molasses
2 tsp vanilla
⅔ cup water
6-7 cups flour
Instructions
Whip egg whites, powdered sugar and cream of tartar until combined.
Scrape down the bowl.
Whip on medium speed until thick, shiny, stiff and white. About 7-10 minutes.
Add food coloring.
Be sure to cover with plastic so the icing does not dry out.
Cream the butter, shortening and brown sugar in a large bowl or in the bowl of a stand mixer.
In a small bowl, whisk together the cinnamon, ginger, clove, allspice, baking soda and salt.
Add the spices to the butter mixture and mix until well combined.
Mix in the molasses.
Combine the water and vanilla. Add to the butter mixture, alternating with 6 cups of flour. Mix until well combined and a nice dough is formed. Add the extra cup of flour if necessary, but keep in mind that when rolling out the dough, more flour will be worked into it.
Chill the dough in the refrigerator.
Roll out on flour and cut out shapes.
Bake at 350 degrees until golden brown and fluffy.
Let cool on a rack
Ice as desired
Enjoy!
The last time I made gingerbread cookies, we didn't eat them. They were not nearly as good. We won't be throwing away any of these cookies. I don't think any of our friends and family will either.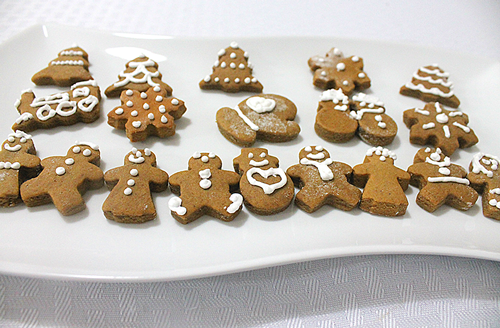 Thanks, Jessica, for sharing your recipe with us.