C — Luke is one of my favorite people right now.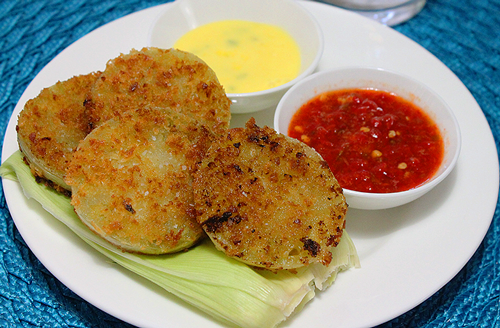 He's making fried green tomatoes in the Be Mindful. Be Human. kitchen! I am so excited! I have been craving them all season. I begged Jim to pick a few green tomatoes at the beginning of the season, so I could make some. But, he wouldn't. He said no. He didn't even give me a good reason for it. Needing to save them for red tomatoes is not a good reason!
Of course, somehow, he lets Luke pick a few. This man crush is getting to me.

Fried green tomatoes at the end of tomato season seems really fitting. I have made a lot with tomatoes this year. It's nice to get rid of the rest somehow.
Slice the tomatoes ½-inch-thick. A little salt and brown sugar (so they are not bitter). Macerate them for 30 minutes. Toss in all-purpose flour and some panko breadcrumbs. Fry them up and serve with some sweet chili pepper sauce Chris made yesterday. It's so good. Crispy, light, kind of healthy and not bitter.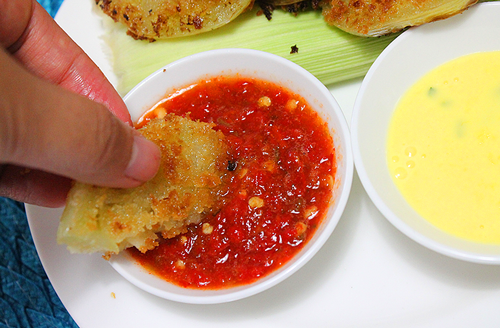 I wish he made more. I only got to eat one piece. I am still wondering where they all went to.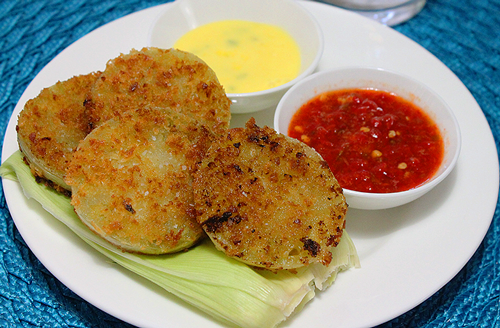 Prep time: 35 mins
Cook time: 15 mins
Total time: 50 mins
Ingredients
4 green tomatoes, sliced ½-inch-thick
2 tsp. brown sugar
1 tsp. salt
1 cup panko breadcrumbs
2 Tbsp. grapeseed oil
Instructions
Sprinkle sliced tomatoes on both sides with salt and brown sugar and let macerate on a plate for 30 minutes
Heat saute pan to medium and add oil
When oil is hot, fry tomatoes until golden brown. They done when they are starting to be soft in the middle.
Drain on paper towels
Serve with your favorite sauces
Enjoy!