C — Ugh, tarts again! (Warning, this post is me completely whining about making tarts)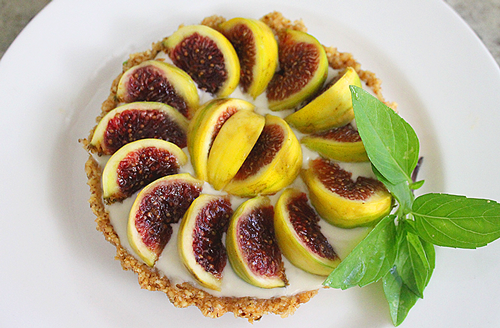 Jim went to Taste Restaurant a few weeks ago and was still beaming with ideas from it. I have been nodding and agreeing to it all, hoping I wasn't going to take part in any of the planning for his food adventures. Jim mentioned how amazing the desserts were at Taste. "Dessert was a fig tart with mascarpone cheese on an almond crust, accompanied with fig gastrique, toasted walnuts and blue cheese gelato and a slice of white truffle."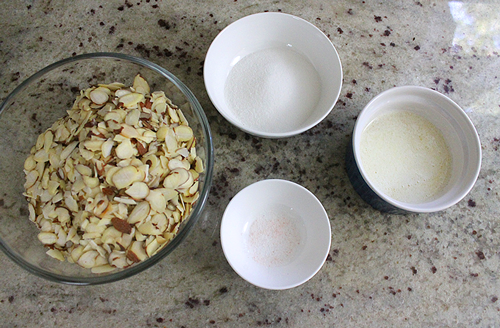 When figs started to appear in the Be Mindful. Be Human. kitchen, it started to concern me. I am going to have to make something with these aren't I?
"So what are we making with these Jim?" I ask, knowing the answer.
"Fig tarts, fig gastrique and fig ice cream." He answers.
My mind is about to explode … keep calm … tarts again?! Way to keeping calm, Christina. Jim, you already know I hate making tarts. Why make me go through the torture? With almonds too. Jeez.

So I found a recipe. It looked good. Simple. Just a few ingredients. I bake it. And it all goes wrong. I am in a hurry. I missed a step. Only human here. I didn't see the step with covering the tart with foil. So a few of them rise up. I am mad. It took me so long to form these almond tarts into these nice little tart tins. This isn't turning out the way I planned.
Instant gratification aren't the name of the game with tarts. I can't frost them until they are cool. So I pull them out of the oven and immediately place place them in the freezer. Might not be the smartest things to do for most desserts, but this one worked. Thank goodness.

Frosted it and arranged the figs into a pretty little circle and refrigerated until I was ready to serve.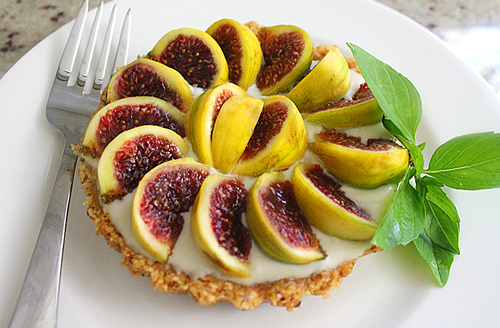 They actually turned out better than Taste, just because I was in a hurry!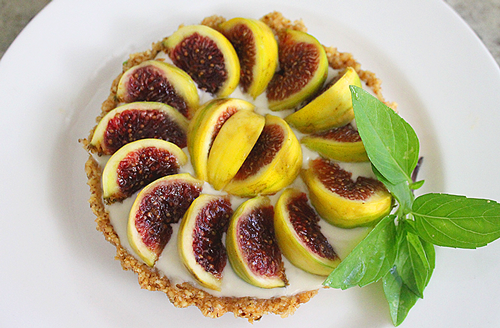 Prep time: 30 mins
Cook time: 30 mins
Total time: 1 hour
Ingredients
2 cups almonds (whole, slivered, or sliced)
4 tablespoons unsalted butter, melted
2 tablespoons sugar
Pinch salt
1 cup mascarpone cheese
¾ cup sour cream
⅓ cup honey (use up to ½-cup honey if you'd like it sweeter)
1 teaspoon pure vanilla extract
8 to 12 small- to medium-sized fresh figs, cut into eighths
Instructions
Place the almonds in a food processor and pulse until finely ground.
Place the ground almonds in a small bowl and stir in the melted butter, sugar and salt.
Stir until the almonds have completely soaked up the butter. The mixture will resemble a graham cracker crust.
Press the mixture tightly into the bottom and sides of mini tart pans.
Place the tart pans on a clean baking sheet.
Carefully cover each tart pan with foil, pressing down gently into the formed crust.
Place in the oven to bake for 20 minutes.
Remove the foil and allow the crust to bake until it turns dark brown, about 10 more minutes.
When finished baking, remove the tart pans from the oven and allow the crust cool completely before filling.
To speed up the process, you can cool the crust in the freezer or refrigerator.
In a medium bowl combine mascarpone and sour cream. Mix together with a wooden spoon.
Add honey and vanilla extract and stir to combine. Mixture will be smooth and glossy.
When the crust is completely cool, spread the filling evenly across the bottom of each tart.
Arrange sliced figs in a circular pattern on top of the filling.
This tart will keep, well wrapped in the refrigerator, for up to two days.
Enjoy!
Adapted from:
http://joythebaker.com/2012/08/fig-apricot-mascarpone-tart/