C – I have tried to avoid doing a bean week at all costs.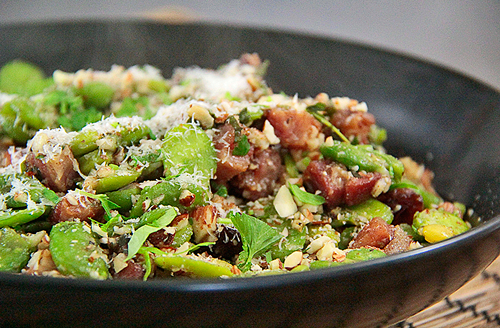 Especially, fava beans. Why? I think fava beans are hard to work with. You have to shuck them, blanch them and peel them to finally get to the edible part. I feel like I am paying for 90 percent wasted material and have to work hard to get the 10 percent that's good.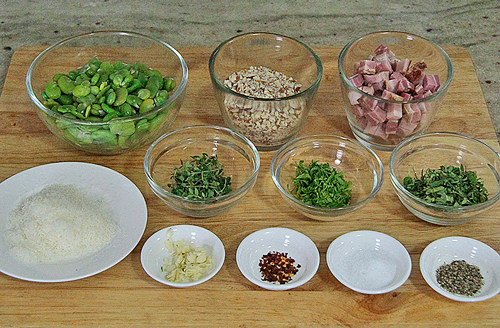 I have also had horrible tasting favas. I've had a lasting taste memory since then. So, when Luke and Jim had suggested fava week I wasn't excited. I even asked them to "Wow me.". Jim was up for the challenge.
After a few suggestions I didn't like, he ended up suggesting not to do fava week after all. But, my "win" didn't sit well with me. Maybe, I wasn't being open-minded. Maybe, I had to "win" myself over.

I did win myself over with Brussels sprouts once and I now love them. How did I start liking Brussels sprouts? I added bacon. It was the start of a new relationship. Maybe fava bean and I had a disagreement and needed a middleman in to start over. "Hello bacon! Welcome to the group." Bacon will improve almost anything.

Yeah, there was a slight grin on my face when I was watching Jim stand there for 30 minutes shucking favas while I prepared the rest of the ingredients.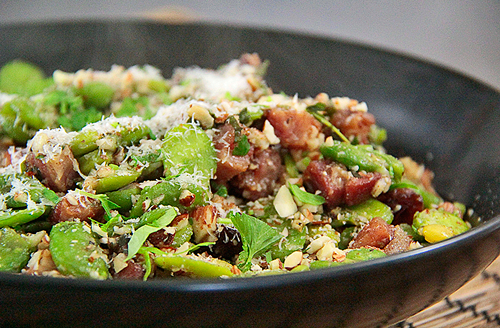 | | | |
| --- | --- | --- |
| Fava Bean Week: Fava Bacon Salad | | |
Recipe type:
Mains, Sides
Prep time: 30 mins
Cook time: 15 mins
Total time: 45 mins
Ingredients
2 cups prepared fava beans (shelled, blanched and skin removed)
2 thick slices of bacon, cubed
1 garlic clove, minced
1 Tbsp fresh thyme, minced
1 Tbsp fresh oregano, minced
salt and pepper to taste
pinch red chili flakes
4 sprigs fresh parsley
3 Tbsp toasted almonds, chopped, plus more for garnish
Instructions
Cook bacon pieces with a little squirt of grapeseed oil, so they don't stick to the pan. Heat bacon on low for a low-and-slow cook, so it doesn't burns and stays crispy.
Once bacon is done cooking, add minced garlic. Mix in and let cook for about 1 minute.
Add thyme and oregano. Mix well.
Add fava beans, salt and pepper. Let cook for about 3 to 5 minutes or until favas are tender.
Add red chili flakes and fresh parsley. Mix well.
Add almonds. Mix well.
Serve with more almonds and parsley to garnish.
Enjoy!
This fava bean salad was delicious. I put in lots of bacon, Parmesan, herbs, almonds and anything else I could think of to make this dish as flavorful as possible.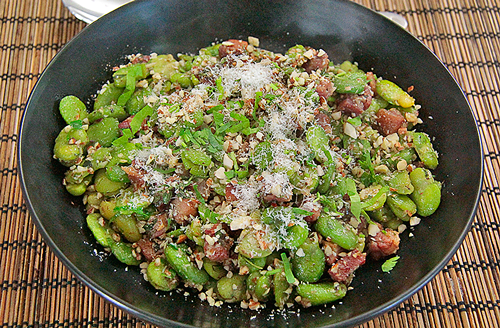 I did it! I achieved a fava dish that I liked. Do I love fava beans? Not yet. Let's see how the week goes and see if I like them more.