Update and Redux: J – Last year, I went crazy, again, with the short fava bean season. It's the same this year. With this year's fava week, I wanted to revisit one of my favorites What an amazing combination. Rich, creamy fava puree and fresh mozerella on chrisp bruschette, topped with sweet-savory red wine balsamic reduction. Delicious!
J – I love fresh fava beans.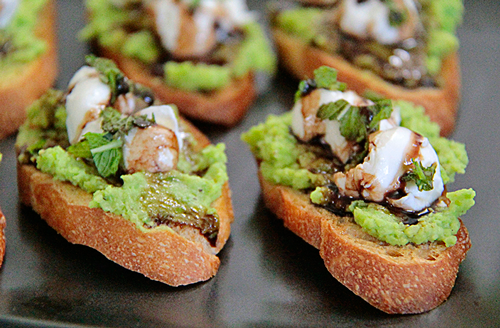 I'm always looking for new ways to cook them. The season is short, so I sneak them into lots of dishes. Although, sneaking is not exactly accurate, since they are so bright and green and tasty. Of course, shucking them is, as one friend said, a labor of love.
I guess they're kind of obvious all the way around.

Funny how many people haven't tried them. Maybe, it's the container they come in. Fava bean pods do look a bit odd. When I buy them at the Farmer's Market, I invariably get a question like "What do you do with those things?"

Sometimes, it's too early for a teaching moment …

One cool thing about favas is that you can shuck them and keep them in the fridge long before you blanch them … several days for sure. Kind of divides the labor of love into manageable bits.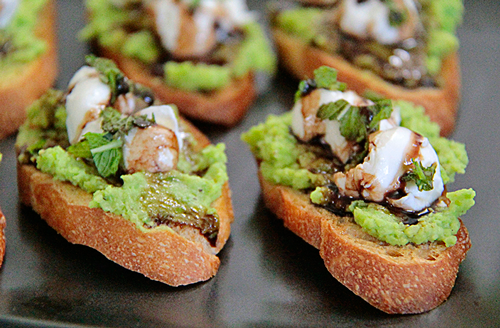 | | | |
| --- | --- | --- |
| Appetizer Week: Bruschetta with Fresh Mozzarella, Favas and Balsamic-Red Wine Reduction | | |
Prep time: 15 mins
Cook time: 2 mins
Total time: 17 mins
Ingredients
1 pound fresh fava beans, shucked (about 2 cups)
2 Tbsp extra-virgin olive oil
1 tsp fresh lemon juice
½ tsp finely grated lemon zest
Salt and ground pepper to taste
¼ pound fresh mozzarella balls, torn into thin strips
16 oven-toasted baguette slices
Balsamic-Red Wine Reduction, for drizzling (recipe link below)
2 Tbsp thinly sliced mint leaves, for garnish
Instructions
In a saucepan of boiling water, blanch the fava beans until the skins start to loosen, 1½ minutes.
Drain and squeeze/pinch out the favas.
Transfer the favas to a food processor and add the oil, lemon juice and zest.
Pulse to a coarse puree. Season with salt and pepper.
Spread the fava puree on the toasts.
Top with the mozzarella strips.
Drizzle overtop with balsamic reduction.
Garnish the mint on top.
Serve.
Enjoy!
Balsamic-Red Wine Reduction recipe
This dish is unexpected. Both in the look and the flavor combinations. And, it is delicious.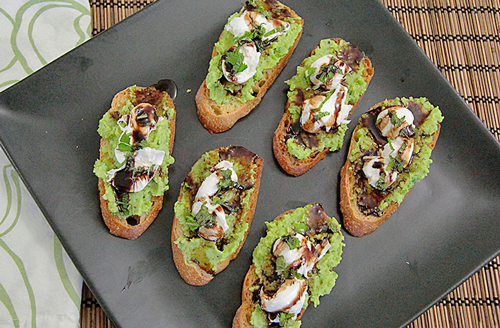 This was another one of those can't-stop-eating moments. Yum!
Adapted from: http://www.foodandwine.com/recipes/bruschetta-with-mozzarella-and-smashed-fresh-favas