C – I think I've had my fair share of strawberries this year.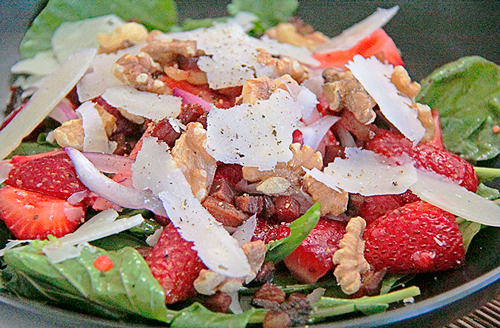 I am not complaining. It is my favorite fruit. I have been spoiled going to the Farmer's Markets and getting a full flat of strawberries every week. Of course, I don't eat them all by myself. I share them.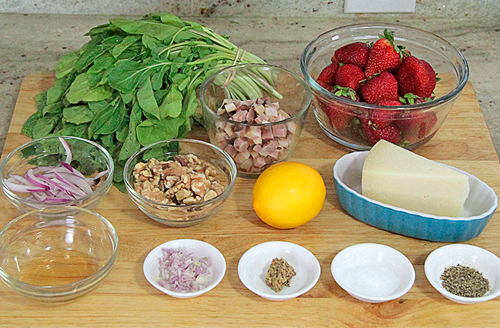 My parents get a bunch, Jim and I eat them for a healthy dessert after meals, and my fiance gets smoothies with them.

One thing I was looking forward to the most is making a salad with strawberries. Will Jim want to eat a salad like this?

Maybe not a boring strawberry salad with spinach. We needed to figure out something different with this salad.

Arugula would make it feel a lot healthier. Jim suggested pecorino cheese in the salad, which is different than the normal goat cheese on top.

We didn't add any sugar to the dressing. The white balsamic is sweet enough that I didn't need to add any sugar.

I really liked the combination. The arugula has a nice peppery quality that mixes well with the sweet strawberries and salty bacon.

I loved the cheese. It's a subtle cheese, yet still full of flavor. The pieces of cheese crumbed nicely throughout the salad. A nice surprise.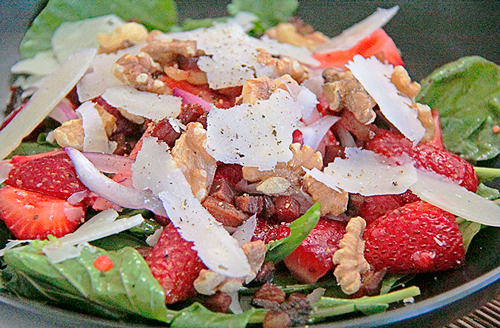 | | | |
| --- | --- | --- |
| Farmer's Market Week: Strawberry Arugula Salad with Strawberry White Balsamic Vinaigrette | | |
Prep time: 15 mins
Cook time: 10 mins
Total time: 25 mins
Ingredients
½ shallot, minced
1 tsp lemon juice
1 Tbsp white balsamic vinegar
¼ tsp Dijon mustard
salt and pepper to taste
¼ cup grapeseed oil
½ cup lardon, cut into ¼ inch pieces
1 cup baby arugula
1 pint strawberries
⅛ cup onions, thinly sliced
¼ cup toasted walnuts, broken into pieces
1 oz Pecorino cheese, shaved thinly
Instructions
Place shallot, lemon juice, mustard, white balsamic vinegar, salt and pepper to taste in a small bowl.
Slowly drizzle oil into bowl while whisking.
Mince two strawberries and add to dressing.
Place lardon in a saute pan and cook until crispy. Drain on a piece of paper towel.
Place a a few tablespoons of dressing to a small bowl. Place arugula into bowl. Toss well.
Cut remaining strawberries into quarters. Add a few tablespoons of dressing into strawberries. Mix well.
Place arugula onto serving plate.
Top with strawberries.
Top with lardon pieces.
Top with onions slices.
Top with walnuts.
Top with shaved pecorino.
Serve.
Enjoy!
The strawberry vinaigrette was great. It wasn't too sweet. Really balanced in salty, sweet, tart and savory. It really rounded out the salad well.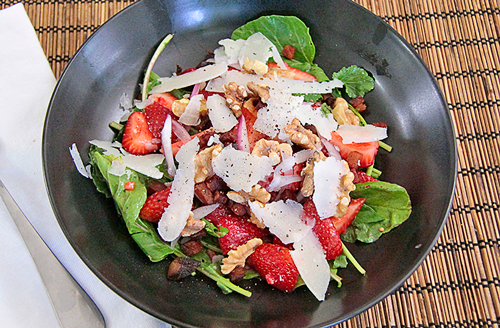 My favorite fruit in a great salad. Life couldn't be better than this. I am glad Jim liked it, too.