C – Don't mess with my Sundays.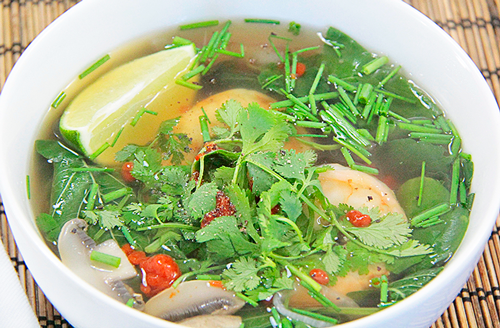 My favorite day of the week is Sunday. I usually get to explore a great Farmer's Market in San Francisco on Sundays. It's great exercise, since it's a mile away from my fiance's apartment. I love every moment of walking, shopping and exploring.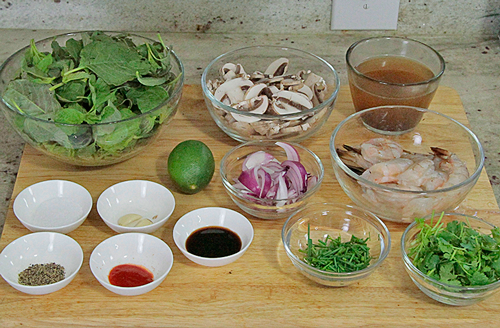 I love it so much we had to do a Farmer's Market week.

I was walking through this small but great Farmer's Market when I discovered a beautiful pink and green leafy veggie. I had never seen anything like it. I had to ask the vendor what it was. It was amaranth. What do I do with it? Make soup, she suggested. It's similar to spinach. In fact, it's an Asian spinach. I really didn't need to buy it. But, I really couldn't pass up $1 a bunch for the stuff.

Then, I started to second guess myself. What if it wasn't a good decision to buy this amaranth? What if my fiance didn't like it? It wouldn't hurt to expand his food horizons a little more. So, I went back to the apartment and started cooking. It was probably the fastest soup I had ever made. I threw garlic, mushrooms, onions, the amaranth and a few seasonings in. I was done. It took about 10 minutes to make. Lunch was served.

To my surprise, my fiance loved it. He said it tasted so fresh and healthy. He could almost feel the Farmer's Market inside the bowl. That was a good description of this soup. The color of the broth is slightly pink and with the beautiful leaves it made the soup vibrant.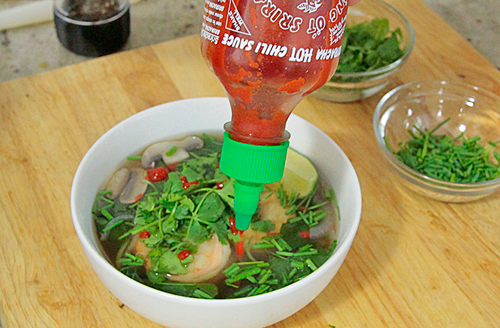 When I got back to the Be Mindful. Be Human. kitchen, I had to find amaranth again. Luckily, there is a great vendor in the Sacramento Farmer's Market that had it. We added shrimp to this bowl of soup, since Jim wanted it. Same amazing freshness with a light fish broth. Delicious.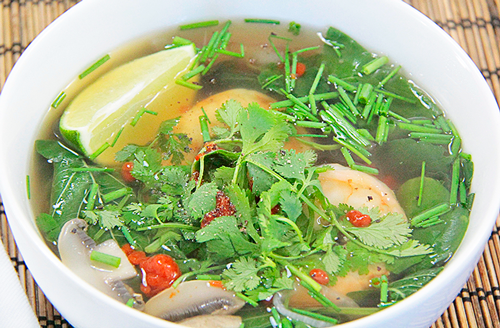 | | | |
| --- | --- | --- |
| Farmer's Market Week: Amaranth Soup with Shrimp | | |
Prep time: 10 mins
Cook time: 10 mins
Total time: 20 mins
Ingredients
6 cups of chicken stock
2 garlic clove, peeled
6 button mushrooms, sliced
¼ purple spring onion, sliced thinly
2 Tbsp soy sauce
Salt and pepper to taste
1 bunch amaranth, stems removed
½ pound shrimp, shelled and deveined
5 sprigs cilantro, chopped
5 sprigs chives, chopped
Sriracha sauce (optional)
Instructions
Bring chicken stock and garlic to a boil in a medium soup pot.
Add mushrooms and bring to a boil.
Add onions, soy sauce, salt and pepper to taste. Bring to a boil.
Add amaranth leaves bring to a boil.
Add shrimp and cook until done. About 1 to 2 minutes.
Place soup in a serving bowl.
Top with cilantro, chives and sriracha sauce (optional).
Serve.
Enjoy!
I love exploring farmer's markets. It's a great time to ask people about the food and understand where it comes from. Also, it's a great time to explore the flavors since most vendors allow you to try their produce before you buy.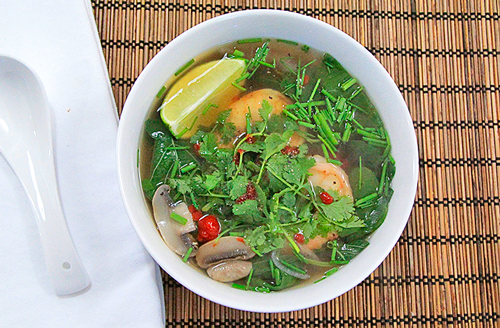 Sometimes, you can find new and interesting things. I am so glad to find Amaranth at my local Farmer's market. It was like I struck gold.