Update and Redux: J – We did this for the first time a few years ago. Awesome. Now, it's pretty much the only stuffing any of us will make … enough said?
C – This is my new guilty pleasure.
Well … for Thanksgiving anyway. Thanksgiving is usually tough for me, especially when I don't make the food. I love food. I want to try everything. I overeat. If there is something new and interesting, I will probably be the first to try it.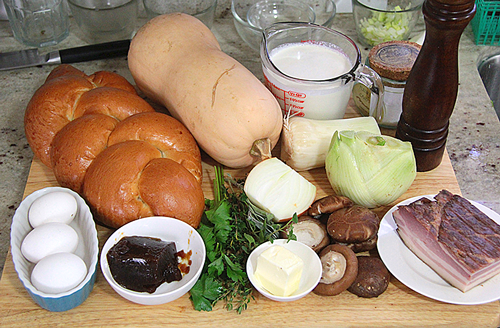 Thankfully, this year I won't be at Thanksgiving. I will be meditating. I won't be eating any turkey on Thanksgiving.

It's O.K. I won't be craving anything for Thanksgiving this year, either. We had to try out all our new recipes for Be Mindful. Be Human. I will probably be really tired of Thanksgiving food anyway.

This bread pudding dish was the thing that put me over the top during the shoot. I broke down. Everything seemed healthy until this guy. Of course, I think I ate the most of them. They were so good. Having them in individual muffins didn't help either. I went for just one more … a couple of times.

The crowd loved it so much too. I wish Luke made more. People really liked it. But, I'm glad he didn't. It wasn't helping my waistline. Oh well, it's only for this occasion. It's not an everyday occurrence.

I loved this savory Challah bread pudding. It was amazing. Moist bread with chucks of creamy butternut squash with onions, leeks, bacon and mushrooms. It was a meal in itself. It was rich and delicious.

The wonderful flavors all combined really well, while still distinguishing each one individually. I loved the taste of the sweet butternut squash with the flavorful homemade bacon lardon. The Shiitake mushrooms distributed nicely throughout the pudding. The sage, fennel and leeks really made it taste like Fall.
| | | |
| --- | --- | --- |
| Thanksgiving Week: Individual Savory Challah Bread Pudding with Shiitake Mushrooms and Butternut Squash | | |
Recipe type:
Sides, Techniques, Seasonal
Prep time: 20 mins
Cook time: 1 hour
Total time: 1 hour 20 mins
Ingredients
¾ loaf Challah, 1 inch cubes
½ cup fresh Shiitake mushrooms, sliced
½ cup leeks, chopped
½ onion, chopped
½ cup fennel, chopped
1½ cup butternut squash, cubed
½ pound lardon, ¼ inch cubes
½ cup turkey jus
8 fresh sage leaves, chopped
¼ bunch parsley, stems removed, chopped
2 Tbsp fresh thyme
1 Tbsp fresh oregano
1¾ cup cream
3 eggs
2 Tbsp butter
Salt and pepper to taste
Instructions
Preheat oven to 350 degrees.
Place lardon in a pan. Cook until crispy. Once crispy, remove from pan and set a side.
Remove bacon grease for another use. Leave about 1 tablespoon in the pan.
Add butternut squash to pan on medium high. Cook until soft. Salt and pepper. Remove from pan and place on a baking sheet to cool.
In the same pan, add some grapeseed oil. Add fennel. Add a teaspoon of butter.
Add leek and onion to pan. Add another teaspoon of butter. Cook until soft.
Add sage, parsley, oregano and thyme into pan. Remove from pan.
Place in the same baking sheet as the butternut squash. Add crispy lardon pieces into the butternut squash. Mix well.
In a separate sheet pan, place Challah bread on pan. Toast in oven for 5 minutes.
In a bowl, mix cream, egg and toasted Challah bread.
Add all the vegetables into Challah bread/custard mixture. Mix well.
Add salt and pepper to taste. Mix well.
Place into muffin pans. Do not over pack.
Bake for 40 minutes, until golden brown on top.
Remove from oven and let cool for 10 minutes.
Remove individual puddings from pan.
Serve.
Enjoy!
It was amazing. Yes, I had to give in. This needs to be on the dinner table this Thanksgiving!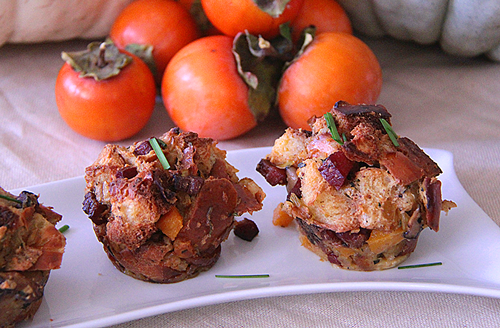 It's definitely a crowd pleaser.