C – Ever since Jim returned from Paris he's been stuck on his trip.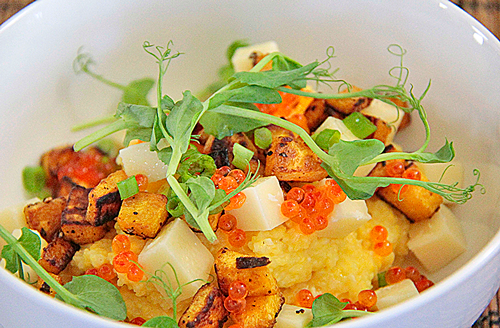 Everything about it was fabulous. Is he making me jealous? No. I think I am more annoyed sometimes than jealous. One thing he loves talking about was the food. Of course, the food was amazing. His whole goal for the trip was to find great things to eat.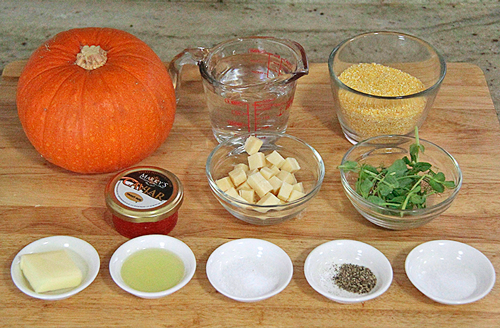 When he starts talking about making the stuff, I assumed he would be making the stuff not me. I was wrong. I had to be part of the process. That annoys me. It's always a challenge when I don't experience or know what the dish really consists of … and we don't have recipes.

There are no guidelines other than Jim's memory. He doesn't give me full details beforehand. Then, he changes them while we are making the dish.

It's a challenge for me. I hate working like this. I need control and to be prepared ahead of time. Luckily, this one from Restaurant Pirouette was one of the easier recipes. Looking at the pictures, I could figure this one out with a few questions for Jim.

Was the polenta creamy or a cake? Creamy. Were the pumpkin pieces roasted or steamed? Roasted. Could we use something other than trout roe caviar? No. It turned out to be a really simple dish that was as beautiful as it was delicious.

I loved the creamy polenta with the chunks of Gruyere cheese and pieces of pumpkin. They really made it feel like Fall. The small bursts of trout roe were a fun texture in my mouth. I loved the fresh green onions and pea sprouts. They give the dish a nice fresh balance and didn't make it a heavy Fall dish.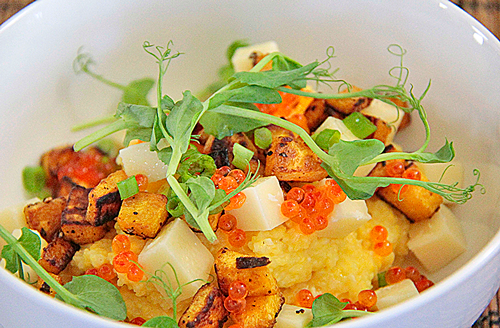 | | | |
| --- | --- | --- |
| Fall Lunch Menu: Creamy Polenta with Trout Roe, Gruyere Cheese and Roasted Pumpkin | | |
Prep time: 15 mins
Cook time: 35 mins
Total time: 50 mins
Ingredients
4 cups water
1 cup polenta
salt to taste
1 Tbsp butter
Salt and pepper to taste
1 cup fresh pie pumpkin, seeded, peeled and cut into ¼ inch cubes
1 Tbsp grapeseed oil
1 cup Gruyere cheese, cut into ¼ inch cubes
2 green onions, green part only, sliced thinly
1 tsp per serving trout roe caviar
A few sprigs of pea sprouts for garnish
Instructions
Place water in a saucepan. Bring to a boil. Reduce heat to low.
Slowly sprinkle polenta and salt into pot while constantly whisking.
Stir to make sure no lumps form, about every 5 minutes so the polenta doesn't stick to the bottom or burn.
Cook for about 25 minutes or until polenta is smooth and no longer grainy. Season to taste. If it is not creamy enough, add more water. Cover for 5 minutes before serving.
In a medium saute pan, add oil and heat to medium. Add pumpkins and season with salt and pepper to taste. Cook until pumpkins are tender and a bit caramelized on the outside.
Once polenta has finished, place in serving bowls.
Top with a few cubes of pumpkin and Gruyere.
Top with green onion slides
Top with some trout roe.
Garnish with pea sprouts.
Finish with some freshly ground pepper.
Serve.
Enjoy!
Ok, I liked hearing about this one as well as making it. I guess the easy recipes are easier to do, even when you don't have a recipe to start.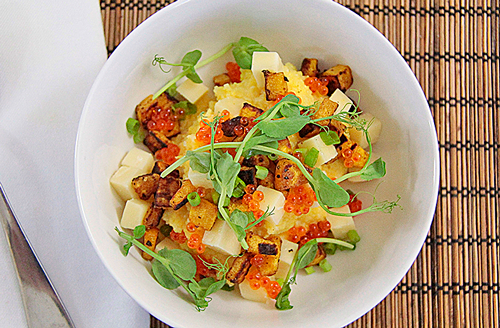 I hope for more recipes like this one and fewer recipes like the one we are making tomorrow.