C – I always suggest planting edible flowers in the Be Mindful. Be Human. garden.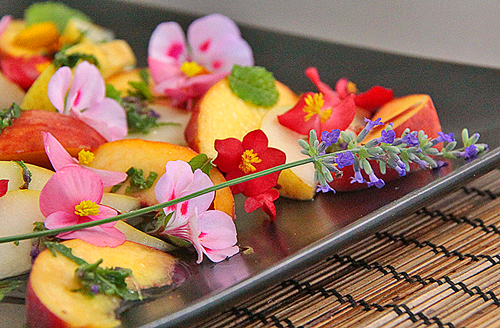 Edible flowers are beautiful to look at. Some of the flowers smell great. Of course, they also can be eaten. It was a little weird for me to eat flowers at first. Now, I want to incorporate them in every meal. Flowers can make a plain dish pop in color. I always try to select different, bright colors to plant in the garden.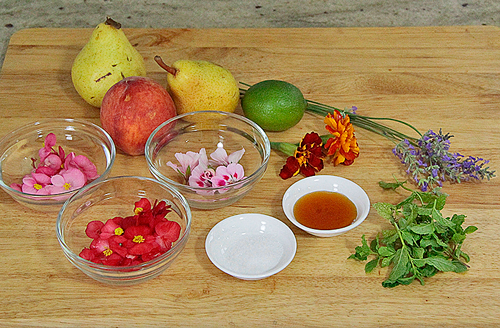 If you are thinking about planting edible flowers, here are a few tips. Not all flowers are edible! Please do research. Some flowers are poisonous. Plant edible flowers away from inedible flowers. One year Jim planted them together and I ended up eating an inedible flower. Luckily, my gag reflex didn't allow me to swallow it. When I asked Jim about the flower, he mentioned that it wasn't edible. I wasn't amused.

Flowers that we plant are usually:
French lavender – Grow them where they can get lots of water and sun. It will become a huge bush. They are great in shortbread cookies, teas and dressings.
Marigolds – They have a peppery flavor and can dye things yellow. Later this week we will use these to make pickles.
Geraniums – They have great colors and are beautiful in salads or as garnishes on plates.
Begonias – They also have great colors and are beautiful in salads or as garnishes on plates.

We also use flowers from the herbs we grow. All of them are edible and can add a rustic flare to a dish. We typically use chive flowers, oregano flowers, rosemary flowers, and thyme flowers in our dishes.
This dish is great as a dessert or a brunch fruit dish. All the flowers really make this salad gorgeous. This salad isn't just beautiful. It's packed with flavor, too.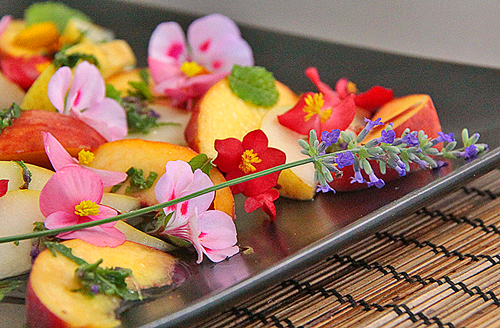 | | | |
| --- | --- | --- |
| Edible Flowers Week: Pear Peach Edible Flowers Salad with Lavender Lime Mint Honey Dressing | | |
Prep time: 15 mins
Total time: 15 mins
Ingredients
1 ripe pear, cut into wedges
1 ripe peach, cut into wedges
Different varieties of edible flowers (such as Marigold, Lavender, Geranium, Begonia)
2 fresh lavender flowers, plus more for garnish
1 Tbsp honey
A pinch of salt
10 springs of mint, chiffonade, plus more for garnish
1 lime, juiced
Instructions
Whisk together the honey, mint, lavender and lime juice. Set aside.
Arrange fruit pieces on a plate.
Place small amounts of dressing throughout the plate on the fruit.
Decorate with flowers overtop. Add lavender sprigs at last.
Serve.
Enjoy.
The lavender, lime, mint and honey dressing has a slight pepper quality from the lavender, a little tartness from the lime, sweetness from the honey and a refreshing zing from the mint. The fruit is nice and ripe and sweet. Each flower tastes different. Some are peppery Some are mild, but there is still a taste.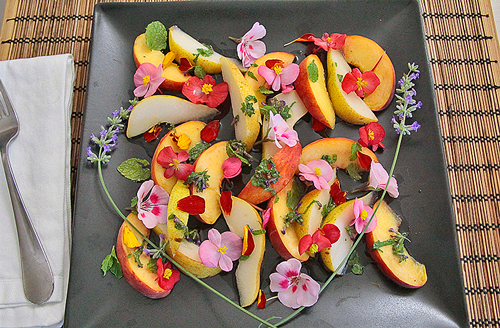 I really love eating with my eyes as well as my mouth. Flowers are an easy and great way to add more beautiful things to your dish.