J – If there was a step before "easy" this dish would have it.
It is so simple and over-the-top summer tasty. Of course, we were awash in tomatoes and peppers … and product from The Zucchini Lady. We had to do something. Luke was playing with the melon ball tool and a zucchini …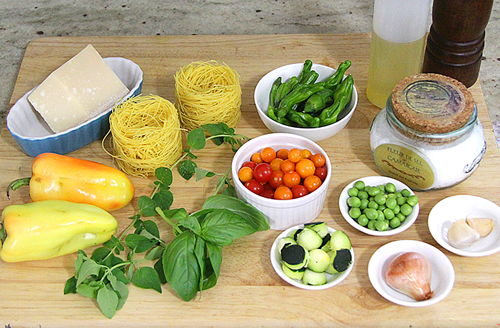 Next thing we know, we had an idea.

Fast would be another word for this dish. How about under 15 minutes?

Small words of caution. DO NOT overcook the pasta. We did the first time, just by not paying attention for a minute. Same thing with the veggies. We really do mean 30-seconds for each new addition.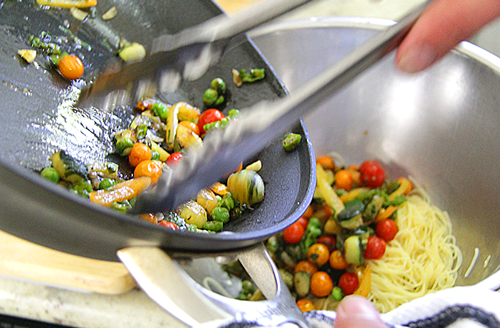 They are sequenced so the longer-cooking ingredients get what they need, while the others don't overcook.
| | | |
| --- | --- | --- |
| Easy Summer Vegetable Pasta | | |
Recipe type:
Mains, Sides
Prep time: 10 mins
Cook time: 3 mins
Total time: 13 mins
Ingredients
2 rounds "bird's-nest" angle hair pasta, cooked according to package directions
1 Tbsp grapeseed oil
1 Tbsp butter, cubed into quarters
¼ cup fresh peas
1 zucchini, balled with a melon baller
1 gypsy pepper, cut into strips
1 cup Shishito pepper, sliced (or any other small, mild pepper)
¾ cup mini tomatoes of different varieties and different colors
2 cloves garlic, sliced thinly
1 shallot, diced
1 Tbsp fresh oregano, chiffonade
1 Tbsp fresh basil, chiffonade
Salt and pepper to taste
Grated Parmesan to sprinkle on top
Instructions
In a medium saute pan on high heat, add oil and ¼ of the butter. Let butter melt.
Add peas and zucchini. Cook for 30 seconds.
Add salt and pepper.
Add both peppers into the pan. Cook for 30 seconds.
Add garlic and shallots. Add more butter and let melt. Cook for 30 seconds.
Add mini tomatoes. Cook for 30 seconds.
Add herbs. Mix well. Add the last of the butter and let melt.
Season with salt and pepper to taste.
Place in a large mixing bowl and add pasta. Toss until combined.
Serve.
Enjoy!
Here's to some of the last summer veggies. The result was wonderful.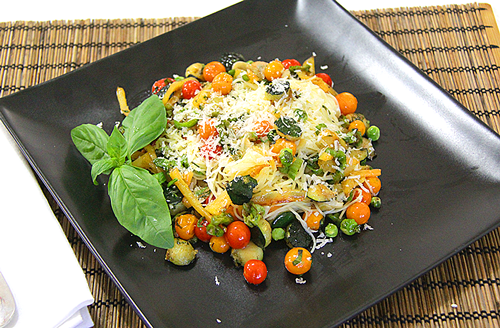 We love playing in the kitchen!